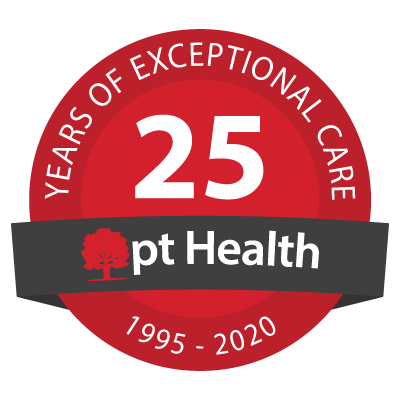 Advance Physiotherapy - pt Health
pt Health is offering virtual care appointments. Please call for availability.
In response to COVID-19, pt Health is doing its part to help protect our patients and staff by modifying the availability of services at our clinics. Please call the clinic to seek advice or rebook services.
[Read More]
"I would highly recommend Advanced Physio. They are warm and welcoming and create an environment that is a pleasure to be part of. If I am in need of physio in the future I definitely would return to Advanced Physio."
Diane B - Google Review
"They assessed and came up with a plan of treatment that has been great! I am back on my feet and on my way to being pain free. All along they have answered my questions and provided top notch care. I highly recommend them."
Brad Y - Google Review
Our Clinic Team
Sara Burnet Smith
Physiotherapist - PT

Sara has been working in outpatient orthopaedic practice for 30 years. She has many years experience treating soft tissue injuries, fractures, post-surgical, post-injury (motor vehicle accident or work related), arthritis, irritated or herniated discs in the neck and back, and dysfunctions. She has done numerous continuing education courses including manual therapy and acupuncture. She is committed to providing excellent client-centered care to her patients in a friendly welcoming environment focused on rehabilitating patients with a programme based on individual needs.



Reshminder Shoan
Physiotherapist - PT, HBSc. BioMed, DPT

Reshminder earned her BSc (Honours), DPT degree in 2011 from D'Youville College, which is complemented by her undergraduate degree in Biomedical Sciences from the University of Waterloo. She has worked in the United States and Canada with a variety of patient populations including those with: orthopedic injuries; post-operative orthopedic and cardiac impairments; neurodevelopmental disabilities; and vestibular impairments. She is interested in ongoing education courses in manual therapy and medical acupuncture. Reshminder has most recently completed both the Arthritis Society's Getting a Grip on Arthritis® osteoarthritis and rheumatoid arthritis education program. In her spare time, Reshminder enjoys working out, yoga, reading and knitting.



Debra Rimes
Patient Coordinator

Deb is a Physiotherapist Assistant and a Patient Coordinator working at many pt Health clinics across the GTA. She loves working with people, helping them achieve their goals and improve their quality of life. She also enjoys outdoor activities such as hiking & cross country skiing and recently have started kickboxing. Before her time at pt Health, Deb was a Fitness Trainer where she helped clients achieve their fitness goals. She obtained her Medical Office Certificate in 2012 and joined pt Health as a Patient Coordinator shortly after in 2013. Since Deb has continued her education and obtained the certification needed to become a Physiotherapy Assistant.


[View More]
"My physiotherapist was exceptional in her treatment of my broken foot. Her guidance and patience helped me to resume full activity. I highly recommend & appreciate Advance Physiotherapy - pt Health."
Lynn W - Google Review
"Great experience here! My physiotherapist has helped me through various shoulder injuries providing treatment and take home exercises! Very welcoming and great people. Definitely recommend."
Alex B - Google Review