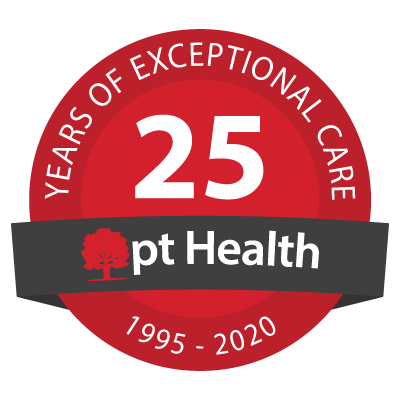 Advantage Health Aspen - pt Health
In-person treatment available
Virtual Care treatment available
To ensure the health and safety of our patients and staff, we have made a number of changes to the way our clinics operate and have implemented enhanced measures to ensure the health and safety of our patients and staff. Click here to learn more about the S.A.F.E.R. approach.
"Excellent service at this clinic. They are always on time and send me right in for treatment! The whole team keeps you informed, explaining everything they do and really listening to concerns. My chronic shoulder was fixed right up. I will definitely be back!"
Chris C - Google Review
"I have been to a lot of physio clinics and I can say that Advantage Health Aspen has been the best experience. They seem to genuinely care for their patients. When it comes to customer service they also go above and beyond."
Andrew A - Google Review
Our Clinic Team
Jenna Aiuto
Physiotherapist - MScPT, BKin, FDN, Pelvic Health

Jenna graduated from the University of Calgary with a Bachelor's degree in Kinesiology in 2014. She then moved to Glasgow, Scotland where she completed her Masters in Physiotherapy in 2016. Jenna's participation in Tier 1 soccer throughout her life led her to develop a strong passion for healthy living, active rehabilitation and a career in Physiotherapy. During PT school, Jenna completed her thesis on The Effectiveness of Pelvic Floor Muscle Training for the treatment of Urinary Incontinence. This research led her to pursue a speciality in Women's health to treat patients with pelvic dysfunction. Jenna also treats pre and post natal women with lumbopelvic pain, or for preventative pelvic health care. Jenna has a passion for treating all musculoskeletal injuries and is certified in Functional Dry Needling. In her spare time, Jenna enjoys travelling, hiking, playing badminton, pickleball, soccer and brushing up on her pool and fooseball skills!



Jonathan Reimer
Physiotherapist - BScPT, BPE, FCAMPT

For the past 20 years, Jonathan Reimer has focused on continuous learning. He has gained numerous advanced certifications, which enable him to treat his client's in a manner that is most conducive to their individual needs. He was a longstanding member of the medical team treating both Canadian and International Olympic athletes from 2008-2014. He applies the knowledge and confidence he has developed into his daily clinical practice. As a patient, you can expect a complete assessment of your musculoskeletal, vestibular or concussion-related injuries. Your assessment will take into account whole body influences on your injury. Further, you will be educated in a meaningful manner about the issues noted on assessment and a treatment plan will be discussed including the best individual options for your optimal recovery. All treatment plans will include a home-based program so you can actively participate, accelerate and maintain your restoration of function. Jonathan has most recently completed both the Arthritis Society's Getting a Grip on Arthritis® osteoarthritis and rheumatoid arthritis education program.



Drew Hutchison
Physiotherapist - MScPT, BScH, ACC (Acupuncture Certified)

Drew is an ambitious and passionate therapist who strives to think differently about therapy. His focus is to utilize new techniques, tools as well as technology to provide the best care for his patients with the best possible outcomes! Drew's clinical interests reside in management of whiplash, hip, knee, shoulder and general athletic injuries. Drew has achieved his Masters of Science in Physical Therapy from the University of Alberta and his Bachelor of Science honors degree from Laurentian University. While at university he competed on the both the swim team and volleyball teams. Since graduating, Drew achieved his certification in Acupuncture from the Canadian Acupuncture Association and is currently completing his exams to become certified in Spinal Manipulation Therapy. When Drew is not working with patients or researching new therapy approaches you can find him playing any sport under the sun with friends, or camping in the backcountry and spending his time in the mountains with his wife Sarah. Drew has most recently completed both the Arthritis Society's Getting a Grip on Arthritis® osteoarthritis and rheumatoid arthritis education program.



Glen Doan
Chiropractor - BSc., DC

Dr. Glen Doan completed his Doctor of Chiropractic degree from the Canadian Memorial Chiropractic College in Toronto Ontario. Beforehand, he obtained an Honors Bachelor of Science in Life Science from McMaster University in Hamilton Ontario, having graduated with distinction as Summa Cum Laude. Glen continually attends seminars and courses to ensure he utilizes the most current and relevant information and techniques. As a diversified chiropractic practitioner, he utilizes a combination of techniques suited for the patients individual needs. He employs manual chiropractic adjusting techniques, graded mobilization, acupuncture/dry needling, home exercise, Graston technique, orthotics, and various soft tissue techniques to help his patients achieve their health and wellness goals. Glen has experience with a wide range of patients possessing the ability to employ softer techniques for seniors, children, and patients with comorbidities. Dr. Glen Doan has most recently completed both the Arthritis Society's Getting a Grip on Arthritis® osteoarthritis and rheumatoid arthritis education program.



Christan Salois
Massage Therapist

Christan studied massage therapy in Bedford Nova Scotia, graduating with 2200 hours from the Canadian College of Massage and Hydrotherapy in 2005. Christan has experience with many conditions including arthritis, whiplash, chronic headaches, conditions relating to muscular and postural dysfunction, repetitive use injuries, treatment of trigger points, as well as prenatal and relaxation massage. Myofascial release, deep tissue and Swedish massage as well as client education are regularly used modalities and components of most treatments. Christan has experience working with a wide variety of clients, from infants to senior citizens, everything from weekend warriors and trained athletes, to individuals on bedrest. With a passion to help her clients find their way to relaxation and pain free living, Christan believes that massage therapy is a powerful tool in assisting the body in it's natural ability to heal itself.



Jade Couch
Massage Therapist

Jade Is a trained massage therapist graduated from Makami College with a 3000 hour diploma. Her techniques include trigger point therapy, cupping, hot stone, prenatal, lymphatic drainage massage and more. She focuses her treatments using therapeutic deep tissue with advanced techniques and Swedish relaxation massage. As a certified RMT her passion is for her clients to have a pain free life with full range of motion. Jade loves educating clients about possible conditions, muscles affected and applicable stretching and strengthening exercises to any given area. "Ive had a passion for massage ever since I was a little girl. Experiencing the power of healing myself and seeing what massage can do for anybody was incredible and I've always wanted to continue to give that experience."



Leona Lisovac
Physiotherapy Support Personnel - BSc.Kin

Leona graduated from the University of Calgary in 2019 with a Bachelor of Science degree. Her interest in human movement and health led her to major in Mind Sciences in Kinesiology, which expanded her knowledge about these topics through a broad variety of courses. She has always found happiness in caring for others, which is why she pursues various volunteering commitments. Leona's hobbies include baking, being with her three pets and playing tennis, but she most enjoys watching Peppa Pig with her little niece.



Michelle Herring
Patient Coordinator

Michelle will always greet you with a bright smile and a friendly attitude. Whether she's scheduling your next appointment or helping with paperwork, Michelle makes sure every patient has a great experience.



Ashley Jukes
Patient Coordinator

Ashley is a cheerful and helpful Patient Coordinator who strives to ensure that every person's first impression of the clinic is a positive one. She will always ensure to greet every person coming to the clinic with a smile and a willingness to assist in any way possible, from scheduling appointments, taking payments and answering any questions or concerns she can, or being the liaison between you and the therapists in the clinic. Ashley has extensive experience and knowledge in customer service and administrative positions, giving her the ability to complete her job with the greatest of ease to ensure the clinic flows smoothly and all patients leave feeling better than they did when they arrived. She has been with the clinic since late 2017. Ashley is currently completing her Bachelor of Arts in Psychology at the University of Athabasca. Her hobbies include spending time with her family, reading, going for walks with her dog and crafting.



Meaghan Beakley
Physiotherapy Support Personnel

Meaghan graduated from the Rehabilitation Therapy Assistant Program at SAIT in April of 2017. Her passion for physiotherapy started in high school when she worked as a sports med trainer for the boys rugby and football teams. Meaghan's hobbies include hiking with her dog, running, video games, reading, baking and writing stories.



Nada Kamoun
Massage Therapist - RMT

Speaks: English, French, Arabic

Nada's main goal is to provide the exact customized treatment that promptly and effectively resolves your individual problem of patient ailments. Her main interest lies in helping people relax and recover from pain and restriction caused by postural strain, injury and accidents. Nada graduated from Mount Royal University as Massage therapist in 2011 and has since been a member of the Natural Health Practitioners of Canada. Nada also graduated from Turnel Institute in 2015 of 2200 hr diploma of orthopedic massage. Nada specializes in deep tissue using trigger point and active release. She is also skilled in relaxation, pregnancy and orthopedic massage. She has certificate of practical rehab for lower back injuries. She offers a customized treatment plan and is able to give stretches and strengthening exercises when needed. She believes that there are many roads to recovery and maintenance and loves to work with the other health care professionals to provide her clients with an exceptional health care journey. When Nada can't be found in the clinic she's likely enjoying new adventures with her little princes.



Daiserine Buccat
Patient Coordinator

Speaks: English, Filipino

Dais is obtained a Medical Office Assistant certificate from Bow Valley College. She started training at Advantage Health Aspen as a student then soon after became a part of the patient coordinators team. Throughout the years of he work experience, she gathered knowledge in booking appointments, billing insurance companies including extended health benefit plans, auto insurance, and workers compensation board. She is now the lead Patient coordinator at the Aspen clinic, consistently giving her best effort to ensure client satisfaction.


[View More]
"We love this place, my girls are always well treated here, and on prompt time. Every time I call girls at the front are polite and professional and they always find a right time for us even on the same day. Strongly recommend this medical clinic."
Karolina G - Google Review
"Very accommodating with my busy schedule. Extremely empathetic. Easy to understand instructions for my plan for recovery. Thanks guys – you made my very painful situation extremely painless and quick to recover!"
Sandra L - Google Review