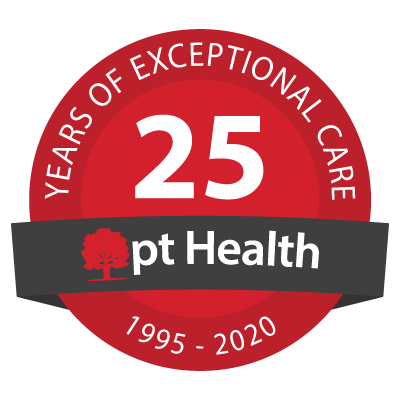 Austin Ave Physiotherapy - pt Health
In-person treatment available
Virtual Care treatment available
Welcome!
Our clinic is open and offering in-person treatment as well as virtual care. Please note that as a provider of community-based allied health care, masks are required to be worn at all times while inside our location.
View our virtual tour video to learn more about the enhanced measures in place so you know what to expect at your next clinic appointment.
"Staff at this clinic are fantastic. Provided helpful tips and print outs of the exercises to follow. Front desk ladies are awesome - acknowledge you when you enter the clinic which is great customer service. I would recommend this clinic for their exceptional service."
Adele W - Google Review
"I have been getting treated for a foot injury over the past few months. The staff are very professional, knowledgeable and funny. Overall i am impressed with their service. The email confirmation works for me and there is plenty of parking. I would recommend them."
Toula A - Google Review
Our Clinic Team
Dylan Baggott
Physiotherapist - BSc (PT)

Kruti Vaishnav
Physiotherapist - BSc (PT)

Speaks: English, Hindi, Gujarati, Punjabi, Marathi

Kruti has been a physiotherapist for 25 years and has practiced in private practice in Coquiltam since 1990. She also has worked in an acute care hospital for 25 years. She enjoys putting her manual therapy skills and whole person approach to work everyday.



Cassandra Catenacci
Massage Therapist - Massage Therapist - RMT

Cassandra, or Cassie, is a recent registered massage therapist graduate from the West Coast College of Massage Therapy. There, she completed extensive studies in anatomy and physiology which created a love for the practice of massage therapy.Cassie is very passionate about patient-centered care and enjoys working with patients to create and reach their personal/individual long-term health goals. Prior to becoming a registered massage therapist, Cassie worked in the healthcare industry as a medical secretary, ensuring excellent patient care.



Hannah Price
Patient Coordinator

Hannah is a patient coordinator who takes great pride in her work. She loves working with people and being on the front lines of the clinic, she is always the first face you see when walking into our clinic and will always greet you with a smile. On her days off, you can find her hiking on the local trails, heading to the closest beach, or tucked away with her newest book. More than anything though Hannah gets joy out of getting to know people, learning their stories, and gaining new perspectives through the lens of others.



Matthew Strukoff
Physiotherapist - BSc(PT), CAFCI, FDN, MCPA

Matthew completed his Bachelors of Science in Physiotherapy in 2013 from Manchester Metropolitan University in Manchester, England. He places strong emphasis on accurate assessment and diagnosis in order to truly identify the root of a client's pain/dysfunction and believes in an individual approach to care with his clients. Matthew is passionate about expanding his knowledge base and has taken additional post-graduate courses in Acupuncture and Intramuscular Stimulation (IMS). He also has his Level Two Diploma of Advanced Orthopaedic Manual and Manipulative Therapy and is currently pursuing further Manual Therapy Levels and Sports Physiotherapy Certificate.



Anthony Artuso
Massage Therapist - RMT
[View More]
"Great location, friendly admin staff and insightful physiotherapists who understand the human kinesiology on another level."
Hamza H - Google Review
"Excellent! Flexible to work with my schedule, thorough check ups on progress, genuine care for my body, clear instructions on exercises. 10/10 would recommend."
Faye P - Google Review