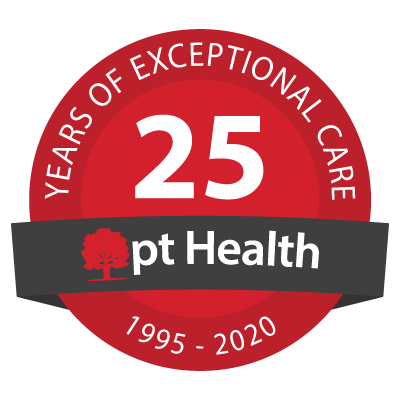 Austin Ave Physiotherapy - pt Health
In-person treatment available
Virtual Care treatment available
Welcome!
Our clinic is open and offering in-person treatment as well as virtual care. Please note that as a provider of community-based allied health care, masks are required to be worn at all times while inside our location.
View our virtual tour video to learn more about the enhanced measures in place so you know what to expect at your next clinic appointment.
"Staff at this clinic are fantastic. Provided helpful tips and print outs of the exercises to follow. Front desk ladies are awesome - acknowledge you when you enter the clinic which is great customer service. I would recommend this clinic for their exceptional service."
Adele W - Google Review
"I have been getting treated for a foot injury over the past few months. The staff are very professional, knowledgeable and funny. Overall i am impressed with their service. The email confirmation works for me and there is plenty of parking. I would recommend them."
Toula A - Google Review
Our Clinic Team
Matthew Strukoff


Matthew completed his Bachelor of Science in Physiotherapy in 2013 from Manchester Metropolitan University in Manchester, England. He places strong emphasis on accurate assessment and diagnosis in order to truly identify the root of a client's pain/dysfunction and believes in an individual approach to care with his clients.

Matthew is passionate about expanding his knowledge base and has taken additional post-graduate courses in Acupuncture and Intramuscular Stimulation (IMS). He also has his Level Two Diploma of Advanced Orthopaedic Manual and Manipulative Therapy and is currently pursuing further Manual Therapy Levels and Sports Physiotherapy Certificate.

Anthony Artuso
Registered Massage Therapist

Anthony is a registered massage therapist at Motion Physiotherapy. His interests are sports injuries, posture realignment, musculo-skeletal imbalance, headaches, TMJ disorders, craniosacral, MVA injuries, and other treatments.

Dylan Baggott
Physiotherapist

Dylan graduated valedictorian from the Dalhousie University School of Physiotherapy. Since that time he has focused on improving his knowledge and skills in the field of outpatient orthopedic and musculoskeletal patients. Dylan believes the way to get people feeling betting is to get them moving better. Treatment starts with in-depth assessment to identify the underlying cause of pain to guide and develop an individualized treatment plan to decrease pain, tension, stiffness and muscle imbalances to restore movement.

He incorporates soft tissue and joint mobilizations, dry needling, orthopedic taping, progressive exercises prescription and injury education to help his patients become pain free and achieve their goals. Dylan treats a number of injuries such as whiplash, headaches, strains/sprains, work related injuries, back pain and sciatica to name a few. Prior to graduating from physiotherapy school, Dylan also graduated with honors from Northumberland School of massage therapy.

Growing up in the Comox Valley, Dylan developed a love for all things outdoors at a young age swimming, snowboarding, hiking and mountain biking. As a result he has had his fair share of injuries that required physiotherapy treatment. These experiences are what made Dylan decide to become physiotherapist and serve as a constant reminder of the importance of Physiotherapy to get people moving again and doing the things they love.

Kruti Vaishnav


Kruti has been a physiotherapist for 25 years and has practiced in private practice in Coquiltam since 1990. She also has worked in an acute care hospital for 25 years. She enjoys putting her manual therapy skills and whole person approach to work everyday.
[View More]
"Great location, friendly admin staff and insightful physiotherapists who understand the human kinesiology on another level."
Hamza H - Google Review
"Excellent! Flexible to work with my schedule, thorough check ups on progress, genuine care for my body, clear instructions on exercises. 10/10 would recommend."
Faye P - Google Review