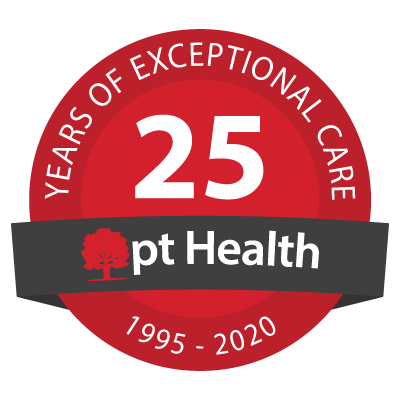 Brant 730 Physiotherapy - pt Health
In-person treatment available
Virtual Care treatment available
Ontario Health Insurance Plan (OHIP)
Welcome!
Our clinic is open and offering In-person treatment in addition to Virtual Care service. Please note that enhanced measures are in place to ensure the health and safety of our patients and staff. View our virtual tour video so you know what to expect at your next clinic appointment.
Our Clinic Team
Ellen MacRae
Patient Coordinator

Mary Murray
Patient Coordinator

Marylou joined our team in November 2016. She has many years of experience in customer service and office administration. In her spare time, Marylou likes to entertain and spend time with family and friends.



Amy Becke
Physiotherapist - BSc. PT

In 1997, Amy graduated from of The University of Western Ontario with a Bachelor of Sciences in Physical Therapy and started her career with pt Heath in one of our clinics in Stoney Creek. After 10 years in Stoney Creek, Amy transferred to Brant 730 Physiotherapy and in 2011 became Clinic Director. During this time, she has taken numerous continuing education courses in Manual therapy and Orthopaedics. Amy enjoys working with a wide age range of clients, from infants to seniors, to promote a healthy, balanced and physically active lifestyle.



George Cardenas
Physiotherapist

George obtained his Masters degree in Physiotherapy from McMaster University after completing a Specialized Honours Bachelors degree in Kinesiology and Health Science from York University. He plans to pursue further post-graduate training in the field of manual therapy.



Boris Rakovac
Physiotherapy Support Personnel

Speaks: English, Italian, Croatian

Boris has been working as a Physiotherapy Assistant at ptHealth since 2009, after graduating with Honours from Everest College. Boris helps expand our horizon of care through his global experiences, and is fluent in English, Croatian, and Italian. He is interested in sports, nature, woodworking, photography, and cars.



Cristina Abadiano
Physiotherapist

Speaks: English, Filipino

Chistina is passionate about helping patients of all ages but especially children. Fluent in both English and Filipino, and with over 20 years of experience, Christina has the skills and knowledge to help patients overcome injury and get to the best version of themselves.



Brinelle Braganza
Physiotherapist

Brinelle completed her Bachelor's in Physiotherapy from India in 2012. She then went on to do her post graduate in Musculoskeletal and Sports. She has worked extensively in the Orthopaedic field and has been an active part of a rehab team at an Accident and trauma hospital. She firmly believes in community service and has been a part of charitable organizations providing physiotherapy care. Her treatment approach is individually tailored to achieve her clients goals through manual therapy, soft tissue techniques, patient education and active rehab. As a part of continuing education she plans to pursue further development in manual therapy and acupuncture. In her leisure time she enjoys volunteering, camping and detective novels.


[View More]