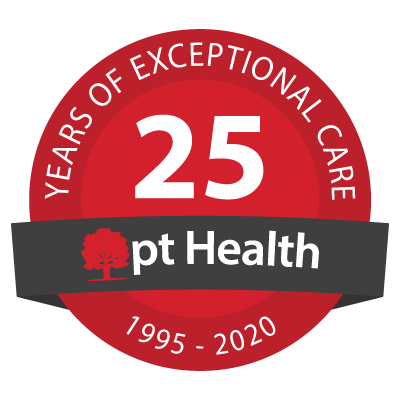 Brant Active Rehabilitation Centre - pt Health
In-person treatment available
Virtual Care treatment available
Welcome!
Our clinic is open and offering In-person treatment in addition to Virtual Care service. Please note that enhanced measures are in place to ensure the health and safety of our patients and staff. View our virtual tour video so you know what to expect at your next clinic appointment.
"I had a knee replacement and chose Brant Active to do my physio. From the time I walked in I was greeted with a smile and a how are you from the staff manning the front desk. Their knowledge and concern while they worked on my knee speed my recovery time up tremendously. I would recommend Brant Active to anyone that needs help."
Jim H - Google Review
"Everyone was so kind and understanding here. I've only had physio once before but these guys were 1000x better than the others and much much kinder. I was happy with the wonderful receptionist, the space was very clean and open which I love, and my therapist was extremely cool and fun and we had a good laugh in between figuring out what was wrong with me. "
Cate R - Google Review
Our Clinic Team
Reshminder Shoan
Physiotherapist - PT, HBSc. BioMed, DPT

Reshminder earned her BSc (Honours), DPT degree in 2011 from D'Youville College, which is complemented by her undergraduate degree in Biomedical Sciences from the University of Waterloo. She has worked in the United States and Canada with a variety of patient populations including those with: orthopedic injuries; post-operative orthopedic and cardiac impairments; neurodevelopmental disabilities; and vestibular impairments. She is interested in ongoing education courses in manual therapy and medical acupuncture. Reshminder has most recently completed both the Arthritis Society's Getting a Grip on Arthritis® osteoarthritis and rheumatoid arthritis education program. In her spare time, Reshminder enjoys working out, yoga, reading and knitting.



James D'Arcy Heenan
Physiotherapist - PT, B.Sc.Kin, M.Sc.PT

D'Arcy graduated from McMaster University in 2017 with a Master's of Science in Physiotherapy. Prior to attending McMaster, he graduated from Western University with a Bachelor of Science Honour's Specialization in Kinesiology. His postgraduate education includes Soft Tissue Release Training, completing the Level 1 Advanced Orthopaedic Manual and Manipulative Therapy exam, completing APTEI acupuncture and dry needling, and completing Mulligan's upper and lower extremity manual therapy. He is also a member of the Canadian Physiotherapy Association. He has experience treating a variety of orthopaedic and neurological conditions in clinical, rehabilitation and hospital settings. He believes that a mixture of manual therapy, exercise, and patient education leads to improved patient outcomes and patient satisfaction. In his spare time, he enjoys watching and playing sports and traveling with friends. D'Arcy has most recently completed both the Arthritis Society's Getting a Grip on Arthritis® osteoarthritis and rheumatoid arthritis education program.



Laura Epp-Ruitenberg
Massage Therapist - RMT

Laura is licensed through the College of Massage Therapists of Ontario, graduating from Mohawk College's Massage Therapy program in 2018. She has experience with patients of various ages and ability, as well as a range of techniques (taking a special interest in deep tissue and trigger point massage). Her passion is to improve her patients' quality of life and give them the tools and the education necessary to get the most out of their treatments.



Mary Murray
Patient Coordinator

Marylou joined our team in November 2016. She has many years of experience in customer service and office administration. In her spare time, Marylou likes to entertain and spend time with family and friends.



Mark Dwyer
Massage Therapist

Mark has been working in the healing arts for 10 years and as an RMT since 2014. He brings a holistic perspective to his practice which draws on his life experience in sports, martial arts, sustainable housing and organic farming. Mark graduated with Honors from Georgian College where he was a valued tutor for Massage and other Health Sciences students. Since graduation he has added the insights and techniques of Osteopathy and Acupuncture to his RMT training and continues to develop his skills to become the best RMT he possibly can. Thanks to his education and mentors Mark has unique insights into conditions ranging from scar tissue to concussion and nervous system dysfunctions.


[View More]
"Very friendly, very good at what they do! I've had balancing issues with my legs & ankles for as long as I can remember. This is the first time a real semblance of improvement has been felt and it's with these folks. Highly recommend!"
Bradley R - Google Review
"Very clean and friendly with staff eager to help with all who vist for health repairs. Easy to register, set up appointments and reminders by email of all appointments. I would recommend this rehab centre to family and friends."
Peter S - Google Review