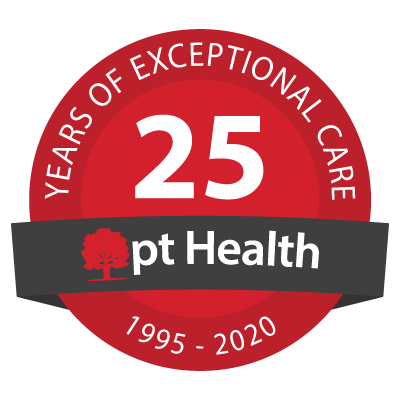 Brant Active Rehabilitation Centre - pt Health
In-person treatment available
Virtual Care treatment available
Welcome!
Our clinic is open and offering In-person treatment in addition to Virtual Care service. Please note that enhanced measures are in place to ensure the health and safety of our patients and staff. View our virtual tour video so you know what to expect at your next clinic appointment.
"I had a knee replacement and chose Brant Active to do my physio. From the time I walked in I was greeted with a smile and a how are you from the staff manning the front desk. Their knowledge and concern while they worked on my knee speed my recovery time up tremendously. I would recommend Brant Active to anyone that needs help."
Jim H - Google Review
"Everyone was so kind and understanding here. I've only had physio once before but these guys were 1000x better than the others and much much kinder. I was happy with the wonderful receptionist, the space was very clean and open which I love, and my therapist was extremely cool and fun and we had a good laugh in between figuring out what was wrong with me. "
Cate R - Google Review
Our Clinic Team
Amy Becke
Physiotherapist

In 1997, Amy graduated from of The University of Western Ontario with a Bachelor of Sciences in Physical Therapy and started her career with pt Heath in one of our clinics in Stoney Creek. After 10 years in Stoney Creek, Amy transferred to Brant 730 Physiotherapy and in 2011 became Clinic Director. During this time, she has taken numerous continuing education courses in Manual therapy and Orthopaedics.

Amy enjoys working with a wide age range of clients, from infants to seniors, to promote a healthy, balanced and physically active lifestyle.

George Cardenas
Physiotherapist

George obtained his Master's degree in Physiotherapy from McMaster University after completing a Specialized Honours Bachelor's degree in Kinesiology and Health Science from York University. He plans to pursue further post-graduate training in the field of manual therapy.

Cristina Abadiano
Physiotherapist

Chistina is passionate about helping patients of all ages but especially children. Fluent in both English and Filipino, and with over 20 years of experience, Christina has the skills and knowledge to help patients overcome injury and get to the best version of themselves.

Reshminder Shoan
Physiotherapist

Reshminder earned her BSc (Honours), DPT degree in 2011 from D'Youville College, which is complemented by her undergraduate degree in Biomedical Sciences from the University of Waterloo. She has worked in the United States and Canada with a variety of patient populations including those with: orthopedic injuries; post-operative orthopedic and cardiac impairments; neurodevelopmental disabilities; and vestibular impairments.

She is interested in ongoing education courses in manual therapy and medical acupuncture. Reshminder has most recently completed both the Arthritis Society's Getting a Grip on Arthritis® osteoarthritis and rheumatoid arthritis education program.

In her spare time, Reshminder enjoys working out, yoga, reading and knitting.

Boris Rakovac
Physiotherapy Assistant

Boris has been working as a Physiotherapy Assistant at pt Health since 2009, after graduating with Honours from Everest College. Boris helps expand our horizon of care through his global experiences, and is fluent in English, Croatian, and Italian.

He is interested in sports, nature, woodworking, photography, and cars.

Laura Epp-Ruitenberg
Registered Massage Therapist

Laura is licensed through the College of Massage Therapists of Ontario, graduating from Mohawk College's Massage Therapy program in 2018. She has experience with patients of various ages and ability, as well as a range of techniques (taking a special interest in deep tissue and trigger point massage).

Her passion is to improve her patients' quality of life and give them the tools and the education necessary to get the most out of their treatments.
[View More]
"Very friendly, very good at what they do! I've had balancing issues with my legs & ankles for as long as I can remember. This is the first time a real semblance of improvement has been felt and it's with these folks. Highly recommend!"
Bradley R - Google Review
"Very clean and friendly with staff eager to help with all who vist for health repairs. Easy to register, set up appointments and reminders by email of all appointments. I would recommend this rehab centre to family and friends."
Peter S - Google Review