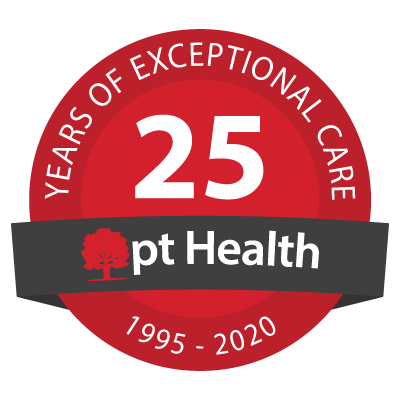 Caledonia Physiotherapy - pt Health
pt Health - Caledonia Physiotherapy is moving into pt Health - Hagersville Physiotherapy at 19 King St. W, Hagersville as of July 31st. You can expect the same compassionate care from our team in this new space!
Notice: We are open for In-Person treatment. To ensure the health and safety of our patients and staff, we have made a number of changes to the way our clinics operate and have implemented enhanced measures to ensure the health and safety of our patients and staff.
Click here to learn more about the S.A.F.E.R. approach.
To schedule an In-Person or Virtual Care appointment, please give us a call at 1-888-314-2726 or book an appointment online.
In response to COVID-19, pt Health is doing its part to help protect our patients and staff by modifying the availability of services at our clinics. Please call the clinic to seek advice or rebook services.
[Read More]
"The experience at Caledonia Physiotherapy has been awesome. I can't say enough about my therapist. Through his efforts, commitment and encouragement, I'm making progress and feel confident that I'll reach the goals we have agreed to. I would highly recommend this clinic!"
Kathy H - Google Review
"I've been going to pt Health for about a month now for post-accident whiplash therapy. The staff is always helpful, courteous and thorough. My therapist is very knowledgeable about his craft, and has been a tremendous help to me, and has certainly accelerated my recovery."
George N - Google Review
Our Clinic Team
Bradly Zdriluk
Physiotherapist - B.Sc. Kinesiology, M.Sc. Physiotherapy

Bradly Zdriluk is a Physiotherapist from Beamsville, Ontario. He graduated from McMaster University in 2015 with a Bachelor of Science Kinesiology (Honors) and a minor in Psychology. In 2017, Brad went on to complete his Master's of Science in Physiotherapy at Robert Gordon University in Scotland. Brad has worked in a number of settings throughout his education and early career including rheumatology, neurology, orthopedics and in multiple musculoskeletal clinics. Brad is motivated and focused on continuing to improve his skills with additional manual therapy training courses to provide the best patient care. Through his holistic approach to patient care, he excels in establishing lasting relationships and helping people overcome their barriers and achieve their goals. His evidence-based practice utilizes a number of different modalities during treatment, including joint mobilizations, active/passive stretching, electrotherapy for pain relief, and exercise prescription. In his spare time Brad enjoys mountain bike racing, attending fitness classes, golf, and spending time with his family.



Fenil Chauhan
Physiotherapist - Registered Physiotherapist

Speaks: English, Hindi, Punjab, Gujrati

Fenil obtained his Physiotherapy degree from University in India and has been practicing as a Physiotherapist since 2016 in Canada. His treatment philosophy emphasizes delivery of individualized treatment involving manual therapy, exercise prescription, education and preventive measures with a focus on patient-centered goals. Fenil has work experience in various environments including clinics, hospitals, community programs, long term care, and retirement homes. Experience in these diverse settings has helped Fenil develop proficiency working with a variety of health conditions including Musculoskeletal, Neurological, Cardiorespiratory origins. He has completed courses on Acupuncture and Dry needling, McKenzie Technique, Mulligan Therapy, Persistent Pain, and Post-concussion syndrome. Fenil continues to build on his skills by pursuing courses on Pelvic Floor Physiotherapy, Temporomandibular Joint and K tapping in the near future. In spare time, Fenil enjoys indoor rock climbing, cooking, trail tracking, camping and spending time with friends.


[View More]
"Recently went for physiotherapy and massage therapy. Had a great experience. Staff was very friendly & accommodating. I really felt like they cared about getting me better and making sure I was comfortable."
Jessica B - Google Review
"I have been going there for lower back pain and the exercises helped my a lot and the massage therapy was fantastic. The staff is all friendly and helpful and I can move quite a bit better now."
Laurie K - Google Review