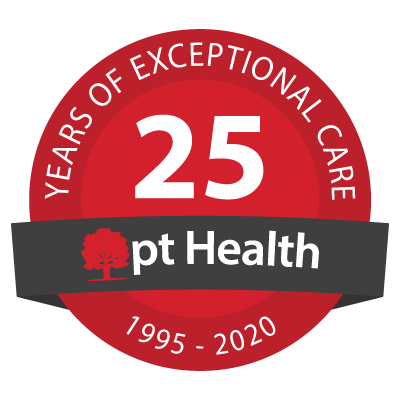 Dixie Sports and Physiotherapy - pt Health
In-person treatment available
Virtual Care treatment available
To ensure the health and safety of our patients and staff, we have made a number of changes to the way our clinics operate and have implemented enhanced measures to ensure the health and safety of our patients and staff. Click here to learn more about the S.A.F.E.R. approach.
"Dixie Sports and Physiotherapy is absolutely wonderful. They have an amazing team of people that put you instantly at ease and give you so many tools to work with to aid in getting better. They are always willing to answer any questions you might have and show you things to do at home to help with your recovery. Thank you so much to all the staff."
Katt N - Google Review
"I recently suffered an injury to my neck - soft tissue and bone issues. I received physiotherapy and now am receiving massage therapy. Exceptional service from very competent professionals. Support staff are kind and courteous, just what you need when you are in pain. Happy to say I am very near full recovery and resuming my life as before!"
Sue B - Google Review
Our Clinic Team
Anna Kolakowska
Physiotherapist - M.PT.

Anna graduated with a Masters Degree in physiotherapy from The Academy of Physical and Health Education in Warsaw, Poland in 1990. Anna has been practicing as a registered physiotherapist and registered massage therapist since 1993. She has been providing patients with manual therapy and exercise programs based on the classification system. She has a special interest in chronic persistent pain, insomnia, depression and anxiety. Her treatment plans are based on specific exercise programs, patients education, breathing, relaxation techniques, meditation, visualisation and other neuroplasticity.



Slawek Grzeszczyk
Massage Therapist

Speaks: English, Spanish, Polish

Slawek uses an integrated, therapeutic approach to therapy, combining medical acupuncture, soft tissue techniques ,active release technique and manual manipulation and mobilization . His goal is to achieve maximal results in reduction of pain, enhancement of optimal biomechanics and muscular performance. Since his graduation from Kikkawa College in Toronto in 1998 Slawek has worked alongside physiotherapist and chiropractic associates to treat patients with a variety of musculoskeletal problems. Slawek also graduated from AWF Warsaw in Poland that gives him strong background in physical therapy and sport oriented medicine. He is also a certified acupuncturist.



Grazyna Bancerz
Massage Therapist

Grazyna graduated in 2001 from the Kikkawa College of Massage Therapy in Toronto and has since been practicing. She has additional training in myofascial integration, deep tissue massage, suikodo technique, cranial and sacral technique, reflexology and hot stone massage.



Leszek Wojciechewicz
Massage Therapist - DO-MTP, M.OMSc.

Leszek graduated in 2002 from the Kikkawa College of Massage Therapy in Toronto. He started practicing massage therapy and specialized in sports injuries. He also studied craniosacral and manual lymphatic drainage. In 2009, he graduated from the Canadian Academy of Osteopathy in Hamilton, Ontario. Les is passionate about Osteopathy and very diverse in being able to treat many different problems and imbalances in the body, for better well bring. He has been involved in health care for nine years with a focus on Classical Osteopathic Manual Therapy.


[View More]