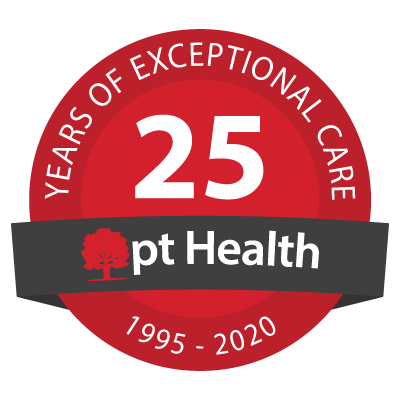 Drury Lane Physiotherapy and Rehabilitation - pt Health
In-person treatment available
Virtual Care treatment available
To ensure the health and safety of our patients and staff, we have made a number of changes to the way our clinics operate and have implemented enhanced measures to ensure the health and safety of our patients and staff. Click here to learn more about the S.A.F.E.R. approach.
"I was so pleased with the care, knowledge and information during my recent physiotherapy sessions. The ultrasound, massage, exercises, tape support helped tremendously. The staff were all great. Pleasant and engaging. I would highly recommend anyone needing help recovering from an injury to move as fast as you can to the Drury Lane clinic!"
Cindy H - Google Review
"Drury Lane Physiotherapy stands out. Very personable, cater to your injury needs. I feel like they go above and beyond - researching new drills and activities that help build my strength and endurance back. I would recommend this clinic to anyone who is looking for affordable, specialized care with people who are not only knowledgeable but kind."
Mary T - Google Review
Our Clinic Team
James D'Arcy Heenan
Physiotherapist - PT, B.Sc.Kin, M.Sc.PT

D'Arcy graduated from McMaster University in 2017 with a Master's of Science in Physiotherapy. Prior to attending McMaster, he graduated from Western University with a Bachelor of Science Honour's Specialization in Kinesiology. His postgraduate education includes Soft Tissue Release Training, completing the Level 1 Advanced Orthopaedic Manual and Manipulative Therapy exam, completing APTEI acupuncture and dry needling, and completing Mulligan's upper and lower extremity manual therapy. He is also a member of the Canadian Physiotherapy Association. He has experience treating a variety of orthopaedic and neurological conditions in clinical, rehabilitation and hospital settings. He believes that a mixture of manual therapy, exercise, and patient education leads to improved patient outcomes and patient satisfaction. In his spare time, he enjoys watching and playing sports and traveling with friends. D'Arcy has most recently completed both the Arthritis Society's Getting a Grip on Arthritis® osteoarthritis and rheumatoid arthritis education program.



Leah Michon
Naturopathic Doctor

Dr. Leah Michon, ND, is a graduate of the four-year medical program at The Canadian College of Naturopathic Medicine, one of the two accredited schools in Canada for Naturopathic Medicine. She attained her first degree, a Bachelor of Kinesiology with Honours, from McMaster University in 2007. She utilized this degree and worked as a Kinesiologist for pt Health in the Niagara region where she developed a special focus on geriatric care. It was during this time that her passion grew for finding new ways to achieve health aside from the conventional models in place and chose to further her education in Naturopathic Medicine. Dr. Michon is board certified with the Board of Directors of Drugless Therapy – Naturopathy, and is a member of both the Naturopathic Doctors of Ontario (NDO) and the Canadian Association of Naturopathic Doctors (CAND). Additionally, she has accreditation for IV therapy and Mesotherapy.



Laura Epp-Ruitenberg
Massage Therapist - RMT

Laura is licensed through the College of Massage Therapists of Ontario, graduating from Mohawk College's Massage Therapy program in 2018. She has experience with patients of various ages and ability, as well as a range of techniques (taking a special interest in deep tissue and trigger point massage). Her passion is to improve her patients' quality of life and give them the tools and the education necessary to get the most out of their treatments.



Mirjana Subotic
Physiotherapy Support Personnel - Floater

Speaks: English, Bosnian, Serbian, Croatian

Mirjana Subotic graduated from Trios College with honours as a Physiotherapy Assistant. Mirjana is passionate about being a part of patient's recovery, specifically with geriatric patients who are in the recovery process of a knee or hip replacement as well as shoulder injuries, as she has a significant interest in seeing the recovery process and the way a body heals at different stages of life. She enjoys working within a team that consists of Physiotherapists, Naturopathic and Massage Therapist as it enables her to follow a thorough treatment plan that includes manual therapy, modalities and exercise prescription while giving her an opportunity to learn further and advance her education. She is CPR, and First Aid certified. In her spare time, Mirjana likes continuing her educating about human anatomy, as well as baking and long walks in nature.



Will Nicholson
Physiotherapist - PT, B.A.(Hons) Kin, MPT

Will completed his Masters of Physical Therapy at Western University. Before this, he completed an undergraduate in Kinesiology at Brock University where he played baseball for four years. Will enjoys incorporating exercise and training principles combined with education and knowledge of about pain to help others continue doing what they enjoy. Will believes in a partnered approach to rehab, where the patient is an active participant in the process and centers his sessions around education and guidance. As appropriate, Will includes manual therapy and soft tissue work in his treatment plans but places an emphasis on exercise and movement to help his patients navigate their daily lives.



Debra Rimes
Patient Coordinator

Deb is a Physiotherapist Assistant and a Patient Coordinator working at many pt Health clinics across the GTA. She loves working with people, helping them achieve their goals and improve their quality of life. She also enjoys outdoor activities such as hiking & cross country skiing and recently have started kickboxing. Before her time at pt Health, Deb was a Fitness Trainer where she helped clients achieve their fitness goals. She obtained her Medical Office Certificate in 2012 and joined pt Health as a Patient Coordinator shortly after in 2013. Since Deb has continued her education and obtained the certification needed to become a Physiotherapy Assistant.


[View More]
"I would recommend Drury Lane Physiotherapy to anyone who needs physio. The best staff and loads of experience and professionalism towards their patients. They were the only one that helped me tremendously with my issues of walking; and walking without an air cast. If this treatment didn't work, we tried another treatment till it did work and gave me results of accomplishments of walking on my own."
Diana C - Google Review
"I can't say enough good things about Drury Lane Physiotherapy. The staff there are very helpful, always cheerful and make you feel very comfortable. I first went last year to see if they could help with the pain I was having in my shoulder. I was amazed at the difference. I would give them 5 stars and would recommend them as one of the best facilities to get help."
Ellen S - Google Review