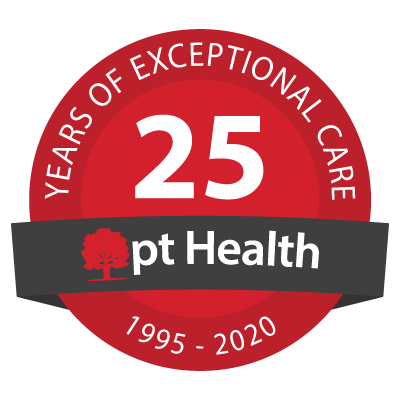 EP Physiotherapy - pt Health
Notice: We are open for In-Person treatment. To ensure the health and safety of our patients and staff, we have made a number of changes to the way our clinics operate and have implemented enhanced measures to ensure the health and safety of our patients and staff.
Click here to learn more about the Lifemark S.A.F.E.R. approach.
To schedule an In-Person or Virtual Care appointment, please give us a call at 1-888-314-2726 or book an appointment online.
In response to COVID-19, pt Health is doing its part to help protect our patients and staff by modifying the availability of services at our clinics. Please call the clinic to seek advice or rebook services.
[Read More]
"They are such a great team. Knowledgeable and helpful. They pay attention to the patients needs and concerns and ensure you understand exactly what treatments you are receiving and how they help you, they provide education to ensure you have the tools needed to not only recover from your injury but prevent any in the future."
Sheri M - Google Review
"I had my first appointment at EP Physiotherapy this evening and I don't think it could have gone better. The receptionist was funny, polite and very helpful. My physiotherapist was friendly and immediately put me at ease. She was extremely knowledgeable and explained everything in a way I could understand. Overall, this was an excellent experience. "
Crystal L - Google Review
Our Clinic Team
Amber Giesbrecht
Registered Massage Therapist

Amber Geisbrecht is a Registered Massage Therapist at pt Health. She grew up in Winnipeg, and completed her 2200 hour course from The Massage Therapy College of Manitoba in January of 2009. Amber enjoys working with sports injuries, among many other things, but a special highlight in her career was working with the Winnipeg Blue Bombers. She was able to gain significant experience working with sports-related injuries during this time and met some fabulous football players too!

Amber has taken several continuing education classes, and treats all areas of the body for injury, maintenance, or to simply just feel great! On her spare time, she enjoys snowboarding, playing soccer, and traveling.

Simone Prinsenberg
Registered Massage Therapist

Sanford Hare
Physiotherapist
[View More]
"I've been going to this physio clinic for a few months and the staff have been awesome! I highly recommend them if you need physiotherapy or massage."
Rhonda G - Google Review
"Awesome staff very knowledgeable and friendly. Comfortable atmosphere and excellent support while working to achieve my goals. Great location close to my home and work."
Paula M - Google Review