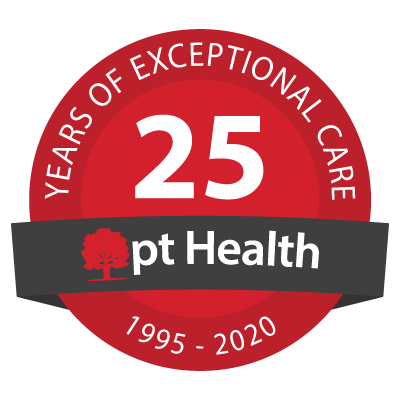 EP Physiotherapy - pt Health
Welcome!
Our clinic is open and offering in-person treatment in addition to virtual care. We look forward to seeing you soon.
"They are such a great team. Knowledgeable and helpful. They pay attention to the patients needs and concerns and ensure you understand exactly what treatments you are receiving and how they help you, they provide education to ensure you have the tools needed to not only recover from your injury but prevent any in the future."
Sheri M - Google Review
"I had my first appointment at EP Physiotherapy this evening and I don't think it could have gone better. The receptionist was funny, polite and very helpful. My physiotherapist was friendly and immediately put me at ease. She was extremely knowledgeable and explained everything in a way I could understand. Overall, this was an excellent experience. "
Crystal L - Google Review
Our Clinic Team
Sarah Bird
Physiotherapist

Amber Giesbrecht
Registered Massage Therapist

Amber Geisbrecht is a Registered Massage Therapist at pt Health. She grew up in Winnipeg, and completed her 2200 hour course from The Massage Therapy College of Manitoba in January of 2009. Amber enjoys working with sports injuries, among many other things, but a special highlight in her career was working with the Winnipeg Blue Bombers. She was able to gain significant experience working with sports-related injuries during this time and met some fabulous football players too!

Amber has taken several continuing education classes, and treats all areas of the body for injury, maintenance, or to simply just feel great! On her spare time, she enjoys snowboarding, playing soccer, and traveling.

Simone Prinsenberg
Registered Massage Therapist

Sanford Hare
Physiotherapist

Samara Shepard


Samara Shepard is a Registered Massage Therapist who graduated from the Canadian College of Massage and Hydrotherapy in 2022. She has participated in many specialty clinics during her time of study such as, Invisible Illness, Arthritis, Pregnancy and Sports. These experiences led her to take special interest in massage and mental health. Samara is very passionate about the environment.

In her free time she enjoys gardening and participating in community clean ups. She also enjoys yoga and music.

Jenny Tiller
Occupational Therapist

Jenny is a graduate of Glasgow Caledonian University, where she received a Master of Science in Occupational Therapy. She also holds a Bachelor of Arts in Psychology from Memorial University. Jenny is a member of the College of Occupational Therapists of Nova Scotia, as well as a member of the Canadian Association of Occupational Therapists.

Jenny has a passion for Occupational Therapy, due to the professions focus on providing a client-centered and holistic approach. Jenny aims to help clients who are experiencing physical, cognitive, or emotional difficulties to meet their goals of returning to their meaningful occupations/daily activities.

When not at work, Jenny enjoys activities such as running, hiking, reading and spending time with her dogs.
[View More]
"I've been going to this physio clinic for a few months and the staff have been awesome! I highly recommend them if you need physiotherapy or massage."
Rhonda G - Google Review
"Awesome staff very knowledgeable and friendly. Comfortable atmosphere and excellent support while working to achieve my goals. Great location close to my home and work."
Paula M - Google Review