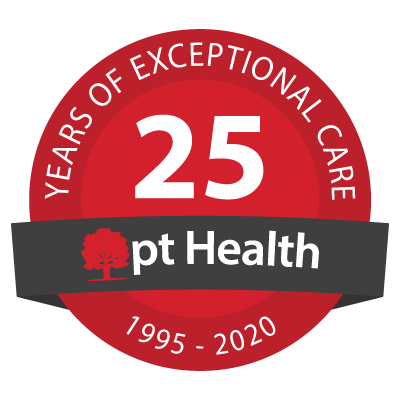 Evans Physiotherapy - pt Health
Notice: We are open for In-Person treatment. To ensure the health and safety of our patients and staff, we have made a number of changes to the way our clinics operate and have implemented enhanced measures to ensure the health and safety of our patients and staff.
Click here to learn more about the S.A.F.E.R. approach.
To schedule an In-Person or Virtual Care appointment, please give us a call at 1-888-314-2726 or book an appointment online.
In response to COVID-19, pt Health is doing its part to help protect our patients and staff by modifying the availability of services at our clinics. Please call the clinic to seek advice or rebook services.
[Read More]
"Been here a couple of times now, and I have to say that the staff is excellent. They provide great patient care and take the time to provide the best physiotherapy for your needs. Also, I loved that they are flexible in terms of changing the appointments in case you can't make it a certain day. I would totally recommend this place for your needs."
Simran K - Google Review
"Great customer/patient service! I was very satisfied with my assessment and treatment at this clinic. The team is very informative and treated my back with great care. They take time to provide effective treatment, ensuring I was comfortable and understood the recovery plan for my back. The clinic is very clean, I would highly recommend."
Lina S - Google Review
Our Clinic Team
Harmanpreet Kaur
Office Manager

Speaks: English, Hindi, Punjab

Harman graduated from LPU, India, with a degree in Biotechnology and completed post graduate program in Food Science and Technology from Centennial College, Scarborough. Shortly after graduating, she joined pt Health in 2014. Her passion for new challenges in life, helping others and multitasking, has expanded her career into the role of Office Manager for 4 clinics and GTA Administrative Team Lead for 8 clinics. Harman enjoys every aspect of her job with pt Health. Outside of work she enjoys spending time with her family and friends.



Patrica Woodley
Patient Coordinator - Floater

Zahabia Hussain
Patient Coordinator

Speaks: English, Urdu, Hindi, Gujarati, Punjabi

A member of the pt Health Evans team since 2010, Zahabia Hussain is not only very hardworking and passionate but has extensive experience working with people from many different backgrounds. In addition to her work experience, Zahabia has a diploma in Physiotherapy Assistant Program from Trios College and is fluent in five languages; English, Urdu, Hindi, Gujarati, and Punjabi.



Hamid Sadeghian
Physiotherapist

Speaks: English, PersianFarsi

Elizabeth Abraham
Physiotherapist

Speaks: English, Malayalam

Elizabeth has most recently completed both the Arthritis Society's Getting a Grip on Arthritis® osteoarthritis and rheumatoid arthritis education program.


[View More]
"Courteous and professional staff. Provided excellent service whenever I visited them. Listen patiently to my problems on my very first visit and recommended several exercises which brought me a great relief. Job well done."
Daljit S - Google Review
"I was treated with physiotherapy for a left knee replacement. After my last treatment my knee was much improved. I found the staff to be knowledgeable, helpful and courteous. I would recommend this clinic."
Beverly H - Google Review