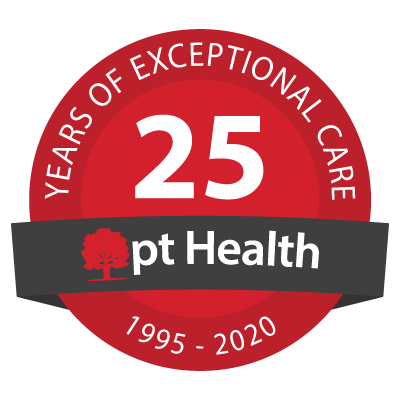 Head to Toe Physiotherapy Orleans - pt Health
pt Health is offering virtual care appointments. Please call for availability.
In response to COVID-19, pt Health is doing its part to help protect our patients and staff by modifying the availability of services at our clinics. Please call the clinic to seek advice or rebook services.
[Read More]
"I have been at two other clinics in the Orleans area in the past; but, this one is the best so far. Great staff, who take the time to explain things in plain language and offer excellent advice."
Francois L - Google Review
"I have been a pt Health client for years. I have used both physiotherapy and massage therapy services. They are excellent service providers, knowledgeable and caring."
Robert S - Google Review
Our Clinic Team
Michele Morissette
Chiropractor - chiropractor

Dr. Michèle Morissette started her career as a computer programmer in Montreal. After seeing a chiropractor for neck issues, she became so fascinated by the profession that she decided to go back to school to become a chiropractor. Michèle graduated from Cleveland Chiropractic College with honours in 1989 and owned her own clinic in the Gatineau area for years before moving to Ontario. Over the years Michèle has helped many patients recover from a multitude of injuries and conditions. Michèle has recently joined our team and is excited to help Head to Toe's patients achieve their health and wellness goals!



Mike McCreight
Physiotherapist - BSc HK, MSc PT, Physiotherapy Resident

After years of involvement in competitive sports, Mike found his passion and decided to pursue a career in Physiotherapy. He obtained a BSc in Human Kinetics from the University of Guelph in 2012, after which he worked as a Physiotherapy Assistant for 4 years and volunteered in various facets of the field including long-term care, athletic therapy, and cardiac rehab. He then completed his MSc in Physiotherapy at Queen Margaret University in Scotland in 2018. Mike does not believe in a "one-size-fits all" approach and is committed to providing client-centred care, tailoring each treatment plan to an individual's unique needs and personal goals. Mike is dedicated to continuing his education and has completed post-graduate certifications in Advanced Exercise Prescription for the Cervical Spine and Upper Extremity and Lumbar Spine and Lower Extremity through the APTEI. Mike is also trained in using GaitScan technology from The Orthotic Group to assess and custom fit clients for orthotics. He takes great pride and feels great responsibility in knowing it is his job to help return clients back to the activities they love doing.



Chanel Elie
Physiotherapist - Physiotherapist

Chanel is a kind, caring, enthusiastic and positive physiotherapist resident who is very passionate about health and fitness and who likes to include patients in their health care programs. She obtained a Bachelor's degree from the University of Ottawa in Health Sciences in 2015 and continued her studies by completing a Master's in Physiotherapy in 2017, also at the University of Ottawa. She uses hands on therapy, home exercise program, education and modalities to help her patients achieve their treatments goals and get back to their everyday pain free activities. Chanel has completed her Part A certification of McKenzie Method of Mechanical Diagnosis and Therapy (MDT) and also her Level 1 Manual Therapy certification. She's excited to continue her education by taking additional post-graduate courses. When Chanel is not working, she likes to stay active and go hiking, dancing, playing out in the sun with friends and going camping.



Laurie Price
Massage Therapist - B.Sc.(HK), RMT

Laurie enjoys being a massage therapist. She looks forward to helping you feel better and to help you maintain optimal health. She has experience treating a wide variety of conditions including back and neck pain. Her treatment is based on a combination of Swedish massage, myofascial techniques and joint mobilization to help ease discomfort, improve mobility and reduce tension in a way that soothes and relaxes and yet carefully focuses on deeper tissues as needed. After graduating with a B.Sc. in Human Kinetics (U. of Guelph) in 1987, Laurie received experience working as an assistant in both fields of occupational therapy and physiotherapy. Her massage therapy career began in the year 2000 following a three-year program at Algonquin College in Ottawa, Ontario.



Lise Moll
Patient Coordinator

Laurie Stewart
Physiotherapist - PT

Laurie received a Bachelor of Science in Physiotherapy from McGill University in 1999. She is kind and caring with a passion for improving individual personal health and wellbeing through rehabilitation treatment and therapeutic exercise. Her experience in physiotherapy includes work in schools, hospitals and in the community managing treatment of a wide variety of musculoskeletal, cardiopulmonary, vestibular and neurological conditions such as fractures, sports injuries, traumatic brain injuries, chronic pain, COPD, heart disease, vertigo, stroke, neurodegenerative conditions like Parkinsons disease and congenital conditions including cerebral palsy.


[View More]
"I have been receiving physiotherapy for sciatica pain in the right leg for several weeks now. The pain has dramatically improved now and I credit the Physio."
Jim L - Google Review
"I use Head to Toe for both physiotherapy and massage, as does my wife. We are both extremely happy with the competent and caring services we receive."
Eric A - Google Review