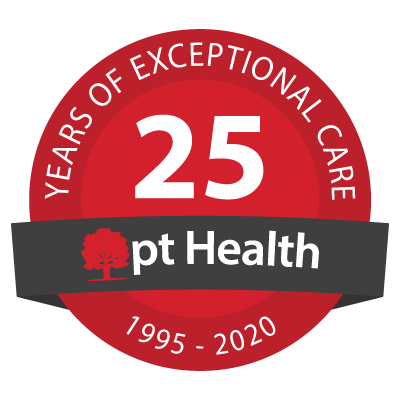 In Motion Physio and Wellness Morgan Creek - pt Health
Welcome!
Our clinic is open and offering in-person treatment in addition to virtual care. We look forward to seeing you soon.
"I couldn't be happier that I found this place! All the staff are so friendly and accommodating...they really do care about my wellbeing and me getting better! I would definitely recommend coming here if you want to start feeling better quickly!"
Nicola M - Google Review
"Very impressed by the care I have received at In Motion Physio...has taken me from a place where I was virtually incapable of moving my arm to having full range of motion in my shoulder once again. I highly recommend for your physiotherapy needs."
Julia - Google Review
Our Clinic Team
Claire Cote
Registered Massage Therapist

Claire graduated from the West Coast College of Massage Therapy in 1997. Her training was in soft tissue and joint manipulation, hydrotherapy and remedial exercises in medical treatment. She uses a blend of therapeutic techniques - neuro-muscular, trigger point and connective tissue release - as well as esthetic techniques.

Claire has post graduate training in: Osteopathic techniques, Advanced Lymphatic Drainage and Decongestive Therapy, Exercises, Stretching and Movement Therapy.

Neil Arun
Physiotherapist

Neil Arun is an enthusiastic and resourceful physiotherapist who is passionate about the therapeutic treatment for his patients by using different tools of physiotherapy. He is keen in helping people recover from injuries sustained from illness, ageing, surgery or disability and his clinical interest resides in the management of different orthopaedic conditions and general athletic injuries.

As a sportsman, he has personal experience with the struggle of recovering from an injury. He has completed his Bachelor of Physiotherapy from Kurukshetra University, India, his Master of Physiotherapy from Gharwal University, India and his Master in Administrative Sciences from FDU, Vancouver.

When Neil is not working, he like to play sports and outdoor activities. Neil is fluent in English, Hindi, and Punjabi.

Bharti Sharma
Physiotherapist

Bharti completed her Bachelor's degree in Physiotherapy at the University of Delhi, India and her Master's degree in Clinical Exercise Physiology at Texas Tech University, USA. She has experience treating those recovering from joint replacement surgeries, fractures, work related pains and injuries, stroke, various progressive neurological conditions, cancer rehab, vestibular dysfunctions and other balance disorders.

Bharti has additional certifications in manual therapy, yoga, vestibular rehab and she is also a certified lymphedema therapist from ACOLS.

In her personal time, she enjoys hiking, working out, learning new things and spending time with friends and family.

Paramjit Aulakh
Physiotherapist

Paramjit (Neena) Aulakh obtained her degree in Masters in Sports Physiotherapy from Punjab University, India in 2009. She has over 7 years of experience in clinical physiotherapy.Her special areas of interest are orthopaedics and sports injuries. She is also certified in Level 1 Functional Dry Needling and also completed certificate courses in Mulligan Concept of Mobilization and Basic vestibular rehabilitation. In her free time, she likes to cook and shop.

Shannen Cinco


Shannen is skilled and dedicated physiotherapist with a passion for helping individuals regain optimal physical health and function. With years of experience in the field, she has established herself as a trusted healthcare professional, committed to providing personalized care to her patients.

She earned her Degree in Physical Therapy in the Philippines where she honed her clinical expertise and deepened her understanding of human anatomy and movement. Throughout her career, Shannen has worked with patients of all ages, from children to older adults, and has successfully managed various conditions, including sports injuries, MVA and work-related injuries, post-surgical rehabilitation, chronic pain, concussion care and arthritic management. She takes a holistic approach to patient care, recognizing the unique needs and goals of each individual. By combining evidence-based therapies, manual techniques, exercise prescription, and patient education, she strives to optimize her patients' recovery and improve their quality of life.

Shannen has a strong desire for professional growth and plans to continue her education in pelvic health, manual therapy, and orthopaedic courses.
[View More]
"I was referred by my GP to come to In Motion to help my recent Sciatica problem. I am getting fabulous results. I can clearly see the successful end of my treatment so that I can continue with my normal activities."
Glenn R - Google Review
"Not only do they provide the necessary treatments to perfection, but they also LISTEN and provide guidance. These combined qualities are hard to find at many other clinics... thank you!"
Yvette - Google Review