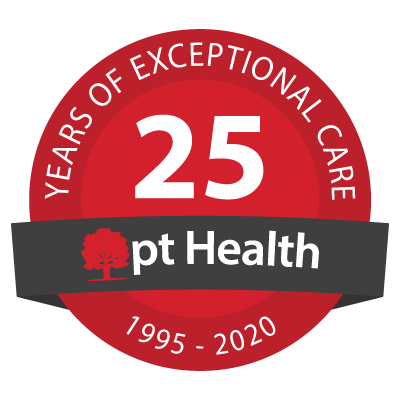 Limeridge Physiotherapy and Rehabilitation - pt Health
Welcome!
Our clinic is open and offering in-person treatment in addition to virtual care. We look forward to seeing you soon.
"I highly recommend PT Health to anyone who is looking for friendly, knowledgeable, and very professional staff. They always walk me through what I should do to make sure I'm comfortable and to make sure I'm doing the proper movements for faster results. I believe no matter how big or small your injury may seem, the team here at PT Health will make sure you have a speedy and safe recovery."
Nan K - Google Review
"After months of back pain from scoliosis, my Dr. prescribed physio and RMT. This clinic lives up to everything their website claimed. People who actually care about your well being and have done a great deal to improve it. From the initial welcome at the front desk, through support staff, to my angel of a physiotherapist, I couldn't be happier. I look forward to getting even stronger and pain free."
Ted V - Google Review
Our Clinic Team
Natalie Szabo
Registered Massage Therapist

Natalie has been a Registered Massage Therapist since 2006 and has been working with pt Health since 2013. After working in a few different massage settings, it became clear that rehabilitation is the setting she wants to work in. The challenge of working with rehab clients, and the satisfaction when they get better, is what drew her to rehab.

After 14 years of working hands-on with client, she has now also become the Clinic Director of Limeridge Physiotherapy.

When Natalie isn't in the clinic, she's enjoying time with her husband and two daugthers.

Riddhi Desai
Physiotherapy Resident

Riddhi completed her Bachelor in Physiotherapy in India in 2012. After a year of working as a Physical Therapist and Aerobic Instructor in India, she moved to the United States to pursue her Master's degree in 2014. Since then, she has worked as a Physiotherapist in the United States and in Canada.

Riddhi has a keen interest in working with different surgical and non-surgical orthopedic conditions, vestibular and balance training, and acute and chronic pain management. She believes in evidence-based practices and keeps herself updated with new treatments with continuing education. She believes in a one-on-one treatment program with having the patient's best interest in mind. Riddhi can provide services in Gujarati and Hindi.

In her spare time, you can find Riddhi running, hiking and dancing!

Hashmee Sumser
Physiotherapist

Hashmee is a registered bilingual physiotherapist in English and French with over 10 years of experience working in hospital for acute care, out-patient and private practice. He has taken Manual Therapy training with an Australian school of Manual Therapy. Hashmee treats a variety of cases like work-related injuries, motor vehicle accident, repetitive stress injuries, fractures, post-operative joint replacement surgeries and sports related injuries.

In his spare time, Hashmee loves playing soccer, and enjoys spending precious moments with his family.

Gurinder Kaur


Gurinder graduated from Guru Nanak Dev University in 2017. After completing her graduation she moved to Canada to continue her education and received her post graduate diploma in healthcare administration and service management. Before working as a physiotherapist resident, she worked in a nursing home with seniors for 3 years as a physiotherapist assistant.

Gurinder has a big interest in sports physiotherapy, and post-surgical rehab cases. She likes to keep her knowledge updated with new studies on treatments.

Gurinder feels accomplished and motivated when she sees her patients moving without pain.

When not at work, she likes to go to the gym and cook delicious food.

Nick Kondrat


Nick completed his Master's degree in Physical Therapy at the University of Manitoba and is a graduate of the Honours Bachelor of Science Kinesiology program at McMaster University.

As a former varsity track and field athlete and hockey player, Nick's interest in physiotherapy stems from his experiences with various injuries as an athlete. As a therapist, he believes in using an individualized, evidence-based treatment approach to help his patients achieve their goals and return to their daily activities. Nick uses a combination of manual therapy, exercise and education to help treat patients with various acute and chronic conditions.

Nick is passionate about lifelong learning and plans to further his education with post graduate courses in acupuncture, vestibular and concussion rehab, advanced manual therapy and strength and conditioning. In his spare time, he enjoys running, biking, hiking, skiing and playing hockey.
[View More]
"Would recommend this facility to anyone who needed care. From the front door to your area of physio someone is there to greet you and make sure you are taken care of. Great job."
Denis K - Google Review
"Highly recommended! Perfect environment and a very professional, caring and above all professional team. Very attentive, understanding and supportive. A great facility!"
Salman A - Google Review