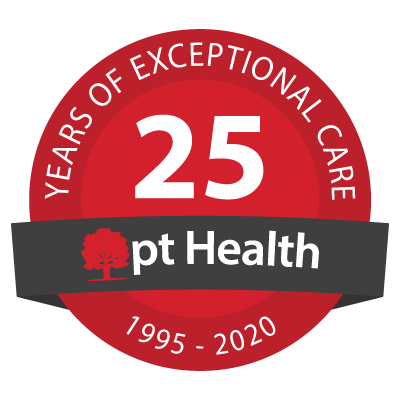 Limeridge Physiotherapy and Rehabilitation - pt Health
"I highly recommend PT Health to anyone who is looking for friendly, knowledgeable, and very professional staff. They always walk me through what I should do to make sure I'm comfortable and to make sure I'm doing the proper movements for faster results. I believe no matter how big or small your injury may seem, the team here at PT Health will make sure you have a speedy and safe recovery."
Nan K - Google Review
"After months of back pain from scoliosis, my Dr. prescribed physio and RMT. This clinic lives up to everything their website claimed. People who actually care about your well being and have done a great deal to improve it. From the initial welcome at the front desk, through support staff, to my angel of a physiotherapist, I couldn't be happier. I look forward to getting even stronger and pain free."
Ted V - Google Review
Our Clinic Team
Ryan Longley
Physiotherapist - MSc (PT), B.A. (Hons)

Ryan graduated from Queen's University in Kingston with his Masters of Physical Therapy in 2014. Prior to this, he studied Kinesiology at The University of Western Ontario. Ryan was born and raised in London, Ontario and now lives in Hamilton. He previously worked with the pt Healthcare team as a Kinesiologist. He has pursued additional courses and training in manual therapy, therapeutic taping and contemporary medical acupuncture. Ryan is committed to returning his patients to an optimal and enhanced level of functioning. Ryan has most recently completed both the Arthritis Society's Getting a Grip on Arthritis® osteoarthritis and rheumatoid arthritis education program.



Megan Shanahan
Physiotherapist - MSc (PT), B.A. (Hons)

Megan graduated from Queen's University in Kingston with her Masters of Physical Therapy in 2017. She was born and raised in P.E.I and now lives in Hamilton, Ontario. Megan has completed her training in contemporary medical acupuncture and plans to further pursue manual therapy qualifications. She believes in using an evidenced-based approach to treatment along with a client-centered focus to improve each patient's overall well-being. Megan has most recently completed both the Arthritis Society's Getting a Grip on Arthritis® osteoarthritis and rheumatoid arthritis education program.



Brennan Patrick
Massage Therapist

Brennan graduated Everest College in 2014, obtaining a diploma in Massage Therapy after passing the Ontario Examination Process, and becoming a Registered Massage Therapist. Brennan was trained in Swedish Massage Therapy Techniques, Joint Mobilizations, Fascial Release, Trigger Point Therapy, Deep Tissue Massage, and Remedial Exercise. Brennan has been a part of the PT Health team since March 2015 and is in good standing with the College of Massage Therapist of Ontario as well as The Registered Massage Therapist Association of Ontario. Brennan also plans on upgrading his skills and knowledge to better meet client needs in a more effective manner.



Natalie Szabo
Massage Therapist

Natalie Szabo has been a Registered Massage Therapist since December 2006, and has worked with PT Health since 2013. She has tried a few different massage environments, but has always been drawn to working with Physios. This is the best setting for working with acute and chronic injuries, and there's a real satisfaction in seeing the impact you have on the clients day to day lives. She's always focused her continuing education on learning more about specific injuries and how to treat them. And now as a mom of 2 she also loves working with pre or post natal clients When Natalie isn't in the clinic she's enjoying time with her daughters, or working on renovations with her husband.



Matt DeBoersap
Rehabilitative Manual Therapist

Matt went to Brock University in 2011 with a keen interest in both fitness and rehabilitation. He spent time during his undergrad volunteering at a physiotherapy clinic as well as working with seniors and athletes as a trainer. Immediately after graduating in 2015 he took a job as a Physiotherapy Support Personnel which he did until September 2018 for pt Health. During this time Matt came across Osteopathy and knew he wanted to pursue a career in it. In the fall of 2016 he began studying at the Canadian Academy of Osteopathy and is currently in his third year there. As a Rehabilitative Manual Therapist, Matt's treatments are not covered by any extended health benefits or third party insurances. His goal is to provide safe and effective treatment and is able to use the following in his treatments: Myofascial Release, Muscle Energy, Oscillatory Osteoarticular Release, Counter Strain, Cranial Sacral, and Ligamentus Articular Release.



Tama-Lynn Noseworthy
Physiotherapy Support Personnel

Tama-Lynn is a woman that goes above and beyond to help others succeed. She completed her diploma in PTA/OTA at Mohawk College in 2012. Since then she has worked with PT Health as a Physiotherapy Support Personnel. Tama's passion for her job is something you can't fake. Her charismatic and magnetic personality helps to motivate people towards their recovery goals. Tama herself has dealt with pain and discomfort from being diagnosed with scoliosis of the spine. Physiotherapy has kept her moving and active in her love of sports. She also has her First Responder Medical Certificate and continues to grow her knowledge base by taking courses in gait analysis with the Orthotic Group.



Fallon Bowman
Patient Coordinator

Fallon is a Patient Coordinator at Limeridge Physiotherapy in Hamilton. She has been with pt Health since 2008 and is your first contact at the clinic level. Fallon will always greet you with a warm smile and a friendly hello. She is responsible for many tasks around the clinic including scheduling patient appointments, taking payments and helping patients any way she can. In her spare time she is a busy mom of 4, enjoys doing many activities with her kids.



Ruth Draaistra
Patient Coordinator - Floater

Ruth graduated from the OTA/PTA program from Mohawk College in 2017 and has worked in a physiotherapy clinic for just over two years as a Physiotherapist Assistant. She seeks to provide quality care for her patients in whatever role she takes on. Currently working as a Patient Coordinator at Limeridge Physiotherapy and occasional Physiotherapist Assistant Floater for the Hamilton region, in her spare time Ruth can be found studying for her Massage Therapy courses at Mohawk College or working out at the gym. She is a small-town girl at heart (all the way from Dunnville!) and is in the process of accumulating more and more indoor plants (currently she has 5). Though a small-town girl, she is excited to be here in Hamilton and hopes to continue contributing to patient well-being within the fantastic team at Limeridge!



Charles Galvano
Physiotherapy Support Personnel

Charles is studying Kinesiology at Brock University. He hopes to one day become a physiotherapist to help get people back to feeling their best and make a difference in their lives. If he is not in school or at work, he is usually in the gym trying to better my health.


[View More]
"Would recommend this facility to anyone who needed care. From the front door to your area of physio someone is there to greet you and make sure you are taken care of. Great job."
Denis K - Google Review
"Highly recommended! Perfect environment and a very professional, caring and above all professional team. Very attentive, understanding and supportive. A great facility!"
Salman A - Google Review