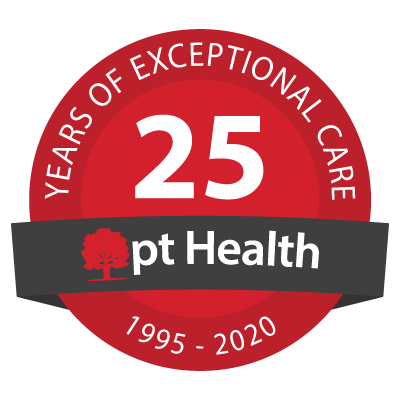 Market Mall Physio and Chiro - ptHealth
In-person treatment available
Virtual Care treatment available
To ensure the health and safety of our patients and staff, we have made a number of changes to the way our clinics operate and have implemented enhanced measures to ensure the health and safety of our patients and staff. Click here to learn more about the S.A.F.E.R. approach.
"This clinic is AMAZING! All of the staff are so friendly and there is excellent collaboration and communication between the people taking care of patients. The PTs, support personnel, front desk staff and RMT who I have met and worked with have been positive, accommodating and fun to talk to in general. I look forward to my physio appointments."
Ewa M - Google Review
"Therapists are on time with their appointments. Treatments are about 45 minutes long. I've had physio from 3 of the therapists and my treatments were excellent. I've never felt like I had too many or too few treatments either. I've been coming here for over two years now and would definitely recommend this place."
Catherine R - Google Review
Our Clinic Team
Paula Wong
Physiotherapist - MScPT

Paula is a graduate of Queen's University, where she completed both her Masters of Science in Physiotherapy and her Honours Bachelor of Science in Kinesiology. Paula has experience working with people of all ages and a wide variety of conditions. With her background of varsity soccer and ultimate frisbee, she especially enjoys helping athletes (and weekend warriors) return to sport. Paula also enjoys helping those with chronic neck and back pain get back to where they need to be! Paula has completed additional courses in manual therapy, soft tissue techniques, taping, acupuncture and functional dry needling. She uses these tools along with corrective exercises and client education to help reduce pain, return to function and prevent re-injury. In her spare time, Paula enjoys living an active lifestyle, playing competitive ultimate frisbee, hiking and travelling.



Karen Silver
Massage Therapist - Registered RMT

Karen graduated from the 2200 hour program at MH Vicars School of Massage Therapy and is registered with the Natural Health Practitioners of Canada (NHPC). Karen has taken Deep Tissue Massage, Fascial Decompression (Myofascial Release) and Dynamic Cupping with Massage courses to add to her repertoire. As she continues on her journey as a massage therapist, she looks forward to continually expanding her education to better serve you, the client. She has been active most of her life and have had a fair share of injuries. Her interest in anatomy and physiology has led her to this exciting career. She is able to help you with your aches and pains and provide you with a feeling of well being. She believes that everyone is unique and by taking the time to discuss your issues, she can develop a plan to best suit your needs. "One of the best perks of being a massage therapist, is that I get to meet so many different people and therefore travel the world without leaving my room! "



Glen Doan
Chiropractor - DC

Glen completed his Doctor of Chiropractic degree from the Canadian Memorial Chiropractic College in Toronto Ontario. Beforehand, he obtained an Honors Bachelor of Science in Life Science from McMaster University in Hamilton Ontario, having graduated with distinction as Summa Cum Laude. Glen continually attends seminars and courses to ensure he utilizes the most current and relevant information and techniques. To help his patients reach their health and wellness goals Glen employs diversified manual chiropractic adjusting techniques, graded mobilization, acupuncture/dryneedling, along with various myofascial release techniques such as Graston and Functional Range Release. Additionally, Glen utilizes corrective exercises and Functional Range Conditioning to equip his patients with a home exercise program. Glen is also trained to provide Orthotics. Techniques are combined in a fashion specific to the patients individual goals and needs. Glen has experience with a wide range of patients including competitive athletes, weekend warriors, family practice, motor vehicle accidents, and injured workers. An important note is Glens' ability to employ softer techniques for seniors, children, and patients with comorbidities. As a member of the multi-disciplinary team Glen enjoys exercising his ability to refer and co-treat with physiotherapists, registered massage therapists, and acupuncturists. Due to Glens' unique combination of skills and setting, patients can expect to receive a highly effective treatment approach. Outside of the office Glen can be found in the rockies either mountain biking , rock climbing, skiing, and enjoying the great outdoors in any way he can.



Lois Garton
Acupuncturist (Regulated) - Acupuncturist/ PT

Lois is registered in Alberta as a physiotherapist and an acupuncturist(Traditional Chinese Medicine). She graduated with a Bachelors of Physical Therapy(Hons.) from the University of Alberta, where she also completed her Certificate in Medical Acupuncture. In 1992 Lois studied advanced acupuncture training in Beijing, China. She has also studied Chinese Herbology. Lois believes integrating these two studied advanced acupuncture training in Beijing, China. She has also studied Chinese Herbology. Lois believes integrating these two professions allows her to treat her clients more efficiently. As a physiotherapist she finds acupuncture to be an effective treatment for pain and more complicated muscloskletal conditions. Acupuncture can address numerous other health concerns such as, but not limited to, headaches, sleep, digestion, women's health and decreased immunity. Beyond exercise prescription, Lois analyzes client's poor movement patterns to address long standing problems. Lois also incorporates joint mobilizations, dry needling and taping into her treatments as needed. She regularly participates in professional development in both of her professions to ensure her skill level is current and continues to meet the needs of all her clients. Lois has many years of experience treating a wide variety of conditions in clients ranging from young children to the elderly. ( Note: Lois uses "needleless" acupuncture with children and needle phobic clients.) When she's not at work Lois likes to hike,kayak, garden, golf, spend time with family and friends and travel to far away places!



Bethenie Wair
Patient Coordinator - MOA

Beth is the Clinic Coordinator at Market Mall Physiotherapy in Calgary, Alberta, Beth has been with this clinic since 2010. She's the person you need to see when there's a problems with your account, she is considered the "Money Lady". Beth's been overseeing all the administrative functions in the office. She directly handles most financial processing such as claims, cheques, banking, petty cash, accounts payable/receivables, dealing with adjusters etc. basically if there's a problem, she's your "gal". Every so often, if you're lucky, you can find her assisting or covering a shift at the front desk, kind hearted always with a smile on her face. You are in good hands with Beth, strong and professional. She's versatile and confident in whatever she does, you can rest assure that she's goes above and beyond to lend a helping hand, going the extra mile all the time. She's passionate about what she does and knowledgeable about the process to help you feel at ease and comfortable as soon as you walk in the door, with a leave no stone unturned attitude, she will get to the bottom of it!



Tracy Chu
Physiotherapist - MScPT

Tracy obtained her Bachelor of Kinesiology in Athletic Therapy from the University of Manitoba. She then continued her pursuit of education and obtained her Masters of Physical Therapy also from University of Manitoba. Growing up in competitive rhythmic gymnastics, Tracy enjoys working with athletes to return to sport. Tracy has worked with a variety of athletes ranging from hockey, football, soccer, diving, swimming, dance and body building. Tracy is motivated and dedicated to health and wellbeing to provide quality care. Tracy utilizes a variety of techniques including Functional Dry Needling (FDN), manual therapy, and taping. She believes that patient education and collaboration is key in prevention and resolution of injuries. In her spare time, Tracy enjoys being active and trying new sports.


[View More]
"I was in a MVA back in May, explored other treatment options for a few months that did not work. So I started physio. With the treatments and regular exercises, I now feel so much better, I noticed a big difference and now I can move without pain. I feel I have my life back!"
Jo-anne M - Google Review
"They are all very caring and have a smile on their face every time I go there. The prices are very reasonable and can be taken off your plan immediately. If you are looking for a new Physiotherapist, Massage Therapist, or Chiropractor, this is the place to go!"
Kathy L - Google Review