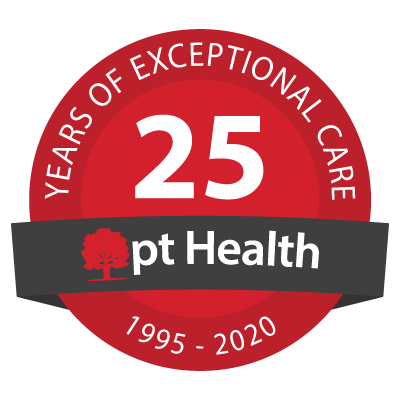 Moncton Physiotherapy - pt Health
Notice: We are open for In-Person treatment. To ensure the health and safety of our patients and staff, we have made a number of changes to the way our clinics operate and have implemented enhanced measures to ensure the health and safety of our patients and staff.
Click here to learn more about the Lifemark S.A.F.E.R. approach.
To schedule an In-Person or Virtual Care appointment, please give us a call at 1-888-314-2726 or book an appointment online.
In response to COVID-19, pt Health is doing its part to help protect our patients and staff by modifying the availability of services at our clinics. Please call the clinic to seek advice or rebook services.
[Read More]
"My discomfort that lead to chronic pain, made me decide to see a Physio. Moncton pt Health is the best. Location is good, from parking to the office-reception and treatment area and the choice of music. Most important of all, the team, very professional. It exceeded my expectations. Strongly recommend."
Eva L - Google Review
"Was hurt at work 2 months ago and I choose pt Health to try, and very glad I did. All the staff here are very accommodating, extremely friendly. So going in you are very comfortable and you feel like a person instead of a patient they're making money from. I would highly recommend this location."
Angie A - Google Review
Our Clinic Team
Prashant Khapekar
Physiotherapist

Prashant Khapekar has been a Physiotherapist since 1999, which includes more than 12 years in India before moving to Canada. He has worked in Ontario before relocating his family to the Atlantic coast in 2019. He has additional training in aspects of sports physiotherapy and health management.

He enjoys watching and playing Cricket, Soccer, and Badminton, going on a long drives with his family and friends and loves to relish the Indian spicy delicacies.

Patricia Boone
Registered Massage Therapist
[View More]
"Excellent physio clinic! They were able to help me get over a pesky running injury. I am back to running and pain free. The staff is very compassionate and knowledgeable."
Lise P - Google Review
"Very professional and knowledgeable. After only 2 visits I feel that I've recovered much of the mobility I've lost. I had sports injuries and they are almost 100% better now."
John C - Google Review