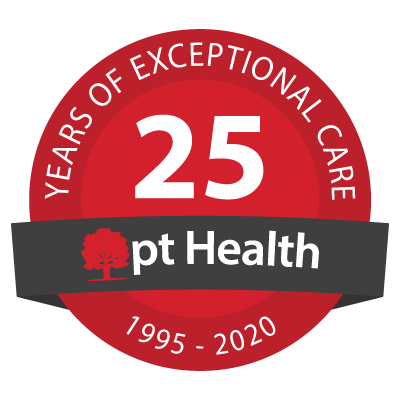 Moncton Physiotherapy - pt Health
In-person treatment available
Virtual Care treatment available
Welcome!
Our clinic is open and offering In-person treatment in addition to Virtual Care service. Please note that enhanced measures are in place to ensure the health and safety of our patients and staff. View our virtual tour video so you know what to expect at your next clinic appointment.
"My discomfort that lead to chronic pain, made me decide to see a Physio. Moncton pt Health is the best. Location is good, from parking to the office-reception and treatment area and the choice of music. Most important of all, the team, very professional. It exceeded my expectations. Strongly recommend."
Eva L - Google Review
"Was hurt at work 2 months ago and I choose pt Health to try, and very glad I did. All the staff here are very accommodating, extremely friendly. So going in you are very comfortable and you feel like a person instead of a patient they're making money from. I would highly recommend this location."
Angie A - Google Review
Our Clinic Team
Kate Johnson
Physiotherapist - PT

Kate is an enthusiastic physiotherapist who is looking forward to helping you meet your rehabilitation goals! Kate grew up in New Brunswick and is excited to have joined the team at the Northside Physiotherapy Clinic after being in Halifax for several years. Kate completed her Bachelor of Science at Saint Mary's University, followed by her Masters of Science in Physiotherapy at Dalhousie University. Through school Kate has had experience with neurological rehabilitation, post-operative care, and orthopaedic rehabilitation. Having a special interest in orthopaedics, Kate is looking to further her knowledge in the detection and treatment of musculoskeletal injuries in the future by taking courses in K-taping, dry needling, acupuncture, and advanced manual therapy. Kate has most recently completed both the Arthritis Society's Getting a Grip on Arthritis® osteoarthritis and rheumatoid arthritis education program.



Patricia Boone
Massage Therapist - RMT

Patty graduated with honors from Everest College in Hamilton, Ontario in 2010 and was subsequently licensed by the Ontario College of Massage Therapy and began working immediately. Now a member in good standing with Association of New Brunswick Massage Therapist she enjoys working in the clinical setting, preferring to help discover and treat causes, not just symptoms.



Prashant Khapekar
Physiotherapist - Registered Physiotherapist

Speaks: English, Hindi, Punjab, Gujrati

Prashant Khapekar is a Registered Physiotherapist with the College of Physiotherapy of Nova Scotia. He has 15 years of experience as a Physiotherapist, which includes more than 12 years in India and 3 years in Canada. Prashant completed his Degree in Physiotherapy from Govt. Medical college ,Nagpur,India in 1998-99. He has a Certificate Course in Sports Physiotherapy and Sports Medicine and a Post Graduate Diploma Course in Hospital and Health Care Management. His personal achievements and interests include: -receiving the inter-collegiate Personality Contest award -presenting the Honorary Physiotherapy consultation and treatment to the trainee sports-persons and athletes - watching and playing Cricket,Soccer and Badminton -going on drives with family and friends -relishing the Indian spicy delicacies.



Mona Trenholm
Patient Coordinator

Mona retired from a career with ExxonMobil but decided she would like to continue working part time. She was been with pt Health for more than 2 years. She enjoys interacting with clients in person or on the phone. Mona will always give you a warm greeting and is helpful and cheerful. She enjoys spending time with her two granddaughters and spending time at her trailer lot near the beach.



Natalie Fogarty
Patient Coordinator - Medical Office Administration Diploma

Natalie graduated from Oulton Business College with a Diploma in Medical Office Administration. Over the past 10 years, she has worked in different Clinics and has a passion for the Health Care setting. Her favorite part of the job is interacting with patients and helping out in any way she can. She will always be be there to greet you with a welcoming attitude! Natalie enjoys spending time with her family, cooking and camping


[View More]
"Excellent physio clinic! They were able to help me get over a pesky running injury. I am back to running and pain free. The staff is very compassionate and knowledgeable."
Lise P - Google Review
"Very professional and knowledgeable. After only 2 visits I feel that I've recovered much of the mobility I've lost. I had sports injuries and they are almost 100% better now."
John C - Google Review