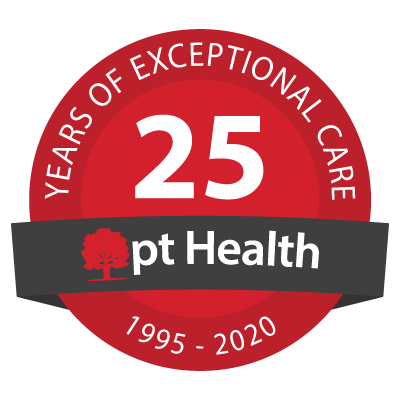 Mountain Physiotherapy and Rehabilitation - pt Health
In-person treatment available
Virtual Care treatment available
Ontario Health Insurance Plan (OHIP)
Welcome!
Our clinic is open and offering in-person treatment in addition to virtual care. We look forward to seeing you soon.
"My experience at pt Health was a positive one in every way! My physiotherapist was friendly, professional, and knowledgeable about what I needed. She was very patient with me as I became familiar with the exercises and made me feel comfortable asking questions. The front desk were welcoming and friendly every time that I visited. I'm happy to recommend the services of this clinic - they are the best! "
Lynn C - Google Review
"I found the staff to be very friendly and welcoming. All staff that I encountered showed a very high level of professionalism that made me feel confident in the care they were providing. I found this center through my own research but would have no problems recommending it to family or friends (and have already done that). If the need should arise again would definitely use their services again. "
Wayne P - Google Review
Our Clinic Team
Natalie Szabo
Registered Massage Therapist

Natalie has been a Registered Massage Therapist since 2006 and has been working with pt Health since 2013. After working in a few different massage settings, it became clear that rehabilitation is the setting she wants to work in. The challenge of working with rehab clients, and the satisfaction when they get better, is what drew her to rehab.

After 14 years of working hands-on with client, she has now also become the Clinic Director of Limeridge Physiotherapy.

When Natalie isn't in the clinic, she's enjoying time with her husband and two daugthers.

Tristan Sault
Physiotherapist

Tristan graduated from D'Youville College with a Doctorate of Physical Therapy in 2013 and from the University of Toronto with a Bachelors of Physical Education and Health in 2008. He has lived and worked in Hamilton since 2014. He is currently one of the Physiotherapists at Mountain Physiotherapy.

Tristan finds that effective patient care and wellness comes from a combination of patient engagement, promoting independence and ensuring the physiotherapy experience is an enjoyable one. Tristan also places a high importance on evidence-based medicine as a guiding light in designing his treatment plans. Tristan believes patient feedback and input is a valuable part of the physiotherapy experience.

In his spare time, Tristan enjoys spending time outdoors, either in the sun or snow, hiking and spending time with friends and family as well as being an avid fan of all local sports teams.

Alyssa Roberts
Registered Massage Therapist

Alyssa graduated from Centennial College of the Massage Therapy Program in 2012. She began working in a multidisciplinary clinic as a Registered Massage Therapist. Alyssa has been working as an RMT for 10 years.

She has been working at pt Health - Stoney Creek Physiotherapy location for five years and Mountain Physiotherapy for two years. Specializing in sport massage, she likes to incorporate relaxation massage in with myofascial release, deep tissue work, and trigger point therapy. Combining these different techniques makes for a relaxing, yet effective massage in relieving tight muscles from every day use or injuries from overuse.

Gurinder Kaur


Gurinder graduated from Guru Nanak Dev University in 2017. After completing her graduation she moved to Canada to continue her education and received her post graduate diploma in healthcare administration and service management. Before working as a physiotherapist resident, she worked in a nursing home with seniors for 3 years as a physiotherapist assistant.

Gurinder has a big interest in sports physiotherapy, and post-surgical rehab cases. She likes to keep her knowledge updated with new studies on treatments.

Gurinder feels accomplished and motivated when she sees her patients moving without pain.

When not at work, she likes to go to the gym and cook delicious food.

Komal Vekariya
Physiotherapist

Komal is a resident physiotherapist who graduated from Veer Narmad South Gujarat University in 2019. For further study, she moved to Canada in 2021 and completed a diploma in fitness and health promotion with honors at Durham College in 2022. She has worked in a clinical setting as a physiotherapist in India and as a physiotherapist assistant in long-term care in Scarborough for 1.5 years.

Komal is particularly interested in manual therapy and orthopedic cases and has also completed a certificate for an orthopedic manual therapy course. She believes in evidence-based practice and is diligent about achieving a treatment-specific goal that helps the patients enhance their motor abilities.

Outside of work, Komal enjoys activities such as hiking, exploring new places, and spending time with her family and friends.
[View More]
"Great staff and physiotherapists! Very detailed and helpful in recovery. They are very understanding and will work with you at your own pace. I would recommend this clinic to anyone! Amazing. "
Tia S - Google Review
"The staff is very professional and easy to work with. They appear to really care. They have the time to work with you if you're needing individual help. I would recommend them to anyone needing their services. "
Shirley C - Google Review