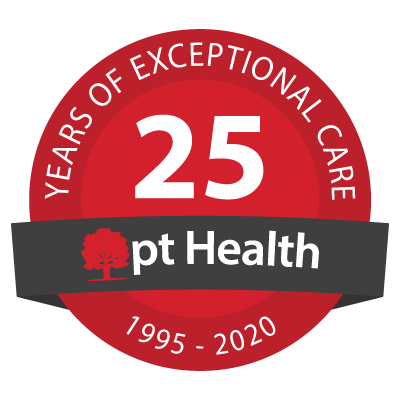 Mountain Physiotherapy and Rehabilitation - pt Health
In-person treatment available
Virtual Care treatment available
Ontario Health Insurance Plan (OHIP)
Welcome!
Our clinic is open and offering In-person treatment in addition to Virtual Care service. Please note that enhanced measures are in place to ensure the health and safety of our patients and staff. View our virtual tour video so you know what to expect at your next clinic appointment.
"My experience at pt Health was a positive one in every way! My physiotherapist was friendly, professional, and knowledgeable about what I needed. She was very patient with me as I became familiar with the exercises and made me feel comfortable asking questions. The front desk were welcoming and friendly every time that I visited. I'm happy to recommend the services of this clinic - they are the best! "
Lynn C - Google Review
"I found the staff to be very friendly and welcoming. All staff that I encountered showed a very high level of professionalism that made me feel confident in the care they were providing. I found this center through my own research but would have no problems recommending it to family or friends (and have already done that). If the need should arise again would definitely use their services again. "
Wayne P - Google Review
Our Clinic Team
Megan Shanahan
Physiotherapist - MSc (PT), B.A. (Hons)

Megan graduated from Queen's University in Kingston with her Masters of Physical Therapy in 2017. She was born and raised in P.E.I and now lives in Hamilton, Ontario. Megan has completed her training in neurofunctional acupuncture trough McMaster University in 2018. She believes in using an evidenced-based approach to treatment along with a client-centered focus to improve each patient's overall well-being. Megan has most recently completed both the Arthritis Society's Getting a Grip on Arthritis® osteoarthritis and rheumatoid arthritis education program.



Tristan Sault
Physiotherapist

Tristan graduated from D'Youville College with a Doctorate of Physical Therapy in 2013 and from the University of Toronto with a Bachelors of Physical Education and Health in 2008. He has lived and worked in Hamilton since 2014. He is currently one of the Physiotherapists at Mountain Physiotherapy. Tristan finds that effective patient care and wellness comes from a combination of patient engagement, promoting independence and ensuring the physiotherapy experience is an enjoyable one. Tristan also places a high importance on evidence-based medicine as a guiding light in designing his treatment plans. Tristan believes patient feedback and input is a valuable part of the physiotherapy experience. In his spare time Tristan enjoys spending time outdoors, either in the sun or snow, hiking and spending time with friends and family as well as being an avid fan of all local sports teams.



Brennan Patrick
Massage Therapist

Brennan graduated Everest College in 2014, obtaining a diploma in Massage Therapy after passing the Ontario Examination Process, and becoming a Registered Massage Therapist. Brennan was trained in Swedish Massage Therapy Techniques, Joint Mobilizations, Fascial Release, Trigger Point Therapy, Deep Tissue Massage, and Remedial Exercise. Brennan has been a part of the PT Health team since March 2015 and is in good standing with the College of Massage Therapist of Ontario as well as The Registered Massage Therapist Association of Ontario. Brennan also plans on upgrading his skills and knowledge to better meet client needs in a more effective manner.



Natalie Szabo
Massage Therapist

Natalie Szabo has been a Registered Massage Therapist since December 2006, and has worked with PT Health since 2013. She has tried a few different massage environments, but has always been drawn to working with Physios. This is the best setting for working with acute and chronic injuries, and there's a real satisfaction in seeing the impact you have on the clients day to day lives. She's always focused her continuing education on learning more about specific injuries and how to treat them. And now as a mom of 2 she also loves working with pre or post natal clients When Natalie isn't in the clinic she's enjoying time with her daughters, or working on renovations with her husband.



Jeanette Di Battista
Patient Coordinator

Jeanette is one of the first people you'll see at the clinic and is always happy to help patients any way she can. She is a mother of 2 beautiful girls in their 20s and has a household of fur babies all of whom she loves. Her weakness is chocolate, but her strength is laughter! Jeanette looks forward to meeting you!



Sarah Custodio
Patient Coordinator

In April 2012, Sarah graduated from the Medical Office Administration program at Mohawk College. Sarah has been apart of pt Health since August 2012. As the patient coordinator she is the first point of contact for all of our patients. She enjoys meeting everyone and greeting you with a smile and a friendly hello. She is responsible for many tasks around the clinic, such as scheduling appointments, billing and taking payments.



Alyssa Roberts
Massage Therapist - R.M.T.

Alyssa graduated from Centennial College of the Massage Therapy Program in 2012. She began working in a multidisciplinary clinic as a Registered Massage Therapist and has continued for the last 6 years. She started working for PT Health- Stoney Creek Physiotherapy location 1 year ago in 2016. Specializing in sport massage, she likes to incorporate relaxation massage in with myofascial release, deep tissue work, and trigger point therapy. Combining these different techniques makes for a relaxing, yet effective massage in relieving tight muscles from every day use or injuries from overuse.



Taylor Beaton
Physiotherapy Support Personnel

Taylor graduated from the PTA program at Trios College in 2019. She originally joined the pt Health team at our Brantford Fairview clinic, before coming to Mountain. She loves working with patients in reaching their personal goals and assisting them improve their quality of life. In addition to Mountain, Taylor works for the Burford Bulldogs Junior C Hockey team as their trainer. In her spare time she can be found swimming lengths at the local pool.



Stuart Brownell
Physiotherapist - MScPT, MSc, BSc

Stuart completed his Master of Science degree in Physiotherapy at the University of Toronto, and previously obtained a Master of Science degree from the University of Guelph, and a Bachelor of Science degree from the Rochester Institute of Technology. His post graduate education includes the level 1 Advanced Orthopaedic Manual and Manipulative Therapy exam, and neuroanatomical acupuncture training through Acupuncture Canada. He has experience treating a variety of orthopaedic and neurological conditions in clinical, rehabilitation and hospital settings, which has given him a unique perspective on the entire patient journey throughout the continuum of healthcare. As a former NCAA athlete, Stuart also realizes the importance of an individualized treatment plan that focuses on recovery, injury prevention and performance. He believes that a combination of manual therapy, exercise prescription and education are the most effective ways to treat your pain, improve function, and get you back to the activities you enjoy most!


[View More]
"Great staff and physiotherapists! Very detailed and helpful in recovery. They are very understanding and will work with you at your own pace. I would recommend this clinic to anyone! Amazing. "
Tia S - Google Review
"The staff is very professional and easy to work with. They appear to really care. They have the time to work with you if you're needing individual help. I would recommend them to anyone needing their services. "
Shirley C - Google Review