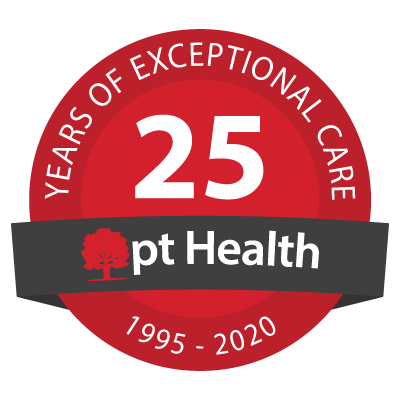 Mountain Physiotherapy and Rehabilitation - pt Health
"My experience at pt Health was a positive one in every way! My physiotherapist was friendly, professional, and knowledgeable about what I needed. She was very patient with me as I became familiar with the exercises and made me feel comfortable asking questions. The front desk were welcoming and friendly every time that I visited. I'm happy to recommend the services of this clinic - they are the best! "
Lynn C - Google Review
"I found the staff to be very friendly and welcoming. All staff that I encountered showed a very high level of professionalism that made me feel confident in the care they were providing. I found this center through my own research but would have no problems recommending it to family or friends (and have already done that). If the need should arise again would definitely use their services again. "
Wayne P - Google Review
Our Clinic Team
Tristan Sault
Physiotherapist

Tristan graduated from D'Youville College with a Doctorate of Physical Therapy in 2013 and from the University of Toronto with a Bachelors of Physical Education and Health in 2008. He has lived and worked in Hamilton since 2014. He is currently one of the Physiotherapists at Mountain Physiotherapy. Tristan finds that effective patient care and wellness comes from a combination of patient engagement, promoting independence and ensuring the physiotherapy experience is an enjoyable one. Tristan also places a high importance on evidence-based medicine as a guiding light in designing his treatment plans. Tristan believes patient feedback and input is a valuable part of the physiotherapy experience. In his spare time Tristan enjoys spending time outdoors, either in the sun or snow, hiking and spending time with friends and family as well as being an avid fan of all local sports teams.



Katie Dawson
Physiotherapist

Katie received her Master's Degree in Physical Therapy from the University of Toronto in 2012. She has worked in Waterdown for the past 5 years and is now splitting her treating time between Waterdown and Hamilton. She is currently the Clinic Team Manager of Flamborough and Mountain Physiotherapy and Rehabilitation. Previously, Katie graduated with an Honours Degree in Kinesiology from Wilfrid Laurier University in 2010. Katie is eager to learn and is taking additional post graduate training in order to further her clinical knowledge. She also is a competitive athlete with an extensive background in ringette. She enjoys weightlifting and playing a variety of sports throughout the year.



Megan Shanahan
Physiotherapist - MSc (PT), B.A. (Hons)

Megan graduated from Queen's University in Kingston with her Masters of Physical Therapy in 2017. She was born and raised in P.E.I and now lives in Hamilton, Ontario. Megan has completed her training in contemporary medical acupuncture and plans to further pursue manual therapy qualifications. She believes in using an evidenced-based approach to treatment along with a client-centered focus to improve each patient's overall well-being. Megan has most recently completed both the Arthritis Society's Getting a Grip on Arthritis® osteoarthritis and rheumatoid arthritis education program.



Rijul Sharma
Physiotherapist - RegisteredPhysiotherapist

Rijul believes in diagnosing and treating the root of the problem rather than just the problem itself. After completing four years of bachelor's degree in physiotherapy from India, he has worked in various hospitals and clinics as a physiotherapist. The focus of Rijul's practice is on client centred approach with implementation of hands on manual therapy techniques, therapeutic exercise and patient education. He has completed post-graduate training in acupuncture, soft tissue release, kinesio taping and is pursuing further training in various other courses to enhance his treatment skills.



Brennan Patrick
Massage Therapist

Brennan graduated Everest College in 2014, obtaining a diploma in Massage Therapy after passing the Ontario Examination Process, and becoming a Registered Massage Therapist. Brennan was trained in Swedish Massage Therapy Techniques, Joint Mobilizations, Fascial Release, Trigger Point Therapy, Deep Tissue Massage, and Remedial Exercise. Brennan has been a part of the PT Health team since March 2015 and is in good standing with the College of Massage Therapist of Ontario as well as The Registered Massage Therapist Association of Ontario. Brennan also plans on upgrading his skills and knowledge to better meet client needs in a more effective manner.



Jessalyn Brouwer
Physiotherapy Support Personnel

Jessalyn is currently completing her Bachelor's degree in Kinesiology and Health Promotion at Sheridan College. She previously worked as a co-op student at another pt Health clinic and loved the positive work environment and the team's commitment to helping patients reach their goals. Jessalyn has a passion for helping others and is constantly working to further her own education. In her free time she also enjoys outdoor activities such as playing soccer, hiking, and kayaking.



Ruth Draaistra
Patient Coordinator - Floater

Ruth graduated from the OTA/PTA program from Mohawk College in 2017 and has worked in a physiotherapy clinic for just over two years as a Physiotherapist Assistant. She seeks to provide quality care for her patients in whatever role she takes on. Currently working as a Patient Coordinator at Limeridge Physiotherapy and occasional Physiotherapist Assistant Floater for the Hamilton region, in her spare time Ruth can be found studying for her Massage Therapy courses at Mohawk College or working out at the gym. She is a small-town girl at heart (all the way from Dunnville!) and is in the process of accumulating more and more indoor plants (currently she has 5). Though a small-town girl, she is excited to be here in Hamilton and hopes to continue contributing to patient well-being within the fantastic team at Limeridge!



Tawnya Metcalfe
Patient Coordinator

Tawnya started working for pt Health as a patient co-ordinator in October 2017. She graduated from the Medical Administrative Program at Mohawk College in June 2017. She is passionate about being the first person a patient sees when they walk in the door and making them feel welcome and comfortable.


[View More]
"Great staff and physiotherapists! Very detailed and helpful in recovery. They are very understanding and will work with you at your own pace. I would recommend this clinic to anyone! Amazing. "
Tia S - Google Review
"The staff is very professional and easy to work with. They appear to really care. They have the time to work with you if you're needing individual help. I would recommend them to anyone needing their services. "
Shirley C - Google Review