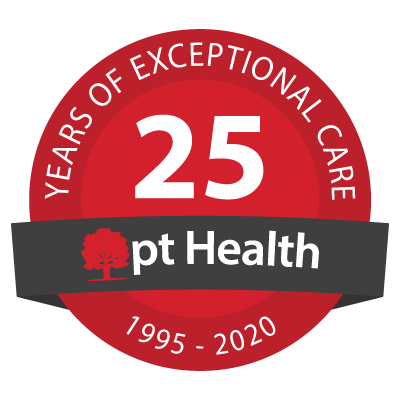 Northside Physiotherapy Clinic - pt Health
In-person treatment available
Virtual Care treatment available
Welcome!
Our clinic is open and offering In-person treatment in addition to Virtual Care service. Please note that enhanced measures are in place to ensure the health and safety of our patients and staff. View our virtual tour video so you know what to expect at your next clinic appointment.
"Northside Physio treats you like a person rather than just another appointment slot. I feel cared for and know that my appointment time isn't being split between multiple other patients like other clinics do. I'd definitely recommend any of my friends and family to seek physio at Northside Physio."
Lisa - Google Review
"I was referred to Northside Physiotherapy Clinic after I was involved in a car accident, in which I was rear ended. After about 6 weeks of physio twice a day, I was back to full movement and little to no stiffness! It was also an extremely welcoming and non judgmental environment, 10/10 recommend this clinic!"
Kyra G - Google Review
Our Clinic Team
Stephanie Collings
Physiotherapist - PT

Originally from Nova Scotia, Stephanie completed her Bachelor of Science in Kinesiology degree at the University of New Brunswick in 2013. She continued her education in the Physiotherapy program at Dalhousie University. After graduating in 2015, Stephanie began working at Northside Physiotherapy. While working, she has had the opportunity to further her education with training in many areas; Acupuncture & Dry Needling, Manual Therapy, K-taping, Hip Rehabilitation and Mulligan Techniques. She has also completed both the Arthritis Society's Getting a Grip on Arthritis osteoarthritis and rheumatoid arthritis education program. When not working, Stephanie enjoys skiing, kayaking, camping and spending time with her family. She enjoys the one on one interactions with the clients and will work with you to help you reach your goals!



Colleen DiGiacinto
Massage Therapist

Colleen has been with Northside Physiotherapy Clinic for nine years. She studied at Kin? Concept Institute here in Fredericton and graduated in 2002 from a group of 50 students many of which are not practicing Massage Therapy at this point. She loves her work and could not see herself doing anything else. Previous to her work as a Massage Therapist she used to work at Chimo Helpline Inc and aided people around the province on many different subjects. She speaks English and is always working on her fluency in French. Presently she is a volunteer Brownie Leader with the Girl Guide Association of Canada. Colleen has most recently completed both the Arthritis Society's Getting a Grip on Arthritis® osteoarthritis and rheumatoid arthritis education program.



Ashley Murphy
Massage Therapist - RMT

After successful completion of a 2200 hour Registered Massage Therapy Program at Eastern College in 2016, Ashley is passionate about helping each client by improving their quality of life with a treatment plan that is designed with them in mind. She has experience in treating clients with tension headaches/ migraines, sciatica or piriformis syndrome, joint dysfunctions (ex: TMJ), frozen shoulder, whiplash, motor vehicle accidents, prenatal massage, and many other specific conditions. She offers an arrangement of modalities including: Tissue Distraction Release (Cupping), Therapeutic massage, Trigger point therapy, and Deep tissue massage. Ashley has recently relocated to Fredericton, NB and is looking forward to seeing you.



Kate Johnson
Physiotherapist - PT

Kate is an enthusiastic physiotherapist who is looking forward to helping you meet your rehabilitation goals! Kate grew up in New Brunswick and is excited to have joined the team at the Northside Physiotherapy Clinic after being in Halifax for several years. Kate completed her Bachelor of Science at Saint Mary's University, followed by her Masters of Science in Physiotherapy at Dalhousie University. Through school Kate has had experience with neurological rehabilitation, post-operative care, and orthopaedic rehabilitation. Having a special interest in orthopaedics, Kate is looking to further her knowledge in the detection and treatment of musculoskeletal injuries in the future by taking courses in K-taping, dry needling, acupuncture, and advanced manual therapy. Kate has most recently completed both the Arthritis Society's Getting a Grip on Arthritis® osteoarthritis and rheumatoid arthritis education program.



Carol Malloy
Physiotherapist - B.Sc.P.T.

I have practiced physiotherapy in Fredericton since 1971 after graduating from McGill University. My experience has involved hospital work as well as in the private sector, having been co-owner of a successful clinic for twenty years. I have taken many courses over the years in orthopedics, golf specific physiotherapy training, manual therapy, movement patterns and I am certified in acupuncture by Acupuncture Foundation of Canada Institute. I have a special interest in clients with osteoporosis and chronic pain. I have most recently completed both the Arthritis Society's Getting a Grip on Arthritis® osteoarthritis and rheumatoid arthritis education program.



William Howatt
Physiotherapist - PT Resident

William graduated from McMaster University with a Masters of Science in Physiotherapy after completing his Bachelor's of Human Kinetics with honors at the University of Ottawa. Having grown up in the city of Fredericton, William is excited to return back after several years in Ontario. William has a strong interest in orthopaedic rehabilitation with an emphasis on active rehabilitation that centers on a collaborative relationship between the client and the therapist to identify and work towards a common goal. William prides himself on being an evidenced based Physiotherapist and is always looking at the highest levels of evidence to help you return to what you find meaningful in your life. William is looking forward to continuing his education in the areas of dry needling, acupuncture and manual therapy. When not working, you can find him taking advantage of the amazing trail system Fredericton offers.



Jordan Shannon
Physiotherapist - BSc, MSc PT, and PT Resident

Jordan is originally from Stanley NB, but calls Fredericton his home. His hobbies include playing hockey, guitar, camping, and reading up on current scientific literature. He received a Bachelor of Science at UNB where he majored in Biochemistry and then received a Master of Science in Physiotherapy at Dalhousie university in Halifax. He became a physiotherapist to help people stay engaged in the things they love to do by decreasing pain and improving their physical abilities. He is looking forward to meeting you to see how you can work together to achieve your health and lifestyle goals!


[View More]
"Love this place the staff are very friendly and make you feel comfortable. I have attended physiotherapy before at a different clinic, and never felt comfortable like I do here. Amazing therapist, would highly recommend this place."
Tracy B - Google Review
"I would certainly give this clinic a 5 star The staff is very friendly and professional. They take their time with you and give you many techniques to help. They have great hours...I would highly recommend this clinic.."
Wanda H - Google Review