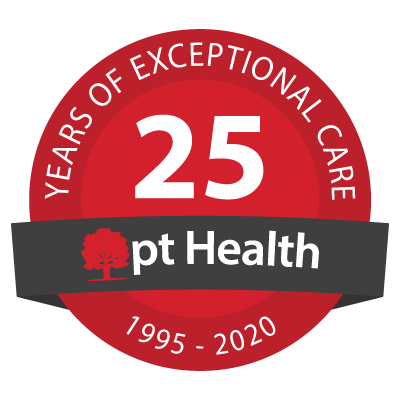 Old North Physiotherapy - pt Health
pt Health is offering virtual care appointments. Please call for availability.
In response to COVID-19, pt Health is doing its part to help protect our patients and staff by modifying the availability of services at our clinics. Please call the clinic to seek advice or rebook services.
[Read More]
"Nothing but good things to say about this clinic & its staff! They encourage you to reach your goals and genuinely care about your recovery. They inquire about concerns, make it easy for you to ask questions. Very positive & fun to talk to. I definitely recommend doing physio at Old North Physiotherapy!"
Ashley I - Google Review
"I'd recommend this place to anyone going through pain. I'd been to other places before, and the team at Old North really goes the extra mile to help get to the bottom of an issue. It is rare to find such a welcoming, patient and helpful environment, and it has been much appreciated for the months I've been a client."
Petya S - Google Review
Our Clinic Team
Nick Hannah
Physiotherapist - HBSc, MSc PT

Nick finished his Bachelor of Science, Honours Kinesiology degree in 2013 at the University of Waterloo, where he was privileged to learn from world-renowned low back pain expert Stuart McGill. More recently, he completed his Master of Physical Therapy degree from Western University in 2015. Nick is passionate about using strength and conditioning principles to enhance human movement and performance. His specific interests in physiotherapy include advanced manual therapy, athletic injury and managing persistent pain states. Nick has most recently completed both the Arthritis Society's Getting a Grip on Arthritis® osteoarthritis and rheumatoid arthritis education program.



Dalton Laino
Physiotherapist - MPT

Dalton completed his Masters of Physical Therapy Degree at Western University in 2018. Prior to that, he graduated with a Kinesiology degree from the University of Windsor where he focused on movement science. During his time in University, he played football for the AKO Fratmen of the Canadian Junior Football League. Dalton takes a team approach to care where he will work collaboratively with you to accomplish your goals. He uses a combination of exercise and education to empower his clients to be able to manage their health independently. When appropriate, Dalton will use manual therapy and soft tissue work to help supplement an active approach to rehab. Dalton has an interest in continuing his education in the topics of pain science and behaviour change to best help the people he treats. When Dalton isn't in the clinic, you can find him lifting weights and most importantly consuming coffee.



Claudia Bernal-Guillen
Physiotherapy Support Personnel - PSP & PC

Claudia is an internationally trained physiotherapist- Bachelors of Physiotherapy at Universidad Manuela Beltran in Columbia (equivalent to Canadian Bachelors of Physiotherapy) who has been working as a physiotherapist assistant for pt Health since 2013. She is passionate about her profession and committed to continuing her professional education to empower people with the tools to improve and maximize their health. Her experience and knowledge help her understand different cultures. She is fluent in both Spanish and English. Claudia has most recently completed both the Arthritis Society's Getting a Grip on Arthritis® osteoarthritis and rheumatoid arthritis education program.



Riley Simpson
Massage Therapist - RMT

Riley graduated from Lambton College Massage Therapy program and became registered with the CMTO in 2014. Riley enjoys using general Swedish massage, deep tissue techniques, and trigger point therapy in her treatments. With Riley's love of learning she plans to continually expand her education to better serve her clients and help them achieve their goals. When not massaging Riley enjoys playing sports, being outdoors and spending time racing horses.



Nirali Mehta
Physiotherapist - Registered Physiotherapist

Speaks: English, Hindi, Gujarati

Nirali graduated from the Gujarat University in India with an Honors Bachelor of Physiotherapy degree. She passed her physiotherapy license exam in Canada and graduated in 2018. Nirali worked as a physiotherapist in India and has experience treating a variety of patients back home. During her residency in Canada she worked in multiple private clinics the GTA. She is currently the Clinical team Manager at pt Health Stratford. Nirali's areas of expertise include: acupuncture , dry needling and IMS, concussion therapy, manual therapy, soft tissue release, CRPS. Nirali has felt compelled to pursue further postgraduate education in pelvic health so she can combine her knowledge of the nervous system, pain management and pelvic health to better address these issues with her clients. She has completed her 3 levels of pelvic floor training level and she treats variety of Female and Male pelvic floor conditions. She has done her level A McKenzie training and she treats different lower back condition with McKenzie approach.Nirali also has experience treating vertigo and TMJ (jaw) patients. Presently Nirali is also practicing in the community care and school settings as a Physiotherapist. Nirali provides effective, evidence-based, meaningful care in a supportive, respectful and kind environment. She prides herself on individualized, one-on-one treatment and develops exercise programs geared toward the level and goals of the patient. She believes that she will keep updating her skills and knowledge by taking advanced level courses. In her spare time she enjoys travelling, cooking, spending time with her husband and two huskies.


[View More]
"Great team. Always friendly & helpful. Made me feel comfortable and welcome. I wouldn't hesitate to recommend them to anyone in need of the services they offer. I look forward to continued appointments."
Jody R - Google Review
"Amazing staff. Outstanding work! I highly recommend pt Health Old North Physiotherapy to anyone who needs physio with any condition. Knowledge, support, listening provided in a comfortable environment."
Judy F - Google Review