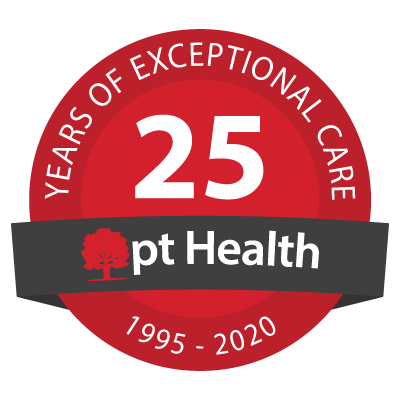 Petrolia Rehabilitation - pt Health
Welcome!
Our clinic is open and offering in-person treatment in addition to virtual care. We look forward to seeing you soon.
"Petrolia Rehab is a great place for treatment. The staff is friendly & knowledgeable. The appointment booking process is easy. I highly recommend this location for your next treatment needs. "
Marc T - Google Review
"Service is always very warm & welcoming. Every employee is always sweet. I have been treated for many things within this location and can only say good things. Highly recommended. "
Whitney S - Google Review
Our Clinic Team
Leanne Bell-DeVries
Kinesiologist

Leanne graduated from York University with a Specialized Honours degree in Kinesiology and Health Science and a Certificate in Athletic Therapy. She is a Registered Kinesiologist and Certified Athletic Therapist.

In addition to working with individuals so they achieve their rehabilitation goals, Leanne also performs functional capacity evaluations and ergonomic assessments.

Amanda Podolinsky
Registered Massage Therapist

Amanda graduated from Lambton College for Massage Therapy in April 2010 and registered with the College of Massage Therapists of Ontario in June 2010. Amanda specializes in Manual Lymph Drainage, which helps to decrease any swelling associated with injuries or lymphedema, and Cupping Therapy.

Deirion Sookram
Physiotherapist

Deirion earned his BHK with Distinction from the University of Windsor in 2012 and his MSc in Physiotherapy from Glasgow Caledonian University in 2017. In England, he gained physiotherapy experience in sports medicine private practice, hospital-based neurological and medical rehabilitation, and even as an on-call respiratory physiotherapist in ICU.

He is trained in several specialty areas as follows. He holds a Certificate of Competency in Vestibular Rehabilitation (CCVR) and is a Certified Strength and Conditioning Specialist (CSCS). He is trained in acupuncture through Acupuncture Canada and even completed a Pharmacology for Physiotherapists course. His current Clinic Director and Registered Physiotherapist role with pt Health supports his passion for linking academia together with clinical practice.

Harman Kaur
Physiotherapist

Harman Kaur is a Physiotherapist, registered in good standing with the College of Physiotherapists of Ontario. She holds a Bachelor's Degree in Physiotherapy from RGUHS, Bangalore (India), along with a post graduate certificate in Advanced Healthcare & Leadership from Lambton College. Harman is passionately committed to improve her patients quality of life, by facilitating manual techniques to provide a treatment plan that caters individual patient needs, and by focusing on patient education to help achieve an active and healthy lifestyle.

She believes in being a lifelong learner. She is committed to provide the highest quality care to her patients. Harman speaks three languages: English, Hindi, and Punjabi.

Riley Simpson
Registered Massage Therapist

Riley graduated from Lambton College Massage Therapy program and became registered with the CMTO in 2014. Riley enjoys using general Swedish massage, deep tissue techniques, and trigger point therapy in her treatments. With Riley's love of learning she plans to continually expand her education to better serve her clients and help them achieve their goals.

When not massaging, Riley enjoys playing sports, being outdoors and spending time racing horses.

Justine Sprague
Occupational Therapist
[View More]
"I definitely recommend! The service I received was great. I've gone to a number of places where you're treated like a number. Petrolia Rehabilitation is not like that. Staff were very professional/knowledgeable...super friendly. "
Mike H - Google Review
"I can honestly say that I have not had a poor experience at pt Health. The staff are all amazing, easy to talk to, and very professional. The building is very clean and tidy, and there is ample parking space available. "
Brian C - Google Review