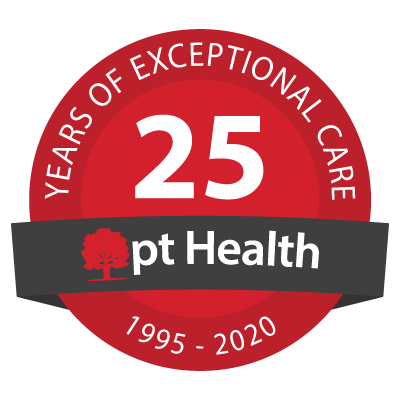 Premium Healthcare Solutions Inc
"I am so glad that I decided go to pt Health Sackville when my doctor recommended physiotherapy. From the moment I walked in I felt relaxed and comfortable. The smiling faces and conversation make the experience as pleasant as possible. The physio and massage therapy, along with the positive atmosphere, make my day better."
Victoria F - Google Review
"The care you receive at pt Health is amazing. Not only is everyone there friendly, they are compassionate, caring and funny. It makes a person want to stay in therapy just to go visit with them. Thank you all so much for all that you have done for me. You keep everyone's spirits up and make our visits enjoyable."
Laura K - Google Review
Our Clinic Team
Jennifer Appleby
Physiotherapist - MSc PT BScKin

Jennifer Appleby graduated with a Master's degree in Physiotherapy from Dalhousie University in 2008. In 2012, she began working closely with orthopedic surgeon Dr. Ivan Wong in the treatment of pre and post-operative hip, knee, and shoulder patients. Prior to her physiotherapy degree, Jennifer received a Bachelor of Kinesiology degree from Acadia University in 2004. She was the athletic trainer for the women's basketball team and played on the women's club hockey team. Jennifer has taken many post-secondary courses in acupuncture, manual therapy, SI joint, pelvis, jaw, hip and lumbar spine. Jennifer and her husband live in middle Sackville with their 2 beautiful boys. They can usually be found around a rink or ball field. Jennifer plays softball and has represented Nova Scotia at many international, national and provincial championships.



Kim Goulden
Physiotherapist - BSc(PT)

Kim graduated from Dalhousie University with a BSc (Bio) in 1994 and a BSc. (Physiotherapy) in 1997. She has lived and worked in Halifax, NS, since 1998. Previous to that, she lived her childhood years in Newfoundland. Kim is a member of the Canadian Physiotherapy Association and licensed with Nova Scotia College of Physiotherapists. She is certified by the Acupuncture Foundation of Canada (level I) and has broadened her skills by taking many manual therapy courses. Kim's main focus since 2000 has been private practice. She has treated numerous conditions including muscle and joint pain, neurological dysfunction and general rehabilitation and conditioning. Her style of treatment focuses on manual therapy, supported by modalities and exercise prescription. Kim enjoys collaborating with various other health disciplines to give a diverse treatment experience to her clients. She has extensive experience with worker-related injuries and motor vehicle accidents. In her spare time Kim enjoys spending time with her family (husband, children and pets); hiking, sailing or just relaxing watching a movie.



Jeff Rooney
Physiotherapist - BSc. Physical Therapy

Jeff Rooney attended Western University and graduated from the Physiotherapy program in 1996. Jeff's roots are in a small farming community in Southern Ontario and he has lived in Nova Scotia since 1999. Jeff has always enjoyed his time helping patients recover from various injuries. Listening to the patient and utilizing an integrated health approach have been the keys to Jeff's success in helping people improve their mobility. Jeff also has extensive knowledge and experience in the operations of the health care business. He has owned and/or managed over 20 clinics in Atlantic Canada. Jeff also spent 5 years as the President of the NS College of Physiotherapists and held the position of National Director of Operations for a group of over 100 physiotherapy clinics across Canada



Kristin Ling
Chiropractor - DC

Dr. Kristin Ling is our Chiropractor at Premium Health. She has a strong background in maintaining and optimizing health starting with a Bachelors of Physical and Health Education and a concentration of Health Promotion degree at Laurentian University in Sudbury, ON. She went on to pursue a chiropractic degree at the Canadian Memorial Chiropractic College. During her degree, she worked to make healthy habits accessible to everyone no matter their background through the Athletic and Gym committees there. But her love of active living started in her home town in the Ottawa Valley in Ontario. Growing up she was always up for a team sport (especially competitive soccer) and loved being outdoors with her dogs - usually fishing or camping. Dr. Ling is excited to help you feel your best though diversified manual adjusting, soft tissue therapy, acupuncture and rehabilitation. She's continually looking for the best way to help her patients with a focus on evidence-based techniques.



Alison Arbou
Registered Massage Therapist - RMT

Alison Arbou attended ICT Northumberland College of Massge Therapy and graduated in 2017. Her practice focuses on using General Swedish Massage and myofascial techniques to create a safe and effective treatment, specific to each person. She has an interest in starting the Osteopathy program to deepen her understanding of the body and to provide an even more effective treatment plan for her patients. Ally was born and raised in the Annapolis Valley. She started attending a Public Health program at Cape Breton University, while also training on the Women's Volleyball team as a varsity athlete. In her spare time, Ally enjoys playing volleyball, back country snowboarding, hiking through the wilderness, practicing yoga, and spending time with her family.



Greg Blackmore
Registered Massage Therapist - RMT

Greg Blackmore is an experienced, professional Registered Massage Therapist with a range of clinical experience. He graduated from the Canadian College of Massage and Hydrotherapy in 2011, and received a sports massage certificate for over 50 hours experience at Dalhousie University. Greg has specialized training in fascial treatments of the pelvis, guasha, cupping and thai massage. Through his work in this interdisciplinary setting, he has gained experience in injuries pertaining to sports, trauma, active lifestyles, postural and work-related strain. Greg grew up in Beaver Bank, Nova Scotia. He works with you to develop a personalized massage treatment that meets your health and healing goals. Greg's interest in sports massage fits well with his own passion for sports. He has a Personal Trainer Certificate through CANfit. Greg has a black belt in Taikwon-do and has competed at the provincial and national level. He has inspired and motivated students as a Taekwon-do instructor. In his spare time, Greg enjoys fitness and volunteer activities at charitable and non-profit events.



Vanessa McColl
Psychologist

Vanessa McColl graduated in 2008 from the University of Windsor with a Bachelor's in Psychology with Distinction. Upon completing this degree, she moved to Nova Scotia to complete her Master's degree in Clinical Psychology at Acadia University and graduated in 2010. She completed her practicum in clinical assessment and internship in psychotherapy at Annapolis Valley Health (AVH) Adult Community Mental Health Services in Kentville, NS. Vanessa provides psychotherapy to adults for a wide variety of issues such as anxiety, mood disorders, assertiveness, and personal growth. She specializes in treating clients who have been injured, have chronic pain, or have other significant health problems. She has also expanded her knowledge base to include training in trauma-based therapy such as Eye Movement Desensitization and Reprocessing (EMDR).



Larissa Boone
Massage Therapist - Massage Therapy diploma

Larissa Boone, graduated in 2019 from Eastern college 2200 hour program with honours. She has experience with general Sweedish massage, deep tissue massage, trigger point therapy, myofascial techniques, MVA patients, post surgical patients, postural imbalances and more. Larissa has a high level of attention to detail which makes her assessment consistently thorough and specific to her clients needs. She has a deep understanding of the anatomy and physiology of the human body from being a former nursing student. She has an interest in taking the osteopathy program to further her education and being able to have a more in depth treatment plan for clients. In Larissa's free time she enjoys to go hiking, playing darts, doing yoga, spending time with family, friends & her dog.



Meghan MacLeod
Occupational Therapist - BKIN, MSc(OT), OTReg(NS)

Meghan MacLeod graduated with a Bachelor of Kinesiology from Acadia University in 2011. After graduation she worked as a research assistant and retail in Halifax. Her interest in human wellness and overall health drew her to Occupational Therapy and she returned to school and graduated with a Master?s of Science in Occupational Therapy in 2016. She is now a practicing Occupational Therapist with pt Health at Russell Lake, Forest Hills, and Eastern Passage locations. Meghan?s primary focuses are Functional Scans and Return to Work Planning, Job Site Visits, Home Assessments, and Ergonomic Assessments. In addition, Meghan has experience working in Pediatrics and can provide gross and fine motor assessments, as well as handwriting assessments. Meghan is passionate about engaging in daily occupation as a means to live your best life. Her hobbies include running, yoga, cooking, and spending time with family and friends.


[View More]
"I highly recommend the Premium Healthcare Solutions team for physiotherapy and related needs. I found the entire team highly professional in their treatment and contact with the clients. I enjoyed their good humour!"
Lucie G - Google Review
"From the very first consult this team has been like family. So accessible, so personable, so accommodating they have helped me through a life altering event. I'd recommend their holistic approach to anyone!"
DL H - Google Review