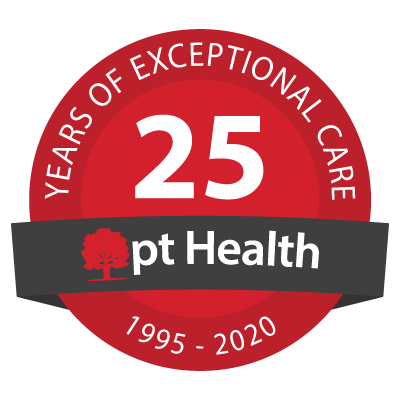 Proactive Physiotherapy - pt Health
In-person treatment available
Virtual Care treatment available
Welcome!
Our clinic is open and offering In-person treatment in addition to Virtual Care service. Please note that enhanced measures are in place to ensure the health and safety of our patients and staff. View our virtual tour video so you know what to expect at your next clinic appointment.
"Went in with tricky back pain where two doctors couldn't pinpoint the area of pain. I was healed in exactly the amount of time they estimated during my first session (6 weeks). I've also been given stretches and exercises that have so far helped me from relapsing. Friendly staff, quick service, short wait times for appointments, and uncomplicated process. Great place to go to.."
Brian C - Google Review
"Everyone at the clinic is extremely friendly and very professional. They are always on time. I have never had to wait more than 5 minutes in the waiting room. I would 101% recommend pt Health Clinic to anyone with an injury that would like to actually see results with professional people who know what they are doing. Seriously you won't regret it!"
Trisha P - Google Review
Our Clinic Team
Inderdeep Singh Mand
Physiotherapist - Physiotherapist, PT, MHSc

Speaks: English, Hindi, Punjab

Inder graduated with honours from Baba Farid University of Health Sciences in India, with a Bachelor's degree in Physiotherapy and Rehabilitation and completed his Master's in Health Sciences at the University of Western Sydney (Australia). Inder has more than five years of international healthcare experience, working in different healthcare settings and in different positions. He has worked with a variety of patient populations suffering from musculoskeletal, neurological, and cardiac conditions. Inder believes in evidence based practice with a patient centred approach to maximize his patients' functional independence. He encourages patients to take a proactive role in their health and rehabilitation. In his spare time, Inder loves to explore new hiking trails and spend time with friends and family.



Marianne Irwin
Massage Therapist - BA(Hons), RMT

Marianne is a graduate of Sir Sanford Fleming College who has been providing client-centered massage therapy since 2010. She has experience treating all ages from children to seniors, and also performs prenatal massage. Her treatment style includes a variety of modalities such as myofascial release, trigger point therapy, Swedish massage, joint mobilizations, active/passive stretching and deep tissue therapy. She has experience treating patients with chronic pain, repetitive strain injuries, fibromyalgia, headaches, and develops treatment plans to help her clients reach their goals using hands-on techniques and making recommendations for home exercise/care. Marianne is a member of the Registered Massage Therapists' Association of Ontario and is registered with the College of Massage Therapists of Ontario. She studied Psychology at the University of Windsor and also holds an Honours B.A.



Michael Corrigan
Physiotherapy Support Personnel

Muhammed Shahriar Zaman
Physiotherapist - BScPT, MPH, MSc

Muhammed is a Physiotherapy Resident. He has been practicing physiotherapy for 9 years internationally before starting his practice in Kingston. His clinical experience is predominantly in musculoskeletal conditions. He has also worked with clients who needed rehabilitation following orthopedic surgeries. Muhammed believes in updating his knowledge and skill through continuous education and research for providing better service to his clients. He graduated from the University of Dhaka with a Bachelor of Science with Honours. Then, he completed MPH degree from Bangladesh University of Health Sciences and MSc from Queens University. He completed several post-graduation trainings, including a post-graduation diploma in Orthopaedic Medicine. Outside of work, Muhammed loves to spend time with family and travelling.


[View More]
"My experience has been wonderful. I would highly recommend this place to anyone - the staff are extremely helpful, friendly and efficient. I am so grateful to have found Proactive Physiotherapy and I would not go anywhere else!"
Lizette C - Google Review
"Went here on a recommendation of a co-worker; extremely pleased. The staff were very knowledgeable, friendly and happy to answer questions. I ended up with a detailed anatomy lesson! Highly recommend!"
Jon B - Google Review