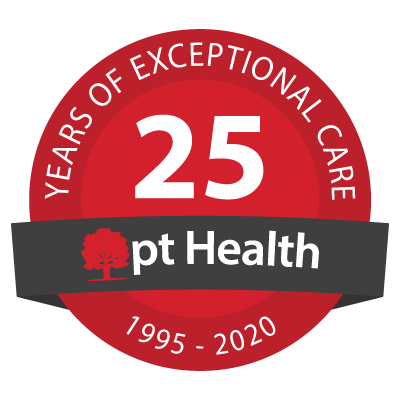 pt Health Oshawa Physiotherapy
In-person treatment available
Virtual Care treatment available
To ensure the health and safety of our patients and staff, we have made a number of changes to the way our clinics operate and have implemented enhanced measures to ensure the health and safety of our patients and staff. Click here to learn more about the S.A.F.E.R. approach.
"Excellent customer service, excellent care, great group of people. Definitely the best physio experience I've ever had. Reception staff greet me by first name when I get there and the specialists are friendly, knowledgeable and (most importantly!) listen. They treat the individual, and having multiple care professionals on site can give you a really well-rounded experience."
Kristina D - Google Review
"Great facility, one stop shop, offering physiotherapy, massage and chiropractic treatments. The staff are very professional, with superb customer service and extremely knowledgeable. I have had three physiotherapy treatments and a deep tissue massage and feel results already. I wouldn't hesitate to recommend this facility to anyone who requires these services."
Sandra L - Google Review
Our Clinic Team
Andy Kushagra Soni
Physiotherapist

Andy is a very passionate and dedicated physiotherapist who graduated from Gujarat University with Honors in Bachelor of Physiotherapy degree in 2012. Andy is a Registered Physiotherapist with more than 7 years of clinical experience. Andy has additionally acquired his PG diploma in Fitness and Health promotion from Humber college in 2014. In his clinical practice he sees a variety of clients affected by complex orthopedic conditions, neurological conditions and sports injuries in different clinical settings such as clinics, long term care facilities and hospitals. His clinical interests include advanced manipulation, concussion management and soft tissue release. Using the latest evidence based clinical knowledge, Andy works to provide the highest quality of care for his patients to ease their pain, improve their quality of life and to get the best outcome results. Andy is an active member of the Canadian Physiotherapy Association and a member of Ortho division of CPA. He has completed Level 1 from Ortho division for Diploma in Advanced Manipulative Physiotherapy. He has gained experience in Proprioceptive K tapping by taking course with BSN Canada. He has also mastered his skills for delivering shockwave modality by taking training with orthocanada. He is an ADP Authorizer with the Assistive Devices Program offered by the Ministry of Health. He has also completed both the Arthritis society's 'Getting a Grip on Arthritis' osteoarthritis and rheumatoid arthritis program. He places high value on giving back to the community, inspiring people and making positive changes in people's lives. In his spare time, he enjoys exploring different countries, bicycling along trails and spending quality time with his wife and family.



Crystal D'Souza
Physiotherapist

Crystal graduated from Manipal University in 2009 with a Bachelor's Degree in Physiotherapy. She completed her Masters in Neurological Rehabilitation in 2011. Crystal has experience in treating a wide range of Neurological and Orthopaedic patient populations by using evidence-based practice and client centered care. Her keen interest lies in Neurological and Vestibular Rehabilitation where she helps people solve their dizziness and balance problems. Crystal completed her first level of training and is certified in Acupuncture through Acupuncture Canada. She has also recently finished Arthritis Society's 'Getting a Grip on Arthritis' osteoarthritis and rheumatoid arthritis program. Crystal believes in the saying "practice makes you perfect" and tries her best to make her clients as independent as possible in their daily activities. She also believes that each patient is unique and therefore her treatment technique should be specific to the goals and needs of each individual patient. In her spare time, you can find Crystal travelling or enjoying a cup of coffee.



Victorio Agbulos
Registered Massage Therapist

Graduated from Oxford College, Toronto in 2016 with over 3,000 hours of combined in class and hands on clinic hours. Registered and in good standing with College of Massage Therapists of Ontario. For Victorio, client care always comes first and is his top priority. Every client is different , therefore Victorio will customize his techniques based on their specific needs. Victorio will always make sure that the patient is comfortable to ensure a safe and effective treatment. He is motivated and passionate to learn more modalities within the scope of practice to continue expanding his existing therapeutic approach.



Alisia Young
Naturopathic Doctor - ND

Dr. Young became inspired to become a health practitioner after experiencing heartache as she witnessed the pain that chronic disease had on close family members, and being in the difficult position of wanting to assist, but not knowing how. Dr. Young became a Naturopathic Doctor because she believes in gentle treatment, which is tailored to your lifestyle and goals. She partners with you and collaborates with other health practitioners to ensure you receive well-rounded care. After completing her Honours Bachelor of Science at the University of Toronto, she completed her Doctor of Naturopathy Degree at the Canadian College of Naturopathic Medicine. Dr. Young is a licensed Naturopathic Doctor with the College of Naturopaths of Ontario (CONO) and is a member of the Ontario Association of Naturopathic Doctors (OAND) and the Canadian Association of Naturopathic Doctors (CAND).



Natalie Atwood
Chiropractor - DC

Dr. Atwood graduated from the Canadian Memorial Chiropractic College in 2019 with a Doctor of Chiropractic degree and has extensive experience addressing, diagnosing and treating many musculoskeletal conditions. She believes in treating her patients as individuals and addressing the body as a whole in order to administer appropriate care for not only pain but for overall function. Dr. Atwood's treatment approach includes manual therapy, instrument assisted soft tissue mobilization, therapeutic modalities, functional movement assessments, integrated patterning, injury rehabilitation, and corrective exercises. She has experience working closely with a variety of conditions including headaches, neck pain, back pain, sport and fitness related injuries, shoulder pain, knee pain, hip pain, foot pain and much more. Dr. Atwood believes chiropractic care can benefit people of all ages and demographics. Schedule an appointment with her to find out how you can benefit from chiropractic care.



Muthu Kumar Murugesan
Physiotherapist

Muthu graduated with an Honors Degree in Physiotherapy in 2010 and has been practicing as a Registered Physiotherapist since 2014. He also completed his postgraduate studies in the Exercise Science & Lifestyle Management Program at Humber College in 2011. Muthu is a member of the College of Physiotherapists of Ontario. His clinical practice includes a broad spectrum of techniques including manual skills, specific individualized exercise programs, electrotherapy modalities and injury prevention strategies, to help relieve pain and augment function. Through detailed assessments, focused treatment plans and patient education, Muthu helps his clients return to pre-injury activities in a timely fashion and ensures they have the knowledge to prevent reoccurrence of injuries. He likes to spend his free time with the family and keep active by playing squash.



Tashinga Mapanga
Registered Massage Therapist

Tashinga is a graduate of Bryan College. She has experience in sports massage, chronic pain management, and pregnancy massage. She also has training in Cupping Therapy and Hot Stone Massage. She uses an intuitive approach to your body's needs in order to treat both you and your body. She believes that the body exists holistically; you, your body, and spirit. She tailors each massage to address your issues but also to have you leave each session with more of an understanding of your body.



Firdaus Daud
Physiotherapist

Firdaus completed his Masters in Physiotherapy in 2010 from Gujarat university and he also completed is PG Diploma in Fitness and Health Promotion from Humber college in 2013. He has completed his courses in Acupuncture from APTEI and K tapping from BSN Canada. He focuses on hands on manual techniques and customized treatment approach. In his spare time he likes travelling and spending time with family and friends.


[View More]
"I can't recommend this institution enough. The staff are so friendly and accommodating. The physiotherapists are flexible with your schedule and the knowledge they bring to the table is awesome! They really know what they're doing and what you need for a quick recovery. The difference in my injury after 3 appointments is amazing!"
Matthew R - Google Review
"I have been to the clinic only for a short time but I am really impressed by the staff and services I have received. From the first appointment it was obvious my physiotherapist was knowledgeable and would be able to help. The staff is friendly and the clinic is really convenient. I would highly recommend this clinic to anyone looking for physiotherapy services."
Lisa D - Google Review