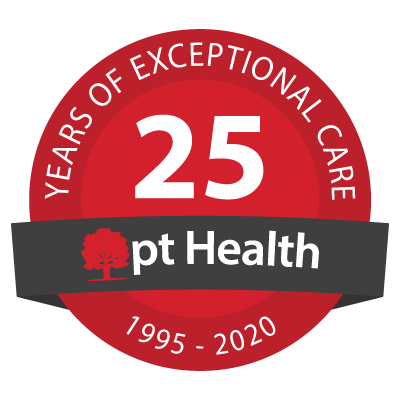 pt Health Physiotherapy - Bedford Place Mall
Welcome!
Our clinic is open and offering in-person treatment in addition to virtual care. We look forward to seeing you soon.
"pt Health has the friendliest staff. They make sure you understand everything about your injury and what they are going to do to help. Very accommodating for appointments. They care about their patients, and always makes sure you are comfortable with what is happening. Always a laugh or two to be had which makes you feel right at home! "
Denise M - Google Review
"Definitely the best physio experience I've had! I was very pleased with the treatment and advice that I got, and anytime I had questions, they were listened and responded to in a respectful, thorough, and pleasant manner. The front desk staff were absolutely amazing. If anyone I know ever needs physiotherapy, I will happily refer them here!"
Michelle P - Google Review
Our Clinic Team
Calvin Mills
Physiotherapist

Calvin is a passionate and motivated therapist who believes that movement is the key to living a healthy and successful life. Through empowering the patient to understand proper movement, Calvin believes patients can learn the tools to not only treat their injuries, but can decrease the chances of them happening again. Calvin treats any patients who are motivated to rehabilitate their injuries and focuses on teaching the patient to take control of their injury.

Calvin's interests include prevention and rehabilitation of athletic injuries, hip, knee and ankle biomechanics and using exercise as medicine. Calvin graduated from Dalhousie University with a Master's degree in Science - Physiotherapy and also holds a Bachelor of Kinesiology degree from Acadia University.

Throughout Calvin's post secondary experience, he has provided athletic trainer coverage for many sporting teams and organizations in Nova Scotia such as: Acadia Men's Basketball, UKC Women's Volleyball and Soccer Nova Scotia.

Heather Murray
Registered Massage Therapist

Jenny Tiller
Occupational Therapist

Jenny is a graduate of Glasgow Caledonian University, where she received a Master of Science in Occupational Therapy. She also holds a Bachelor of Arts in Psychology from Memorial University. Jenny is a member of the College of Occupational Therapists of Nova Scotia, as well as a member of the Canadian Association of Occupational Therapists.

Jenny has a passion for Occupational Therapy, due to the professions focus on providing a client-centered and holistic approach. Jenny aims to help clients who are experiencing physical, cognitive, or emotional difficulties to meet their goals of returning to their meaningful occupations/daily activities.

When not at work, Jenny enjoys activities such as running, hiking, reading and spending time with her dogs.

Nancy Pitroda
Physiotherapist

Nancy Pitroda graduated from Queen Margaret University in 2013 with a Master of Science in Physiotherapy. As a physiotherapist, she has worked in orthopaedic private practices, home cares and hospitals while, she hopes to expand her practice into women's health care.

Nancy works with her clients to offer comprehensive treatment addressing biomechanical deficits, movement dysfunction, and any other barriers preventing a client's physical recovery. Her goal is to return her client to pre-injury life, whether that may be returning to work, playing sports, enjoying family activities, or participating in other hobbies. She enjoys helping clients of all ages work towards their rehabilitation and health goals.

Nancy believes in completing an in-depth assessment to find the cause of the issue and then working with the clients one on one to treat the issues and prevent future injury. She uses a hands-on treatment approach, therapeutic exercise, tapping and modalities to decrease pain and increase overall function. Besides physiotherapy services, she also offers pre- and post-surgical care services, return-to-work planning services, motor vehicle accident rehabilitation services, pain therapy and support services, ergonomic services, in-home therapy services, and yoga.

Nancy also has experience treating mastitis, an inflammatory breast condition that is often characterized by a blocked milk duct. She provides treatment with ultrasound therapy, massage, and heat. Therapeutic ultrasound can be a very effective treatment and can prevent recurring blockage.

Nancy believes educating clients is a key component to recovery and prevent future injury. Also, being active daily and maintaining your physical health is a key factor in overall wellness. Through her physiotherapy treatment, she hopes to give people the knowledge they need to achieve their goals and succeed in their physical wellbeing.

Nancy is trilingual and speaks English, Hindi and Gujarati.
[View More]
"Excellent diagnosis of my post-fall & getting me on the road to recovery in a prompt, cheerful manner. Can't recommend them more highly than the stars available."
Geoffrey R - Google Review
"Both my wife and I have required physio treatment over the last 6 months...we would recommend this clinic to anyone requiring physio treatment."
Brian H - Google Review