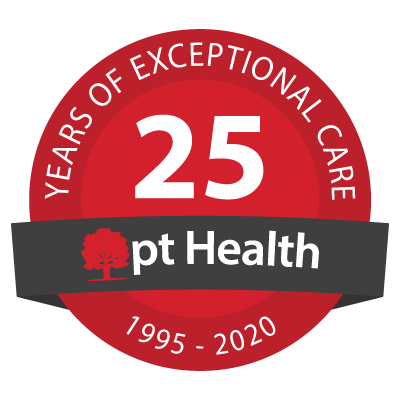 pt Health Physiotherapy - Bedford Place Mall
Welcome!
Our clinic is open and offering in-person treatment in addition to virtual care. We look forward to seeing you soon.
"pt Health has the friendliest staff. They make sure you understand everything about your injury and what they are going to do to help. Very accommodating for appointments. They care about their patients, and always makes sure you are comfortable with what is happening. Always a laugh or two to be had which makes you feel right at home! "
Denise M - Google Review
"Definitely the best physio experience I've had! I was very pleased with the treatment and advice that I got, and anytime I had questions, they were listened and responded to in a respectful, thorough, and pleasant manner. The front desk staff were absolutely amazing. If anyone I know ever needs physiotherapy, I will happily refer them here!"
Michelle P - Google Review
Our Clinic Team
Nickesh Dua
Clinic Director

Nick is furthering his education and is now pursuing a Doctor of Medicine degree at Dalhousie University. He is still available on a limited basis, with a focus on second opinion assessments, complex cases, and special requests; however, he will happily see you to attend to your rehabilitation needs.

Nick takes a very hands-on and thorough approach to his physiotherapy practice, which stems from his meticulous personality. He enjoys starting a client's care from scratch and takes great pride in often finding out the source of someone's problem that has been missed by other clinicians. Nick has taken post-graduate courses in hands-on techniques, spinal manipulation, medical acupuncture, and concussion management, allowing him to assess, treat, and manage a wide variety of conditions.

His penchant for orthopaedics was instilled while completing his Master of Physical Therapy from Western University, which is well-known for producing great orthopaedic physiotherapists, after completing two Bachelor degrees in kinesiology and biology at McMaster, and working as a Kinesiologist prior to his physiotherapy education.

Nick is a firm believer in getting people better as quick as possible and teaching them to self-manage. His philosophy is that if you are provided with excellent care that gets you back to normal rapidly, you will return to him with your next problem, or refer your friends and family after having a good experience. He also believes that you get out of physiotherapy intervention with what you put it into it, and takes a targeted approach rather than providing an overload of exercises.

Heather Murray
Registered Massage Therapist

Nancy Pitroda
Physiotherapist

Nancy Pitroda graduated from Queen Margaret University in 2013 with a Master of Science in Physiotherapy. As a physiotherapist, she has worked in orthopaedic private practices, home cares and hospitals while, she hopes to expand her practice into women's health care.

Nancy works with her clients to offer comprehensive treatment addressing biomechanical deficits, movement dysfunction, and any other barriers preventing a client's physical recovery. Her goal is to return her client to pre-injury life, whether that may be returning to work, playing sports, enjoying family activities, or participating in other hobbies. She enjoys helping clients of all ages work towards their rehabilitation and health goals.

Nancy believes in completing an in-depth assessment to find the cause of the issue and then working with the clients one on one to treat the issues and prevent future injury. She uses a hands-on treatment approach, therapeutic exercise, tapping and modalities to decrease pain and increase overall function. Besides physiotherapy services, Nancy also offers pre- and post-surgical care services, return-to-work planning services, motor vehicle accident rehabilitation services, pain therapy and support services, ergonomic services, in-home therapy services, and yoga.


Nancy believes educating clients is a key component to recovery and prevent future injury. Also, being active daily and maintaining your physical health is a key factor in overall wellness. Through her physiotherapy treatment, she hopes to give people the knowledge they need to achieve their goals and succeed in their physical wellbeing.

Nancy is trilingual and speaks English, Hindi and Gujarati.
[View More]
"Excellent diagnosis of my post-fall & getting me on the road to recovery in a prompt, cheerful manner. Can't recommend them more highly than the stars available."
Geoffrey R - Google Review
"Both my wife and I have required physio treatment over the last 6 months...we would recommend this clinic to anyone requiring physio treatment."
Brian H - Google Review