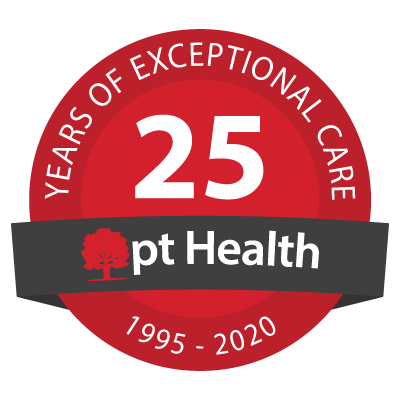 pt Health Prompt Physiotherapy Clinic
pt Health is offering virtual care appointments. Please call for availability.
In response to COVID-19, pt Health is doing its part to help protect our patients and staff by modifying the availability of services at our clinics. Please call the clinic to seek advice or rebook services.
[Read More]
"The detail and time spent on my injuries and issues was amazing! I felt like everything mattered and that there was a real investment in fixing me. I've never had this exemplary of an experience at any Physiotherapist before. Plus this office has all the other services I need to access. Truly a 5 star experience. Thank you!"
Marie V - Google Review
"The entire team at Prompt Physiotherapy are professional, patient, friendly, caring and compassionate!I appreciate that the entire team have been so wonderful to interact with. Thank you so much for the awesome assistance you have all been on my road to recovery! I highly recommend this clinic."
Joy C - Google Review
Our Clinic Team
Pratiksha Chonkar
Physiotherapist Resident

Pratiksha Chonkar has worked as Physiotherapist for 7 years in India. She has completed her graduation and Master's Degree in Physiotherapy from Rajiv Gandhi University of Health Sciences. She has worked on different musculoskeletal and neurological conditions in various age groups. She strongly believes combing experience, evidence based practice and patient values to promote excellent clinical outcomes. Pratiksha loves being in nature, going for hiking and camping with her family.



Yuliya (Julia) Kurilo
Registered Massage Therapist - MT

Julia is a registered massage therapist with the 2200-hour diploma from the Professional Institute of Massage Therapy, RMTA member. She has an experience working in both clinical and spa-like settings. Her scope of practice includes: therapeutic, deep tissue, swedish relaxation massage, hot stone and trigger-point therapy. Julia looks carefully at the cause and effect of an injury, tension, weakness and muscle pain and adjusts massage treatment plans according to each individual condition to get her clients back to their daily activities. Her work can benefit MVA, lower back, neck and shoulders chronic pain and tension headache sufferers, athletes and anyone who is looking for an overall body maintenance. When not at work, she loves to reading, exercising , and enjoying outdoor.



Sheldon Browse
Chiropractor - DC

Dr. Sheldon Browse graduated with honors from the University of Western States in Portland, Oregon earning a Doctor of Chiropractic. Dr. Sheldon is experienced in treating office workers, motor vehicle accident cases, weekend warriors, and everyone in between, helping them find relief and recovery. He is passionate about helping workers make long lasting positive changes in their posture and work environments. Dr. Sheldon utilizes a combination of therapies including spinal adjustments (both manual and instrument assisted), soft tissue therapy like myofascial release and Instrument Assisted Soft Tissue Therapy, targeted exercises, and ergonomic and lifestyle modifications to help his patients get out of pain and back to their jobs. He has received additional training with the Motion Palpation Institute to further hone his adjusting skills. Dr. Sheldon is passionate about hiking, camping, and cooking. He keeps active in the summer with longboarding and in the winter with snowboarding and curling.



Nathan Albinati
Physiotherapist - PT

Nathan obtained his Master of Science in Physical Therapy from the University of Alberta. He has since become certified in Level 1 Advanced Orthopaedic Manual and Manipulative Therapy, and Soft Tissue Release. Nathan is thrilled to share his expertise and passion for active rehabilitation with clients of all ages. He is particularly interested in guiding athletes through proper return to sport protocols after an injury. His approach to rehabilitation is client-centred; he incorporates education, manual therapy, individualized exercise prescription, athletic taping and electrotherapeutic modalities. He plans to complete additional courses in Manual Therapy, Functional Dry Needling, and R2P Concussion Management. Outside of the clinic, Nathan enjoys all things active, including running, hockey, hiking, snowboarding and strength training.



J Wellington
Pedorthist - Pedorthist

J is a graduate from Dalhousie University with a Bachelors of Science degree in Kinesiology. He attended the University of Western Ontario obtaining a degree in Pedorthics in 2016 and later that year became a Canadian Certified Pedorthist. J's main goal as a Pedorthist is to assess posture, movement patterns, and lower-extremity musculoskeletal function. His favorite tool is video gait analysis; the ability to visually show patient exactly when/where their imbalances occur. He encourages his patients to participate in their own recovery by taking the time to educate them about footwear choices, at-home tips, and stretches & exercises. Outside of work, J takes to the mountains to camp, hike, and downhill ski. He also enjoys recreational soccer, BBQing, spending time with friends and traveling



Morenike Ogunsan
Physiotherapist - PT

Morenike graduated from the University of Ibadan, Nigeria with a bachelor's degree in Physiotherapy. She worked in Africa (Nigeria) for over 7 years in clinical practice both as inpatient and outpatient before proceeding for a postgraduate degree in public health at the University of Saskatchewan, Canada. She practiced for some time in the long-term care before moving into outpatient physiotherapy setting. She is passionate about returning clients back to an optimum level of function post injury using education, manual therapy and exercises. When not at work, Morenike loves family time, volunteering and reading.



Tamara Robinson
Chiropractor - DC

Tamara graduated with a Doctor of Chiropractic from Palmer College of Chiropractic West in San Jose, California in June of 1998. Since graduating, Tamara has been licensed by and is in good standing with the Alberta College and Association of Chiropractors. She has always had a keen interest in sports medicine and biomechanics and has been fortunate enough to work with various teams and athletes of all levels over the course of her career. Some highlights include being a part of host medical services at the Pan Am Games, medical coordinator at the World Track and Field Championships, part of the medical team for the Canadian Freestyle Ski Association, Association of Volleyball Professionals, Ironman triathlons, rodeos, rugby, wrestling and others. Tamara utilizes ART (Active Release Techniques), Graston and FAKTR instrument-assisted soft-tissue therapies, shockwave, Kinesio tape and spinal manipulative therapy to optimize patient outcomes and get the best results as efficiently as possible. Her passion for performance and recovery focuses on the body's ability to move, heal and optimize itself. Tamara strives to identify and treat faulty movement, loading and firing patterns within the body and her true passion is to help individuals in all walks of life achieve, maintain and enjoy a healthy, active pain free lifestyle. Tamara was born and raised in Calgary and continues to enjoy raising her three children in her hometown. Her children's schedules keep her on her toes while maintaining a busy chiropractic practice. She loves getting outside and being in close proximity to the mountains allows for many fun, outdoor adventures.



Kemi Adeleke
Patient Coordinator

Kemi is an internationally trained Physiotherapist from Nigeria with over 7 years experience in practice. She obtained a Bachelor's degree in Physiotherapy and Masters degree in Public Health from University of Lagos and a Certificate in Cardiorespiratory Physiotherapy course from University College London. Over these years, she has seen wide caseloads of musculoskeletal, neurological, cardiorespiratory, pediatric, and women's health conditions. She carries out holistic, evidence based, and patient-centered approach in guiding her management. She recently moved to Canada and presently undergoing the licensure process to fully practice as a Physiotherapist and integrate back into the clinical setting.



Iraida Malabug
Patient Coordinator

Iriada is a clinic assistant at Prompt Physiotherapy. She received a masters degree in Science before relocating to Canada from the Philippines with her family. She has since gained extensive experience within the Canadian healthcare industry. Iraida enjoys the daily interaction between her and her clients, and always welcomes everyone with a big smile. When she is not in the office, Iraida volunteers at the YMCA. She enjoys exercising and traveling. Iriada always strives to maintain a healthy lifestyle.



Theresa Esan
Massage Therapist

Theresa is originally from Nigeria. Completed her High School in Holland and received her Bachelor of Science in Business Administration from the University of Science and Technology in Rivers State Nigeria. She got interested in Massage Therapy after her Mother had stroke in 2008. She was able to stimulate the muscles back to life with the help of the physiotherapist that was assigned to her Mum. Realising how skilful she is with her hands, and her love and caring for people around her, she decided to change her caring to what she loves doing. Theresa went on to obtain a certificate in Therapeutic Massage from Cambrook Colleges. Her modalities include: Deep Tissue Massage, Swedish Massage, Orthopaedic Massage, Pregnancy Massage, Cupping, etc. When not at work Theresa enjoys spending time with her family, cooking, Lawn Tennis and Sewing.



Maimuna Sulaiman
Patient Coordinator

Maimuna is the Clinic Manager at Prompt Physiotherapy. She is very Professional and passionate about her job, always making sure things are running smoothly in the clinic. With over 6 years of experience working in hospital and clinic settings, as well as managing the family business, she is very compassionate, friendly, and loves helping people. Her main goal is to create a friendly environment for the therapists, staff and our clients. Maimuna has volunteered in various organizations such at Heart & Stroke Foundation of Canada, Canada Red cross, Rockyview Hospital, schools and other non-profit organizations. When not working or volunteering, she loves spending valuable time with her family, and friends. She enjoy traveling and exploring different places, finding peace with nature, and loves cooking.



Shana Shang
Acupuncturist - ACU

Speaks: English, Mandarin, Chinese

Dr. Shana Shang, M.D. in China is a registered Acupuncturist in Alberta. She started her medical career in 1982 when she graduated from medical school. She was trained in China in both western and traditional Chinese medicine. She also completed advanced studies at Beijing Acupuncture Institute of China. Dr. Shang has over 30 years of experience in using both traditional Chinese and western medicine to ensure the most positive outcome for her patients. She is passionate about the quality and excellence of care for her patients. Dr. Shana Shang is specialized in treating conditions related to pain syndromes, woman's health, mental health, digestive disorders and many complicated illnesses.



Riste Edan
Massage Therapist - MT

Riste grew up in Okanagan, BC, in a family of farmers and physiotherapists. She had a great interest in health and sports from a young age and competed in the BC Summer Games in both gymnastics and synchronized swimming. Riste moved to Calgary in 2001 to raise her family and pursue a career in the health field. She worked in the nursing industry for 12 years before deciding to go back to massage therapy. With years of experience as a massage therapist, Riste offers a wide variety of services such as aromatherapy massage, hot stone massage, deep tissue massage, pregnancy massage, reviving foot scrub, revitalizing face, orthopedic massage, and massage reflexology. She is also certified in Self Regulation Therapy, which allows her to help people dealing with fight or flight symptoms after mental or physical injury.



Oladimeji Sulaiman
Physiotherapist - PT

Oladimeji Sulaiman, or 'Ola' for short, is a certified manual therapist and also uses acupuncture and dry needling to help his patients with their acute and chronic painful conditions. He employs a comprehensive approach to patient management by educating patients about the cause of their pain. He helps come up with prevention strategies as well as ways to manage their painful conditions. Ola's clinical interests are mainly back and neck pain, shoulder pain, knee pain and whiplash resulting from motor vehicle collisions. He enjoys playing soccer, tennis, hiking, skiing and riding his bike, especially with his kids.



Carol Maichle
Physiotherapy Support Personnel

Carol is one of the clinic assistants at Prompt Physiotherapy and Massage Clinic. She graduated from Mount Royal University in June 2016 with a bachelor's degree in General Science and double minors in Biology and Chemistry. Carol enjoys meeting all the new people that come into the clinic. When she isn't working, she likes to go hiking, climbing, kayaking or traveling. She also volunteers at the local zoo. In the near future, Carol would like to go back to school and study to be a Veterinarian Technician.


[View More]
"Great clinic. The staff are always super friendly and helpful. Have gone a few times this year to treat sports injuries. Always get prompt and targeted treatments to allow for a speedy recovery."
Darren L - Google Review
"Very friendly, patient staff, always remind of appointments ahead of time, clean, physiotherapist is friendly and very good at fixing your problems. Very adept at working with WCB patients. I will definitely return there for future treatments."
Chris - Google Review