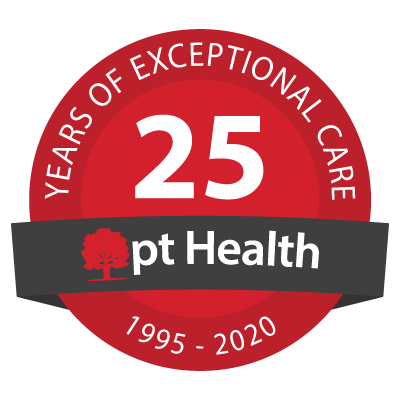 Queenston Physiotherapy and Rehabilitation - pt Health
In-person treatment available
Virtual Care treatment available
Ontario Health Insurance Plan (OHIP)
Welcome!
Our clinic is open and offering in-person treatment in addition to virtual care. We look forward to seeing you soon.
"Excellent service and great staff. Very kind and caring professionals. Well organized and equipped place. No cancellations or delays. I definitely recommend."
Maciek - Google Review
"Great place for physio. I've been going about a month and it's helped immensely. The physiotherapists are very attentive and work hard to get you back to normal."
Mike - Google Review
Our Clinic Team
Brian Carty
Physiotherapist

Brian Carty is a highly skilled and experienced physiotherapist who has been helping patients achieve optimal physical health for over two decades. He obtained his degree in physiotherapy from McMaster University in 1999 and has been practicing in various settings, including hospitals, OHIP, and private practices, ever since. Brian's passion for physiotherapy and his commitment to ongoing professional development have led him to take numerous post-graduate courses in manual therapy, allowing him to provide his patients with the most up-to-date and effective treatments available.

Brian's approach to physiotherapy is patient-centered, with a focus on helping his clients achieve their rehabilitation goals and maintain an active lifestyle. He believes that successful treatment requires a combination of manual therapy, exercise, and education. Brian is skilled in treating a wide range of conditions, including sports injuries, post-surgical rehabilitation, chronic pain, and neurological disorders. His compassionate and empathetic approach to therapy has earned him a reputation as a trusted and reliable healthcare provider.

When he's not working with patients, Brian enjoys spending time with his family and staying active through sports and outdoor activities. His dedication to his profession and his patients make him a valuable resource for anyone seeking to improve their physical health and well-being.

Cheryl Heemskerk
Physiotherapy Assistant

Cheryl has been a part of the Queenston Physiotherapy team since 2010. Cheryl graduated from Redeemer University with a Bachelor of Arts in Kinesiology. She enjoys working with a wide variety of patients, educating them on proper exercise technique, the importance of daily exercise and helping them return to their daily activities.

Suzanne Millar
Physiotherapy Assistant

Sue graduated with Honours from the Physiotherapy Assistant Program at Everest College. She began working with pt Health in 2011. Sue started out as a floater Physiotherapy Assistant and is now an important member of the team at Queenston Physiotherapy. Sue enjoys working with seniors and children and does her best everyday to help patients get well and stay well.

Elizabeth Westbrook
Physiotherapist

Elizabeth graduated from the Mohawk-McMaster School of Physiotherapy in 1986-87 with a Bachelor of Health Science in Physiotherapy and began working in outpatient orthopedics in several clinics within Hamilton and surrounding areas. Over the past 28 years, Elizabeth has pursued many post-graduate courses to further her knowledge and skills. She has been involved with the College of Physiotherapy as a physiotherapy resident mentor.

In 2008, Elizabeth was appointed as a "lecturer (adjunct)" of the McMaster School of Rehabilitation Sciences. Elizabeth has most recently completed both the Arthritis Society's Getting a Grip on Arthritis® osteoarthritis and rheumatoid arthritis education program. Elizabeth believes strongly in patient education, advocating on behalf of patients, patient-centred and evidenced-based care, as well as professional ongoing learning and development.

Madison Chrysler
Physiotherapy Assistant

Madison has been a part of the Queenston Physiotherapy team since 2019. She enjoys working with a wide variety of patients, educating them on proper exercise technique, the importance of daily exercise and helping them return to their daily activities.

Shwetaben Godhani
Physiotherapy Resident

Shweta has been a part of the team at Queenston Physiotherapy since 2021. She is a Resident Physiotherapist with the College of Ontario. Shweta graduated from Gujarat University in 2014 with a Bachelor's degree in Physiotherapy. In 2018, she graduated from Mohawk College in Health, Wellness and Fitness.

Shweta has clinical experience of working with patients of different age groups with various conditions during her internship and work. She was a CanFitPro certified personal trainer and is a level 2 Reiki therapist. She enjoys learning new skills and wants to further develop her clinical skills by completing additional courses after completion of clinical exam.

Shweta enjoys helping people and bringing positive changes in their life. Apart from curriculum activities, she enjoys cooking and trying different cuisines, visiting new places and try and learn new adventures. She is also a certified scuba diver and likes paddle boarding.

Monil Soni
Physiotherapist

In his role at Queenston Physiotherapy and Rehabilitation - pt Health, Monil is passionate about seeing patients return to what they love in life–whether it's taking a walk without pain, returning to work or playing with their children. "My role is to help my patients get back in their routine and provide them with adequate information on how to maintain their current physical well-being or even safely progress on their own."

In India, where Monil grew up, he was inspired after witnessing a family member regain near normal functional capacity after joint replacement surgery who was helped by a physiotherapist. Monil captured the physiotherapist playing different roles such as empathetic listener, motivator, educator, expert, advocate, collaborator and the most important a supportive friend throughout the rehabilitation journey.

To prepare for his career as a physiotherapist, Monil earned a Baccalaureate degree from Rajiv Gandhi University of Health and Sciences in India which is equivalent to Master's degree in Physical therapy evaluated by Canadian Alliance of Physiotherapy Regulators (CAPR). The 5-year program included an internship in a public hospital. Monil practiced in a privately owned clinic in India treating common musculoskeletal injuries from 3 years.

Currently, Monil is in good standing with The College of Physiotherapists of Ontario (CPO) since 2018 and is rostered to provide acupuncture treatments.

In addition to practice as a registered physiotherapist, Monil is also in his final year working toward a diploma program for Traditional Chinese medicine Acupuncture and Moxibustion. He will have a secondary license and be called a registered acupuncturist once he clears the exam.

In constant pursuit of advancing his knowledge, Monil is also planning to become a CAMPT-Certified physiotherapist, a Fellow of the Canadian Academy of Manipulative Physiotherapy (FCAMPT). Earning the designation requires postgraduate education with five level exams. Currently, Monil is preparing for the Orthopaedic Division Level 1 exam.

When Monil spends time with his patients, he explains to them relevant information about their condition, applies effective techniques in the clinic and teaches patients to do those techniques safely at home.

Monil's patients also enjoy his sense of humor, and like that he makes them laugh.

In the winter months, Monil enjoys cross country skiing, and in the warmer months, he likes to swim, hike trails, and camp. He also enjoys staying active by taking spinning classes and doing HIIT, a high intensity training program.
[View More]