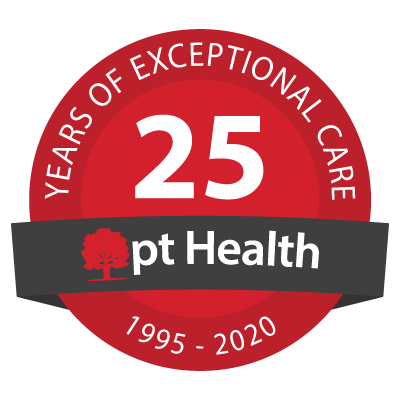 Queenston Physiotherapy and Rehabilitation - pt Health
In-person treatment available
Virtual Care treatment available
Ontario Health Insurance Plan (OHIP)
Welcome!
Our clinic is open and offering in-person treatment in addition to virtual care. We look forward to seeing you soon.
"Excellent service and great staff. Very kind and caring professionals. Well organized and equipped place. No cancellations or delays. I definitely recommend."
Maciek - Google Review
"Great place for physio. I've been going about a month and it's helped immensely. The physiotherapists are very attentive and work hard to get you back to normal."
Mike - Google Review
Our Clinic Team
Brian Carty


Brian graduated from McMaster University in 1999 with a degree in physiotherapy and has been practicing in hospital, OHIP and private settings ever since. He has continued to develop and advance his treatment knowledge and skills by taking various post-graduate courses in manual therapy. He enjoys helping people meet their goals for rehabilitation and achieve an active lifestyle.

Cheryl Heemskerk
Physiotherapy Assistant

Cheryl has been a part of the Queenston Physiotherapy team since 2010. Cheryl graduated from Redeemer University with a Bachelor of Arts in Kinesiology. She enjoys working with a wide variety of patients, educating them on proper exercise technique, the importance of daily exercise and helping them return to their daily activities.

Jennifer Smith
Kinesiologist

Jennifer has been a part of the team at Queenston since 2002. She graduated from the University of Windsor with a Bachelor of Human Kinetics and a major in Movement Science. She is a Registered Kinesiologist with the College of Kinesiologists of Ontario since April 2015. Jennifer enjoys working with a wide variety of patients and finds a sense of accomplishment from helping people return to living their lives the way they like to.

Suzanne Millar
Physiotherapy Assistant

Sue graduated with Honours from the Physiotherapy Assistant Program at Everest College. She began working with pt Health in 2011. Sue started out as a floater Physiotherapy Assistant and is now an important member of the team at Queenston Physiotherapy. Sue enjoys working with seniors and children and does her best everyday to help patients get well and stay well.

Elizabeth Westbrook
Physiotherapist

Elizabeth graduated from the Mohawk-McMaster School of Physiotherapy in 1986-87 with a Bachelor of Health Science in Physiotherapy and began working in outpatient orthopedics in several clinics within Hamilton and surrounding areas. Over the past 28 years, Elizabeth has pursued many post-graduate courses to further her knowledge and skills. She has been involved with the College of Physiotherapy as a physiotherapy resident mentor.

In 2008, Elizabeth was appointed as a "lecturer (adjunct)" of the McMaster School of Rehabilitation Sciences. Elizabeth has most recently completed both the Arthritis Society's Getting a Grip on Arthritis® osteoarthritis and rheumatoid arthritis education program. Elizabeth believes strongly in patient education, advocating on behalf of patients, patient-centred and evidenced-based care, as well as professional ongoing learning and development.

Madison Chrysler
Physiotherapy Assistant

Madison has been a part of the Queenston Physiotherapy team since 2019. She enjoys working with a wide variety of patients, educating them on proper exercise technique, the importance of daily exercise and helping them return to their daily activities.

Rachelle Milisenda
Physiotherapy Assistant

Rachelle graduated from the Physiotherapy Assistant & Occupational Therapy Assistant Program at Mohawk College/McMaster University (MOMAC) in 2008 and has been a part of the pt Health team ever since. Rachelle enjoys working with a diversity of patients, especially pediatrics. As an athlete, Rachelle also enjoys the opportunity to treat sport-related injuries for those eager to return to an active lifestyle. Rachelle's additional certifications include CPR and First Aid. She also completed the Therafirm Medical Compression Hosiery Course in 2010.

Shwetaben Godhani
Physiotherapy Resident

Shweta has been a part of the team at Queenston Physiotherapy since 2021. She is a Resident Physiotherapist with the College of Ontario. Shweta graduated from Gujarat University in 2014 with a Bachelor's degree in Physiotherapy. In 2018, she graduated from Mohawk College in Health, Wellness and Fitness.

Shweta has clinical experience of working with patients of different age groups with various conditions during her internship and work. She was a CanFitPro certified personal trainer and is a level 2 Reiki therapist. She enjoys learning new skills and wants to further develop her clinical skills by completing additional courses after completion of clinical exam.

Shweta enjoys helping people and bringing positive changes in their life. Apart from curriculum activities, she enjoys cooking and trying different cuisines, visiting new places and try and learn new adventures. She is also a certified scuba diver and likes paddle boarding.

Monil Soni
Physiotherapist
[View More]