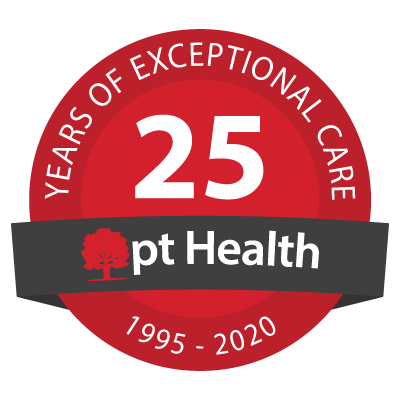 Russell Lake Physiotherapy Dartmouth - pt Health
Welcome!
Our clinic is open and offering in-person treatment in addition to virtual care. We look forward to seeing you soon.
Our Clinic Team
Amber Giesbrecht
Registered Massage Therapist

Amber Geisbrecht is a Registered Massage Therapist at pt Health. She grew up in Winnipeg, and completed her 2200 hour course from The Massage Therapy College of Manitoba in January of 2009. Amber enjoys working with sports injuries, among many other things, but a special highlight in her career was working with the Winnipeg Blue Bombers. She was able to gain significant experience working with sports-related injuries during this time and met some fabulous football players too!

Amber has taken several continuing education classes, and treats all areas of the body for injury, maintenance, or to simply just feel great! On her spare time, she enjoys snowboarding, playing soccer, and traveling.

Kelly Walters
Registered Massage Therapist

Kelly Walters graduated from the Canadian College of Natural Medicine in 2002. She has worked extensively in a clinical setting. Kelly has taken courses in myofascial work level one, decompaction (osteopathic technique), cupping and MIPA (myofascial integrated postural alignment). She incorporates these new techniques into her practice with great results.

When not working she is kept busy with her family usually enjoying the great outdoors.

Emily Jang
Chiropractor

Dr. Emily Jang graduated from Queen's University with a Bachelor of Arts Honours degree in Health Studies. She obtained her Doctor of Chiropractic degree from Canadian Memorial Chiropractic College. Dr. Jang has extensive clinical experience in a variety of musculoskeletal disorders with special interests in geriatrics, work-related injuries, and pre/post-pregnancy care.

In addition to her gentle manual chiropractic treatments, Dr. Jang also incorporates individualized, tailored rehabilitation programs specific to each patient's needs and requirements.

Christina Connolly
Physiotherapist

Christina Connolly is a Physiotherapist from Dartmouth, Nova Scotia. Christina graduated from Dalhousie University with a Bachelor of Kinesiology in 2004, and a Master of Physiotherapy in 2008. Christina's focus is on Orthopaedics, Workplace Injury, and Motor Vehicle Accident rehab.

She has taken many courses over the years such as level 2 Upper and Lower Quadrant Manual Therapy, Baraham Jam, Thorasic Spine Part I, and II, Shirley Sahrmann Level 1, 2 Diagnosis and Treatment of Movement Impairment Syndromes, Post Concussion Management, and Mobilization of the Nervous System. Christina has most recently completed both the Arthritis Society's Getting a Grip on Arthritis® osteoarthritis and rheumatoid arthritis education program. Christina believes in health promotion through living an active healthy lifestyle.

In her spare time, you can often find Christina being active through weight lifting, running, hiking, and gardening.

Rebecca Shaw


Rebecca began working with pt Health after completing her Master of Social Work degree in 2021 through Waterloo University, with a focus on the connection between physical and mental health. Rebecca previously completed her Bachelor of Arts, then her Bachelor of Social Work through St. Thomas University.

Prior to joining the pt Health team, Rebecca worked with Department of Community Services (Nova Scotia) and completed practicums with Prison Fellowship Canada, SchoolsPlus, and Community Services (PEI). She has also completed training in self-regulation, trauma-informed care, and conflict management. Her focuses for counselling include loss and grief, anxiety, trauma, and change adaptation through a strengths-based and solution focused approach.

Tyler Kent
Physiotherapist

Tyler is a physiotherapist and member of the Canadian Physiotherapy Association's Orthopedic and Sport divisions. As a therapist, Tyler is a firm believer in empowering independence in his patients using multi-modal care with an emphasis on therapeutic exercise and strength training. This is best highlighted by Tyler's professional interest in strength and conditioning, where in addition to Physiotherapy, Tyler is a Certified Strength and Conditioning Specialist through the National Strength and Conditioning Association.

Academically, Tyler completed his Master of Science in Physiotherapy at Dalhousie University in 2021, attained a Bachelor of Science in Kinesiology from Dalhousie in 2019, and a Bachelor of Science with a double major in Biology and Psychology from Saint Mary's University in 2015. Tyler is hoping to pursue post-graduate courses in Sport Physiotherapy, Orthopedic Levels, and functional dry needling in the near future.

Prior to physiotherapy, Tyler has experience working as an athletic trainer for various sports at the provincial and university level. He has also worked as a Kinesiologist and completed strength coach Internships with the Canadian Sport Centre Atlantic working with national Olympic and Paralympic athletes.

Personally, Tyler enjoys an active lifestyle partaking in many different activities. Most notably, Tyler is a Nova Scotia team member for table tennis. He enjoys running, strength training, golf and team sports. When not in the gym, you can find Tyler exploring hiking trails through our beautiful province.
[View More]