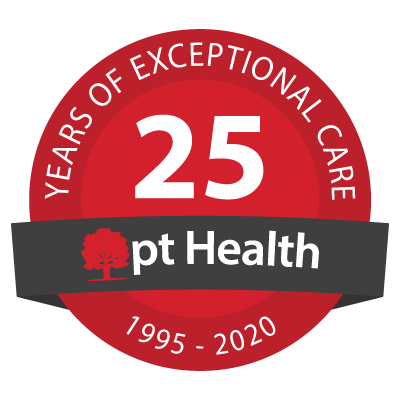 Sackville - Riverside and Sackville Dr
In-person treatment available
Virtual Care treatment available
Welcome! Our clinic is open and offering in-person treatment in addition to Virtual Care services. Please note that enhanced measures are in place to ensure the health and safety of our patients and staff. View our virtual tour video so you know what to expect at your next appointment.
"I am so glad that I decided go to pt Health Sackville when my doctor recommended physiotherapy. From the moment I walked in I felt relaxed and comfortable. The smiling faces and conversation make the experience as pleasant as possible. The physio and massage therapy, along with the positive atmosphere, make my day better."
Victoria F - Google Review
"The care you receive at pt Health is amazing. Not only is everyone there friendly, they are compassionate, caring and funny. It makes a person want to stay in therapy just to go visit with them. Thank you all so much for all that you have done for me. You keep everyone's spirits up and make our visits enjoyable."
Laura K - Google Review
Our Clinic Team
Jennifer Appleby
Physiotherapist - MSc PT BScKin

Jennifer Appleby graduated with a Master's degree in Physiotherapy from Dalhousie University in 2008. In 2012, she began working closely with orthopedic surgeon Dr. Ivan Wong in the treatment of pre and post-operative hip, knee, and shoulder patients. Prior to her physiotherapy degree, Jennifer received a Bachelor of Kinesiology degree from Acadia University in 2004. She was the athletic trainer for the women's basketball team and played on the women's club hockey team. Jennifer has taken many post-secondary courses in acupuncture, manual therapy, SI joint, pelvis, jaw, hip and lumbar spine. Jennifer and her husband live in middle Sackville with their 2 beautiful boys. They can usually be found around a rink or ball field. Jennifer plays softball and has represented Nova Scotia at many international, national and provincial championships.



Kim Goulden
Physiotherapist - BSc(PT)

Kim graduated from Dalhousie University with a BSc (Bio) in 1994 and a BSc. (Physiotherapy) in 1997. She has lived and worked in Halifax, NS, since 1998. Previous to that, she lived her childhood years in Newfoundland. Kim is a member of the Canadian Physiotherapy Association and licensed with Nova Scotia College of Physiotherapists. She is certified by the Acupuncture Foundation of Canada (level I) and has broadened her skills by taking many manual therapy courses. Kim's main focus since 2000 has been private practice. She has treated numerous conditions including muscle and joint pain, neurological dysfunction and general rehabilitation and conditioning. Her style of treatment focuses on manual therapy, supported by modalities and exercise prescription. Kim enjoys collaborating with various other health disciplines to give a diverse treatment experience to her clients. She has extensive experience with worker-related injuries and motor vehicle accidents. In her spare time Kim enjoys spending time with her family (husband, children and pets); hiking, sailing or just relaxing watching a movie.



Jeff Rooney
Physiotherapist - BSc. Physical Therapy

Jeff Rooney attended Western University and graduated from the Physiotherapy program in 1996. Jeff's roots are in a small farming community in Southern Ontario and he has lived in Nova Scotia since 1999. Jeff has always enjoyed his time helping patients recover from various injuries. Listening to the patient and utilizing an integrated health approach have been the keys to Jeff's success in helping people improve their mobility. Jeff also has extensive knowledge and experience in the operations of the health care business. He has owned and/or managed over 20 clinics in Atlantic Canada. Jeff also spent 5 years as the President of the NS College of Physiotherapists and held the position of National Director of Operations for a group of over 100 physiotherapy clinics across Canada



Kristin Ling
Chiropractor - DC

Dr. Kristin Ling is our Chiropractor at Premium Health. She has a strong background in maintaining and optimizing health starting with a Bachelors of Physical and Health Education and a concentration of Health Promotion degree at Laurentian University in Sudbury, ON. She went on to pursue a chiropractic degree at the Canadian Memorial Chiropractic College. During her degree, she worked to make healthy habits accessible to everyone no matter their background through the Athletic and Gym committees there. But her love of active living started in her home town in the Ottawa Valley in Ontario. Growing up she was always up for a team sport (especially competitive soccer) and loved being outdoors with her dogs - usually fishing or camping. Dr. Ling is excited to help you feel your best though diversified manual adjusting, soft tissue therapy, acupuncture and rehabilitation. She's continually looking for the best way to help her patients with a focus on evidence-based techniques.


[View More]
"I highly recommend the Premium Healthcare Solutions team for physiotherapy and related needs. I found the entire team highly professional in their treatment and contact with the clients. I enjoyed their good humour!"
Lucie G - Google Review
"From the very first consult this team has been like family. So accessible, so personable, so accommodating they have helped me through a life altering event. I'd recommend their holistic approach to anyone!"
DL H - Google Review