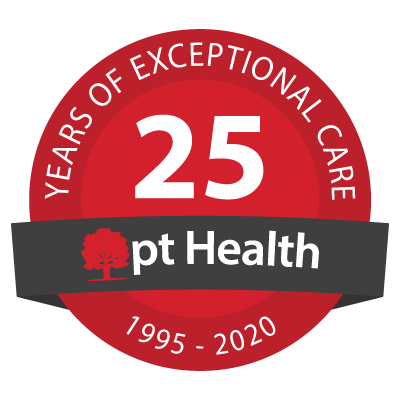 Vaughan Rehab Centre
Notice: We are open for In-Person treatment. To ensure the health and safety of our patients and staff, we have made a number of changes to the way our clinics operate and have implemented enhanced measures to ensure the health and safety of our patients and staff.
Click here to learn more about the S.A.F.E.R. approach.
To schedule an In-Person or Virtual Care appointment, please give us a call at 1-888-314-2726 or book an appointment online.
In response to COVID-19, pt Health is doing its part to help protect our patients and staff by modifying the availability of services at our clinics. Please call the clinic to seek advice or rebook services.
[Read More]
"Had physiotherapy here - very professional, felt a huge improvement from my treatments."
Lisa K - Google Review
"Very professional clinic. I benefited from the services. Good experience."
Jimmy C - Google Review
Our Clinic Team
Jiji Johnson
Physiotherapist

Johnson is a Physiotherapist, registered with the College of Physiotherapists of Ontario since June 2007. He has extensive experience in treating a variety of conditions including orthopaedics & arthritis, sports injuries, neurological recovery, plastic & cosmetic surgery and cardio respiratory and ICU management. Johnson has taken several additional courses to further his Physiotherapy education, including a post graduate diploma in Geriatrics, diploma in acupuncture, vestibular rehabilitation, training in yoga therapy, sacroiliac joint mobilization, neuro proprioceptive taping, cardio respiratory physical therapy & acute care management as well as courses in custom orthotic therapy. Johnson is involved in many community organizations and leadership as well as an active member of various social organizations. He is very sincere, compassionate, energetic and you will always find him with a smile on his face. When he is not helping his patients return to their full function, he enjoys spending time with his wife and three children.



Leonadis Karabellas
Chiropractor - Hons.BSc.,D.C.,D.Ac.

Dr. Leo Karabellas successfully graduated from the Canadian Memorial Chiropractic College in 2005 following a four-year intensive training program where focus was placed on the cause, management, and prevention of pain, injury and dysfunction of the musculoskeletal system. He is an evidence-based practitioner who adopts a multi-disciplinary approach to patient care and management. He incorporates his extensive training and clinical background to bring patients a diverse range of services; chiropractic care, muscle therapy (active release), manual therapy, medical Acupuncture, rehabilitation exercise, postural/ergonomic advice, and nutritional and lifestyle counseling. Additionally, he is certified in Neurofunctional Contemporary Medical Acupuncture from McMaster University and has extensive knowledge in Active Release Technique ART, custom orthotics/shoes, compression hosiery, bracing, and assistive devices. He is experienced in the diagnosis and rehabilitation of a wide range of neuromusculoskeletal conditions/injuries whether sports, work, posture, or motor-vehicle accident related (strain/sprains of spine and extremities, fractures, post-operative care, ligament/muscle tears, etc.). He believes the care and well-being of his patients is of the ultimate importance and that a patient's therapy experience should be built upon compassion, trust, competency, and communication.



Muriel Cusimano
Registered Massage Therapist

Muriel is an energetic and resourceful Registered Massage Therapist who believes that it is important to have a client-centred practice. That means empowering clients by working together to come up with the best possible treatment. In Muriel's practice she treats a variety of patients including, children, seniors, pre and postnatal women and athletes. Using a wide variety of therapeutic techniques, Muriel strives to provide the highest quality care for her patients to provide relief from musculoskeletal aches and pains caused by stress or injury and to improve quality of life. Muriel Cusimano received her diploma in Registered Massage Therapy from the Royal Canadian College of Massage Therapy and is in good standing with the CMTO. Muriel also holds a Reiki II diploma and is currently training in hot stone massage and Reiki master. Muriel is also a Scout leader in her spare time organizing and overseeing activities such as day trips, camping, hiking, and assist the youth in the activities.


[View More]