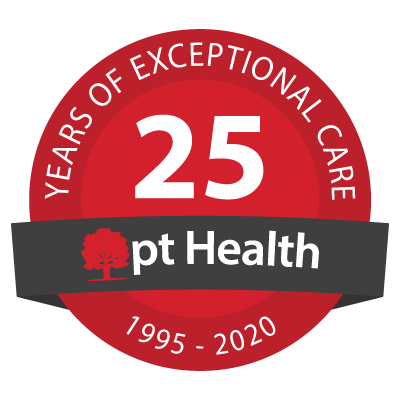 Victoria Community Physical Rehab and Physiotherapy - pt Health
pt Health is offering virtual care appointments. Please call for availability.
In response to COVID-19, pt Health is doing its part to help protect our patients and staff by modifying the availability of services at our clinics. Please call the clinic to seek advice or rebook services.
[Read More]
"Very helpful and friendly. They always go above and beyond for their clients. I highly recommend them for all ages and all services. Conveniently located. They have a large area to offer the client for convenience. You won't find a better alternative."
Stephanie M - Google Review
"This place is amazing! I had a full knee replacement in 2015 and was still suffering with pain. While I still have pain, my mobility has improved and I am sleeping more at night! I'm also taking much less pain medication. "
Beverly L - Google Review
Our Clinic Team
Kapilsinh Rajput
Physiotherapist

Speaks: English, Hindi, Gujarati

Kapil Rajput is an internationally Graduated Physiotherapist since 2008. Kapil Rajput is a Registered Physiotherapist with experience of over 7 years. He Graduated in 2008 with a Bachelor of Science in physiotherapy and has practiced a variety of different hospitals and clinics. He has finished a Diploma in Fitness and Health Promotion Program from Humber College which gave him thorough knowledge about Sports injuries and Athletic training for different sports. He has worked with clients of all ages, in private as well as OHIP funded clinics. Kapil has experience in treating Orthopedic Injuries (Fractures, Post-op rehabilitation, Arthritis, sports injuries), Neurological conditions as well as Injuries related to motor vehicle accidents and workplace injuries. Kapil has most recently completed both the Arthritis Society's Getting a Grip on Arthritis® osteoarthritis and rheumatoid arthritis education program. Kapil prides himself on his problem-solving abilities and thorough assessment techniques. With gentle persistence, Kapil encourages his patient to take a proactive role in their health and rehabilitation.



John Misale
Chiropractor

Dr. John P. Misale has been a long standing Chiropractor in Hamilton's North end community. He is a Graduate of McMaster University in the field of Biology ( 1989 ) and of the Canadian Memorial Chiropractic College (1993 ). His practice is geared towards relief of musculoskeletal injuries. He is certified in acupuncture by the International College of Chinese Medicine. He has a long standing relationship with The Hamilton Foundation a community support organization involved with various charities and scholarships initiatives for the residence of Hamilton.



Wesley Inett
Massage Therapist - RMT

Wes is a graduate of Westervelt College Massage Therapy Program. He recognizes that the goals and needs of each client is unique as they arrive on his treatment table and works with his clients to determine an appropriate treatment plan that is tailored to them. He openly shares his knowledge and abilities to educate his clients and the community. Wes uses a variety of techniques including: Swedish Massage, deep tissue therapy, trigger point therapy, cupping, myo-fascial release, hydrotherapy, and remedial exercise in order to meet individual's sports or other musculoskeletal trauma rehabilitation, improve postural dysfunction and provide relaxation treatments.



Rhandi Brooks
Patient Coordinator

In 2012, Rhandi received a BA in Psychology from The University of Western Ontario. During her Post-Secondary education Rhandi worked as office administrator for a Family Practice & Mental Health Counselor. After graduating in 2012, looking for a new challenge, this led Rhandi to her current role as Patient Care Coordinator at Victoria Community Physical Rehab. She is likely to be the first to greet you when you walk in and her ability to multitask ensures that everything in the clinic runs as smoothly as possible. Rhandi's favorite part of her job is meeting new faces everyday and making sure every appointment is enjoyable for the patients!



Carina Da Silva
Patient Coordinator

Speaks: English, Portuguese

Fluent in both English and Portuguese, Carina will always great you with enthusiasm and ensure you have a fantastic experience at the clinic.



Joshua Grawbarger
Physiotherapy Support Personnel

Joshua completed a Bachelors Honours Kinesiology Co-op degree from the University of Waterloo in 2019. In his time at the University of Waterloo, Joshua worked and volunteered in many physiotherapy settings, focusing on orthopaedic injuries, and orthopaedic post-operative rehabilitation. In addition, Joshua gained experience in the field of strength and conditioning by coaching varsity athletes at the University of Waterloo as a student Strength and Conditioning coach. In his spare time, Joshua enjoys travelling, long-distance running, and watching a variety of sports.



Carina Da Silva
Physiotherapy Support Personnel

Speaks: English, Portuguese

Fluent in both English and Portuguese, Carina will always great you with enthusiasm and ensure you have a fantastic experience at the clinic.


[View More]
"Excellent staff, very welcoming and helpful. I've been there twice and I've gone back for a third time for Physio. One of the best places I've ever been to."
Taylor M - Google Review
"I had a wonderful physiotherapy experience at this clinic. Staff were kind, punctual and very knowledgeable. Will go back here if I ever need them again!"
Kylie O - Google Review