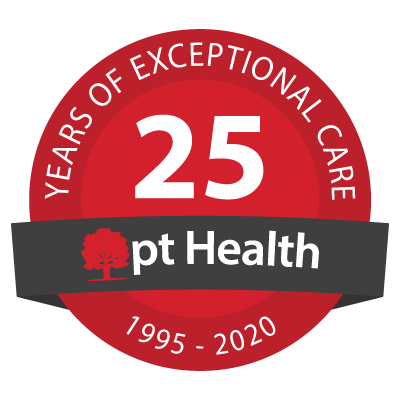 Victoria Community Physical Rehab and Physiotherapy - pt Health
In-person treatment available
Virtual Care treatment available
Ontario Health Insurance Plan (OHIP)
Welcome!
Our clinic is open and offering In-person treatment in addition to Virtual Care service. Please note that enhanced measures are in place to ensure the health and safety of our patients and staff. View our virtual tour video so you know what to expect at your next clinic appointment.
"Very helpful and friendly. They always go above and beyond for their clients. I highly recommend them for all ages and all services. Conveniently located. They have a large area to offer the client for convenience. You won't find a better alternative."
Stephanie M - Google Review
"This place is amazing! I had a full knee replacement in 2015 and was still suffering with pain. While I still have pain, my mobility has improved and I am sleeping more at night! I'm also taking much less pain medication. "
Beverly L - Google Review
Our Clinic Team
Kapilsinh Rajput
Physiotherapist

Speaks: English, Hindi, Gujarati

Kapil Rajput is an internationally Graduated Physiotherapist since 2008. Kapil Rajput is a Registered Physiotherapist with experience of over 7 years. He Graduated in 2008 with a Bachelor of Science in physiotherapy and has practiced a variety of different hospitals and clinics. He has finished a Diploma in Fitness and Health Promotion Program from Humber College which gave him thorough knowledge about Sports injuries and Athletic training for different sports. He has worked with clients of all ages, in private as well as OHIP funded clinics. Kapil has experience in treating Orthopedic Injuries (Fractures, Post-op rehabilitation, Arthritis, sports injuries), Neurological conditions as well as Injuries related to motor vehicle accidents and workplace injuries. Kapil has most recently completed both the Arthritis Society's Getting a Grip on Arthritis® osteoarthritis and rheumatoid arthritis education program. Kapil prides himself on his problem-solving abilities and thorough assessment techniques. With gentle persistence, Kapil encourages his patient to take a proactive role in their health and rehabilitation.



Vincent Tester
Chiropractor - B.Sc., DC

Dr. Vincent Tester, B.Sc., DC has been a practicing chiropractor since 1999. He has an undergraduate degree in psychology where he assisted in research in animal behaviour and behavioural psychology. Dr. Tester attained his chiropractic education in Bloomington, Minnesota at Northwester Health sciences University prior to returning to Canada to initially practice in Thunder Bay, Ontario. The majority of Dr. Tester's career has been focused on the assessment and rehabilitation of injuries sustained in motor vehicle accidents, workplace injuries, sports injuries and personal injury. He employs manual mobilization/adjustments as well as focused remedial exercise for optimal recovery. Dr. Tester strongly believes a combined team approach to your care will provide you the greatest benefit in your care. With Dr. Tester, physiotherapy, massage and exercise therapy offered your treatment and recovery will be delivered with dedication and care in a welcoming environment no matter what brings you in.



Carina Da Silva
Patient Coordinator

Speaks: English, Portuguese

Fluent in both English and Portuguese, Carina will always great you with enthusiasm and ensure you have a fantastic experience at the clinic.


[View More]
"Excellent staff, very welcoming and helpful. I've been there twice and I've gone back for a third time for Physio. One of the best places I've ever been to."
Taylor M - Google Review
"I had a wonderful physiotherapy experience at this clinic. Staff were kind, punctual and very knowledgeable. Will go back here if I ever need them again!"
Kylie O - Google Review