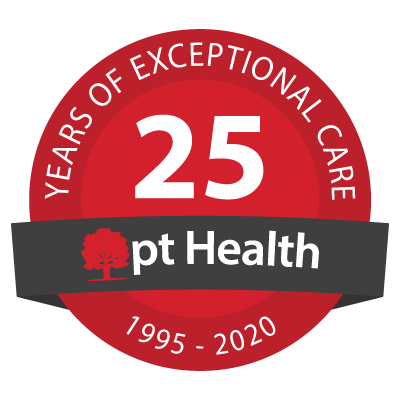 West Toronto Physiotherapy and Rehabilitation - pt Health
Notice: We are open for In-Person treatment. To ensure the health and safety of our patients and staff, we have made a number of changes to the way our clinics operate and have implemented enhanced measures to ensure the health and safety of our patients and staff.
Click here to learn more about the S.A.F.E.R. approach.
To schedule an In-Person or Virtual Care appointment, please give us a call at 1-888-314-2726 or book an appointment online.
In response to COVID-19, pt Health is doing its part to help protect our patients and staff by modifying the availability of services at our clinics. Please call the clinic to seek advice or rebook services.
[Read More]
"Very great service and I had an amazing experience. The office is really neat, and the customer service is impeccable. Thank you very much."
Raj K - Google Review
"Highly recommend for any of your physio or massage therapy needs. Very clean! Super friendly, always go out of their way to accommodate my requests. "
Martha R - Google Review
Our Clinic Team
Piotr Sledz
Massage Therapist - B.Sc (Ph.Ed.)

Piotr takes a wholistic approach to rehabilitation, specializing in Swedish Massage, lymphatic drainage, trigger point release, and more. He joined the West Toronto Physiotherapy team in 2015. Piotr graduated from the Academy of Physical Education in Warsaw, Poland. He also graduated from Canadian College of Massage and Hydrotherapy in Toronto, Ontario.



Agnieszka Trojanowicz
Patient Coordinator

Agnes Trojanowicz graduated from George Brown College with a diploma in Medical Office Administration. She joined the team at West Toronto Physiotherapy in June 2007 as a Patient Coordinator and is your first contact at the clinic. Agnes brings enthusiasm and a positive attitude to everything she does. When she's not at the clinic, she enjoys art and music.



Harmanpreet Kaur
Office Manager

Speaks: English, Hindi, Punjab

Harman graduated from LPU, India, with a degree in Biotechnology and completed post graduate program in Food Science and Technology from Centennial College, Scarborough. Shortly after graduating, she joined pt Health in 2014. Her passion for new challenges in life, helping others and multitasking, has expanded her career into the role of Office Manager for 4 clinics and GTA Administrative Team Lead for 8 clinics. Harman enjoys every aspect of her job with pt Health. Outside of work she enjoys spending time with her family and friends.



Patrica Woodley
Patient Coordinator - Floater

Varsha Ahir
Physiotherapist

Varsha is a Registered Physiotherapist with degree From the University of Zambia (Bachelor of Science in Physical Therapy, 2011). Varsha also did a course from University of Toronto (Ontario's Internally Educated Physical Therapy Bridging Program, 2018). She has worked in a variety of settings, encompassing cardio respiratory, pediatrics and orthopedic surgery through Central Hospital in Zambia. Varsha is a resourceful and passionate physiotherapist who wants to change someone's life by improving their wellness. Varsha's practice involves active rehabilitation with patient-centered treatment goals for MVA, WSIB, Sports rehab and private patients. Varsha uses various treatments in her treatment to make patients better, such as therapeutic modalities, manual therapy, soft tissue release, active exercise therapy and more to return patients to pre-injury level. When asked why she chose her current profession, Varsha replied "I decided to make physiotherapy my life-long profession, when I realized the impact I could have in the lives of people I meet through my work," she confides. "One of the most important aspects of my assessments and treatments is the education I give my clients. Helping people understand where the physical problem may originate can be the key to a quicker recovery." Outside of work, Varsha indulges in such activities as cooking, reading, writing and spending time with friends and family. In the summer, she particularly enjoys spending time at the cottage and camping.


[View More]