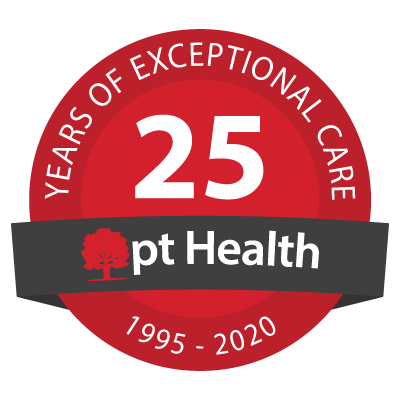 pt Health - Brant Active Physiotherapy & Brant 730 Physiotherapy (OHIP)
Welcome!
Our clinic is open and offering in-person treatment in addition to virtual care. We look forward to seeing you soon.
Our Clinic Team
Richard Mercier
Physiotherapist

Speaks: American Sign Language (ASL)

Richard graduated with a Bachelor of Science in Physical Therapy from the University Laval in Quebec City in 1989. He followed this up with a Masters in Medical Sciences at Sherbrooke University in 2001. He is a member in good standing with the Canadian Physiotherapy Association and the College of Physiotherapists of Ontario.

Prior to joining Lifemark as the Clinic Director at the Lifemark Meadowvale clinic, Richard was an owner of several physiotherapy clinics in Quebec for over 20 years. He has been a consultant in Primary Prevention for musculoskeletal disorders in the workplace. Some of his clients included IBM, Albany International, and Federal Penitentiary amongst others. He has also been involved in the care and treatment of international level athletes in tennis and has provided sports physiotherapy for golf, hockey, volley-ball and running.

Richard has been practicing physiotherapy for almost 30 years. Richard aims to integrate clinical expertise with evidence-based research, he is a strong believer in exercise programs to help patients become more independent and increase the success of their rehabilitation. His physiotherapy practice utilizes manual therapy, acupuncture, Cyriax techniques, Mckenzie approach, patient education, modalities and Chinese or modern cupping.

Richard is fluent in English, French and Sign Language. In his spare time Richard loves travelling and watching movies.

Mark Dwyer
Registered Massage Therapist

Mark has been working in the healing arts for 10 years and as an RMT since 2014. He brings a holistic perspective to his practice which draws on his life experience in sports, martial arts, sustainable housing and organic farming. Mark graduated with Honors from Georgian College where he was a valued tutor for Massage and other Health Sciences students.

Since graduation, he has added the insights and techniques of Osteopathy and Acupuncture to his RMT training and continues to develop his skills to become the best RMT he possibly can. Thanks to his education and mentors Mark has unique insights into conditions ranging from scar tissue to concussion and nervous system dysfunctions.

Amy Becke
Physiotherapist

Amy graduated with a Bachelor of Science in Physical Therapy from the
University of Western Ontario in 1997. She is a member in good standing with
the College of Physiotherapists in Ontario.

For over 25 years, Amy has been practicing physiotherapy with pt Health. She
started her career in Stoney Creek in 1997, and in 2007 transferred to her
current location at Brant 730 Physiotherapy, in Burlington.

Amy is passionate about promoting a healthy lifestyle, and believes in the body's
self-healing capacity. More recently, her continuing education has focused on
coaching and plant-based nutrition. She has successfully completed her
Lifestyle & Wellness Health Coach Certificate from York University, Plant-Based
Nutrition Certificate from eCornell T. Colin Campbell Centre for Nutrition Studies,
The Science of Well-Being from Yale, Certified as a Nutritional Physical Therapist
from Nutritional Physical therapy, Certified as a Holistic Nutritionist, Health &
Wellness Coach and Holistic Health Coach, Certificate of Completion of The
Plant-Based Athlete course, and most recently Certified as a Personal Trainer, all
from the American Fitness Professionals & Associates.

Amy strives to motivate, educate, and empower clients through their rehab
journey to regain their function and get back into life through a holistic approach
and traditional rehab.

Amy whole heartedly believes that, for the vast majority of us, we ultimately have
the power to take control over our own health, through the simple choices we
make on a daily basis; regarding our food, activity/exercise, stress management,
and social connections. Our current health status is a reflection of the
accumulation of our daily habits over our lifetime, which have either lead us
towards good health, or away from it. Simple daily healthy choices, done
consistently over time, can be very powerful on ones health status. The power of
choice is ultimately your own.

Amy enjoys working with a wide range of clients, from infants to seniors, and
believes at any age we can live healthy to be well. The power to heal lies within
all of us.

George Cardenas
Physiotherapist

George obtained his Master's degree in Physiotherapy from McMaster University after completing a Specialized Honours Bachelor's degree in Kinesiology and Health Science from York University. He plans to pursue further post-graduate training in the field of manual therapy.

Cristina Abadiano
Physiotherapist

Chistina is passionate about helping patients of all ages but especially children. Fluent in both English and Filipino, and with over 20 years of experience, Christina has the skills and knowledge to help patients overcome injury and get to the best version of themselves.

James D'Arcy Heenan
Physiotherapist

D'Arcy has worked within the Burlington community for 4.5 years, starting at Drury Lane Physiotherapy after graduating from McMaster University in 2017 with a Master's of Science degree in Physiotherapy. D'Arcy moved to Brant Active Rehab in August of 2020 and took over as clinic director a year later.

D'Arcy takes pride in taking the time to listen to your story, and believes in creating a positive and empowering environment that will help you reach your personal goals. You and D'Arcy will work one-on-one to create a treatment plan that will best help you reach your goals. D'Arcy emphasizes exercise and education to help empower his clients, and includes manual therapy to optimize recovery.

D'Arcy's postgraduate education includes Soft Tissue Release Training, completing the Level 1 Advanced Orthopaedic Manual and Manipulative Therapy exam, completing APTEI acupuncture and dry needling, and completing Mulligan's upper and lower extremity manual therapy.

D'Arcy is an avid golfer and enjoys of all things sports. He also enjoys walking his dog, and anything outdoors whether it be in Collingwood or at his family's farm.

Reshminder Shoan
Physiotherapist

Reshminder earned her BSc (Honours), DPT degree in 2011 from D'Youville College, which is complemented by her undergraduate degree in Biomedical Sciences from the University of Waterloo. She has worked in the United States and Canada with a variety of patient populations including those with: orthopedic injuries; post-operative orthopedic and cardiac impairments; neurodevelopmental disabilities; and vestibular impairments.

She is interested in ongoing education courses in manual therapy and medical acupuncture. Reshminder has most recently completed both the Arthritis Society's Getting a Grip on Arthritis® osteoarthritis and rheumatoid arthritis education program.

In her spare time, Reshminder enjoys working out, yoga, reading and knitting.

Boris Rakovac
Physiotherapy Assistant

Boris has been working as a Physiotherapy Assistant at pt Health since 2009, after graduating with Honours from Everest College. Boris helps expand our horizon of care through his global experiences, and is fluent in English, Croatian, and Italian.

He is interested in sports, nature, woodworking, photography, and cars.

Laura Epp-Ruitenberg
Registered Massage Therapist

Laura is licensed through the College of Massage Therapists of Ontario, graduating from Mohawk College's Massage Therapy program in 2018. She has experience with patients of various ages and ability, as well as a range of techniques (taking a special interest in deep tissue and trigger point massage).

Her passion is to improve her patients' quality of life and give them the tools and the education necessary to get the most out of their treatments.

Bennett Ho
Occupational Therapist

Bennett is an Occupational Therapist with experience in motor vehicle accidents, community and acute care. Bennett's professional interests include working with adults/older adults in various settings and utilizing technology to promote client care.

Unexpected life events have the potential to alter one's physical status, mood, perspective, and understanding especially in the event of an accident. Being unable to engage in the things you want or need to do is incredibly difficult and affects us and those around us in many ways. This can take many forms including pain, concussion (memory, concentration thinking), mental health (anxiety, difficulty coping) or engagement (self-care, productivity, sleep, leisure).

Bennett is determined to utilize his skills to make a difference for clients in achieving their functional goals as safely and independently as possible.

Ana Salas-Wenner
Kinesiologist

Marisa is licensed with the College of Kinesiologists of Ontario, having graduated from University of Windsor's Human Kinetics program in 2021 and earned her BSc. She has completed training in conducting Functional Capability Evaluations and plans to pursue further studies in physical therapy.

In her spare time, she enjoys reading, camping, yoga, and playing with her dog.
[View More]