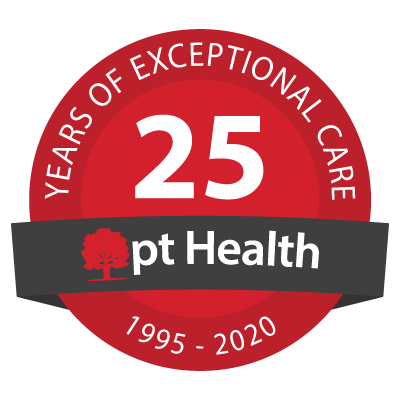 pt Health and Wellness Centre Gladstone Halifax
Welcome!
Our clinic is open and offering in-person treatment in addition to virtual care. We look forward to seeing you soon.
Our Clinic Team
Dr. Ben Murray
Chiropractor

Dr. Murray holds a Bachelor of Science degree form Dalhousie University. He graduated as a doctor of chiropractic from the Canadian Memorial Chiropractic College in 2008. At graduation, he received several awards for recognition of his skills in clinical diagnosis and radiographic examination.

Currently, he is enrolled in a Sport Science Residency Program aimed at specializing in Sports Medicine, Injury Prevention, and Conditioning. Dr. Murray has received training in active release techniques (ART), Graston Technique, Thompson technique, Craniosacral Technique, and Sacrooccipital Technique. He also has training as a Sports First Responder.

Dr. Murray serves as chiropractor during many sporting events including the 2011 Canada Winter Games and the 2009 Canoe Kayak World Championships.

Sophie Arsenault
Osteopathic Practitioner

Sophie is an Osteopathic Manual Therapist (graduate of the Collège d'?tudes Osteopathiques - Montreal) and has a Massage Therapy background (graduate of the College of Massage and Hydrotherapy - Halifax). She speaks English and French.

Sophie has been working within the health service industry since 2007. Her background in Osteopathic and Massage Therapy gives her a broad understanding of clients' needs for attaining their individual level of maximum health. Sophie absolutely loves treating her clients and getting to know them. She works based on an underlying understanding that everyone is a unique individual and their needs should be met by creating a positive experience within their treatment. Sophie is open and caring and is very happy she is able to help her clients.

Osteopathy can be described as the treatment of the body as a single integrated system with the goal of allowing the body to regain its maximum level of health. This means understanding, assessing and treating all aspects of the body including fascia, muscles, bones, viscera, and fluidic flow. It also means finding and addressing the primary cause(s) of a client's issue(s) so as to aid in the client's day to day functions and activities.

Osteopathy can treat old or new issues, as well as provide ongoing maintenance for the body's optimal health. Osteopathy is not a treatment option that only deals with a certain type of illness, injury, or dysfunction. Its broad approach means it can help with anything that disrupts a person's feeling of being healthy and happy and it can help with maintaining one's current health.

These treatments include but are not limited to migraines, whiplash, concussions, MVA, pre/post-surgery rehabilitation, TMJ (jaw issues), sciatica, back, spinal and hip pain, gait & body mechanics, frozen shoulder, arthritis, chronic pain, fibromyalgia, nerve & muscular pain, sinusitis, breathing issues, reflux and digestion, pregnancy related issues, injuries and any other issues that affect a person's daily activities.

Sophie is a member in good standing of the Ontario Association of Osteopaths (OAO), Nova Scotia Association of Osteopaths (NSAO), and Massage Therapist Association of Nova Scotia (MTANS).

Holly Wicks


Holly Wicks is a caring and knowledgeable massage therapist who is keen to assist clients in reaching their individual goals of everything from pain relief, postural re-education, to increased physical ability. In Holly's practice, she treats clients for a variety of issues including motor vehicle injuries, back pains and chronic headaches.

She is passionate about continued education and uses the latest in clinical knowledge to provide the highest quality of care for her clients to reduce and eliminate pain, increase function in daily activities, and assist and educate them in being a part of their own healing process. Holly's clinical interests include fascial stretch therapy, jaw treatment and diaphragm work and she has extensive experience with whiplash and associated headaches, shoulder and neck pain and tension, as well as nerve referral pain such as sciatica.

Holly has worked in a clinical setting since graduating from the College of Massage and Hydrotherapy, Halifax in June 2014 and is a member in good standing of the Massage Therapist's Association of Nova Scotia.

Purva Trivedi
Physiotherapist

Purva Trivedi completed her Physiotherapy education and entered the clinical practice as a physiotherapist in 2017. She has been actively involved with treating various outpatient cases using manual therapy, rehabilitative therapeutic exercises and patient education. After working as a physiotherapist for over a year, she pursued an additional research-based Master's program in Rehabilitation Research Physiotherapy, at Dalhousie University, which emphasizes the use of latest evidence-based practices.

During her studies at Dalhousie, she also worked as a clinical skills lab demonstrator for physiotherapy students. In addition, Purva is actively involved with research in physiotherapy. In early 2021, she published a paper focused on improving the quality of outpatient care in the Archives of Rehabilitation Research and Clinical Translation journal. After completing her Master's degree, Purva worked at the Nova Scotia Rehab Centre, and is currently looking after our patients at the Gladstone location.

In her free time, Purva loves to practice and teach Ashtanga Yoga.

Gregory Nason
Physiotherapist

Greg graduated from Mount Allison University in Sackville, NB in 2019 with a Bachelor's of Science in Biology and minors in Chemistry and Biochemistry. He then finished his Master of Science in Physiotherapy degree at Dalhousie University, graduating in 2021.

His physiotherapy treatment centers around injury prevention and rehabilitation with a focus on therapeutic exercises, manual therapy and education. He is passionate about helping people live pain free and maintaining their physical abilities. He plans to continue his education by completing his orthopedic levels, being certified in dry needling and acupuncture, and working with concussion and vertigo conditions.

In his free time, Greg enjoys being active by playing basketball, golfing and weight training. He enjoys travelling, including the six months he spent in Australia and year in Belgium, and plans to continue to travels in the future. Greg looks forward to working with you to reach your rehabilitation goals.

Laura Whalen
Registered Massage Therapist

Laura, originally from Fredericton, New Brunswick, graduated from Dalhousie University in 2015 with a Bachelor's of Science in Kinesiology. She then went on to complete an advanced certificate in Athletic Therapy at Mount Royal University in Calgary in 2016. After practicing as a Certified Athletic Therapist for over four years, she decided to expand her skill set and graduated from Canadian College of Massage and Hydrotherapy in August 2021.

Laura brings her extensive field and clinic-based experience as an Athletic Therapist into her approach as an RMT. She is passionate about getting people back to pain free living, achieving their physical goals and performing at their top potential. She values whole-person care as well as client education and integrates these values into tailored treatment plans and homecare recommendations. Along with traditional Swedish massage, Laura offers cupping, myofascial release, sports massage, and muscle energy techniques.

When not in the clinic, Laura enjoys swimming laps and being out in nature hiking, skiing, or kayaking. She also loves watching any and all sports both on the sidelines and on the big screen!

Nicole Kelly
Occupational Therapist

Nicole was born and raised in Nova Scotia. She graduated with a Master of Science in Occupational Therapy from Dalhousie University in 2011 after completing a biology/psychology degree at St. Mary's University in 2009. Nicole is trained and certified in providing Matheson Functional Capacity Evaluations since 2016. She also has training consistent with concussion management. Nicole enjoys assisting clients with hospital discharge planning, in-home assessments, and working with treatment providers and employers to facilitate optimal rehabilitation and return to work.

Nicole completes job site analysis, job coaching, and ergonomic assessments. She has experience working with third-party insurers, the Workers' Compensation Board, employers and family physicians. Nicole is passionate about working with individuals to help them regain their independence and reach their optimal level of function.

Outside of work Nicole spends most of her time at the rink or soccer field with her two sons.
[View More]