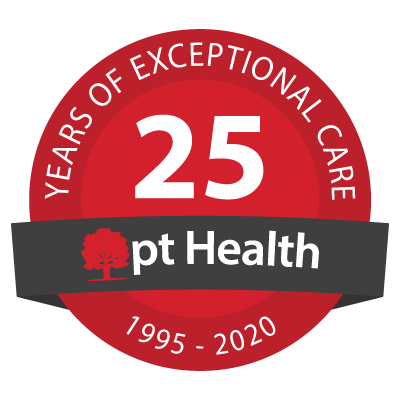 pt Health and Wellness Centre Gladstone Halifax
In-person treatment available
Virtual Care treatment available
Welcome!
Our clinic is open and offering In-person treatment in addition to Virtual Care service. Please note that enhanced measures are in place to ensure the health and safety of our patients and staff. View our virtual tour video so you know what to expect at your next clinic appointment.
"Excellent staff, excellent practitioners, and always do their best to accommodate scheduling requests. They have an excellent working relationship with both my health and auto insurance companies, and have leveraged both to ensure I get the best care."
Anthony W - Google Review
"Every time I visit I'm greeted by wonderful people and an inviting atmosphere. The staff are prompt and polite, their rates are fair and they take care of all of the insurance paperwork for me (well, as much as they can!) 10/10, would definitely recommend."
Jeramy E - Google Review
Our Clinic Team
Colleen DOrsay
Registered Counselling Therapist - RCT-C

Colleen possesses a Masters of Arts Counselling Psychology degree and is registered with the Nova Scotia College of Counselling Therapists (RCT-C). She has worked in the social services field for many years and loves getting to know people in all their forms. Making meaningful connections and helping others overcome challenges is very important to her. Her counselling focus is on injury recovery, mental wellness, addictions and overcoming trauma. These interests were peaked as a young adult during her time as a medical assistant with the Canadian Armed Forces (Reserves). As a result, Colleen has a special interest in working with First Responders and veterans. She has worked as a hospital chaplain and has received masters-level training in spiritual care and counselling. Colleen has lived and worked in First Nations communities and within 2SLGBTQ+ populations. This has made her very sensitive to cultural diversity and the nuances of the human experience. She has a warm and calming energy that helps people feel at ease rather quickly. Major life events can bring about uncertainty and it can be helpful to have someone who can not only listen but provide new tools to help cope and thrive. Looking at things from different perspectives, finding meaning in change, coping skills and distress tolerance can all achieve new insights, personal growth and well-being. To do this, Colleen takes an eclectic, evidence-based therapeutic approach that includes trauma-informed, DBT, CBT, narrative, solution-focused, mindfulness and strengths-based approaches. The approach taken depends upon the individual's needs and their unique set of circumstances. In this way, clients can be assured they are receiving the most meaningful and change-oriented care.



Holly Wicks
Massage Therapist - RMT

Holly Wicks is a caring and knowledgeable massage therapist who is keen to assist clients in reaching their individual goals of everything from pain relief, postural re-education, to increased physical ability. In Holly's practice, she treats clients for a variety of issues including motor vehicle injuries, back pains and chronic headaches. She is passionate about continued education and uses the latest in clinical knowledge to provide the highest quality of care for her clients to reduce and eliminate pain, increase function in daily activities, and assist and educate them in being a part of their own healing process. Holly's clinical interests include fascial stretch therapy, jaw treatment and diaphragm work and she has extensive experience with whiplash and associated headaches, shoulder and neck pain and tension, as well as nerve referral pain such as sciatica. Holly has worked in a clinical setting since graduating from the College of Massage and Hydrotherapy, Halifax in June 2014 and is a member in good standing of the Massage Therapist's Association of Nova Scotia.



Vanessa McColl
Psychologist

Vanessa is from Windsor, Ontario. In 2008, she graduated from the University of Windsor with a Bachelor's in Psychology with Thesis, with Distinction. Upon completing this degree, she moved to Nova Scotia to complete her Master's degree in Clinical Psychology at Acadia University and graduated in 2010. She completed her practicum in clinical assessment and internship in psychotherapy at Annapolis Valley Health (AVH) Adult Community Mental Health Services in Kentville, NS. Vanessa provides psychotherapy for adults for a wide variety of issues (e.g., anxiety, mood disorders, assertiveness, personal growth, etc.). She specializes in treating clients who have been injured, have chronic pain, or have other significant health problems. She has also expanded her knowledge base to include training in trauma-based therapy such as Eye Movement Desensitization and Reprocessing (EMDR).



Matthew Bernard
Massage Therapist

After discovering at a young age, a desire to try to de-stress family members through shoulder rubs Matthew eventually realized that a career in the health care industry, where he got to work with his hands was where he needed to be. After graduating the Massage Therapy Diploma Program at the Canadian College of Massage and Hydrotherapy in 2003 he began his career in the spa industry, which led to the study of Ayurvedic medicine and training in Reiki and Hot Stone Therapy. After making the move to more clinical settings, Matt quickly realized that people benefit greatly from a blended approach of east meets west and now practices a style of deep tissue massage that can target specific issues when necessary but does so in a way to keep the body as relaxed and balanced as possible.



Wendy Jardine
Physiotherapist - BScPT, MScPT, D.O.M.P.

Wendy Jardine is a physiotherapist and a manual osteopath. She received her BScPT (1987), and her MScPT (2003) from Dalhousie University, and her diploma in Osteopathy D.O.M.P. (2010) from the College d'Etudes Osteopathiques (CEO) (Halifax campus). She is upgrading her diploma in osteopathy to an honours degree through the British College of Osteopathic Medicine (BCOM) 2017. She was owner operator of Cowie Hill Physiotherapy Clinic (1993 to 2008); part time faculty member at the School of Physiotherapy Dalhousie University (2004 to 2007) and lab demonstrator (1993 to 2004). Wendy now works at pt Health Gladstone and is also the Principal of the Halifax campus for the CEO. She has published research in the International journal of osteopathic medicine (IJOM), gives clinical courses to therapists throughout the Maritimes and has presented at regional, national and international conferences.



Heather Haldane
Registered Nurse

Ryan George
Occupational Therapist - MSc(OT), BKin (Hons.)

Ryan is a passionate and energetic Occupational Therapist who strives to maximize individual's full potential through use of evidence-based practice and holistic treatment approaches. Ryan believes that using the latest in clinical knowledge and letting clients feel empowered in their own health will provide the best possible outcomes to reach their dreams/goals and participate in what is meaningful for them. Prior moving to Halifax to become an occupational therapist, he was highly experienced in office ergonomic assessments/education to ensure joint health and prevent work-related musculoskeletal injuries through his exercise science background. Ryan's other clinical interests include upper extremity rehabilitation, durable medical equipment prescription, return-to-work and chronic pain management. Ryan holds a master's degree in Occupational Therapy from Dalhousie University and a Bachelor of Kinesiology degree with honors and co-operate experience from Memorial University of Newfoundland. Ryan is also certified in a variety of continuing education courses including hand therapy and telehealth services and continues to make gains in his professional development. When Ryan is not working, you can find him in the pool, going to spin classes and hiking throughout Nova Scotia.


[View More]
"These guys are a great team. If you want to understand whats going on so you can learn to fix it, come to pt Health, you will thank yourself later."
Dena D - Google Review
"Everyone is very friendly here. The staff are courteous and they listen/respond well to concerns. If I get hurt again I will be back."
Michelle B - Google Review