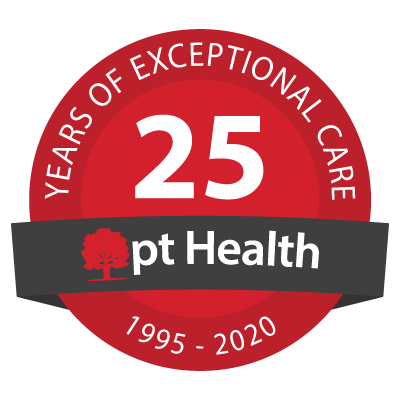 pt Health Physiotherapy - Bedford Place Mall
In-person treatment available
Virtual Care treatment available
Welcome!
Our clinic is open and offering In-person treatment in addition to Virtual Care service. Please note that enhanced measures are in place to ensure the health and safety of our patients and staff. View our virtual tour video so you know what to expect at your next clinic appointment.
"pt Health has the friendliest staff. They make sure you understand everything about your injury and what they are going to do to help. Very accommodating for appointments. They care about their patients, and always makes sure you are comfortable with what is happening. Always a laugh or two to be had which makes you feel right at home! "
Denise M - Google Review
"Definitely the best physio experience I've had! I was very pleased with the treatment and advice that I got, and anytime I had questions, they were listened and responded to in a respectful, thorough, and pleasant manner. The front desk staff were absolutely amazing. If anyone I know ever needs physiotherapy, I will happily refer them here!"
Michelle P - Google Review
Our Clinic Team
Brian Tomie
Physiotherapist

Brian Tomie graduated from Dalhousie University in 1981 with a Bachelors of Physical Education and was a graduate of the 1984 physiotherapy graduating class. Brian has practiced physiotherapy in the Bedford area since 1985 and was one of the first physiotherapists to introduce an interdisciplinary approach to patient care. He is a well-practiced acupuncturist and has received his certification from the Acupuncture Foundation of Canada in 1988. He has studied many forms of patient care including, but not limited to: myofascial techniques, craniosacral therapy, manual therapy and TMJ treatment. Brian has sat on boards and committees from many community-based organizations including the Cobequid Multi Service Center and the Cobequid Multi-Service Centre (CMSC) fundraising committee. Brian has most recently completed both the Arthritis Society's Getting a Grip on Arthritis® osteoarthritis and rheumatoid arthritis education program.



Holly Snow
Chiropractor - DC

Dr. Holly Snow was born and raised in Wellington, Nova Scotia. She grew up within the competitive gymnastics community where she learned the importance of health and wellness. This influenced her choice to attend Memorial University of Newfoundland where she graduated in 2012 with a Bachelors degree in Kinesiology. After graduation she moved back to Nova Scotia where she worked as a kinesiologist and took time to discover her passion: chiropractic. Dr. Holly spent four years in Toronto attending the Canadian Memorial Chiropractic College (CMCC) and graduated as a Doctor of Chiropractic in 2018, and has been working as a chiropractor ever since. Throughout her time at CMCC and her time in practice, Dr. Snow honed her skills in diagnosing musculoskeletal complaints and manual chiropractic treatment techniques. Conditions she can treat include, but are not limited to, low back and neck pain, headaches and migraines, upper and lower limb injuries, arthritis, and acute and chronic pain and injuries. Dr. Holly includes chiropractic manipulations and mobilizations, soft tissue therapy techniques, therapeutic exercises, and lifestyle modifications in treating a person's complaint. Dr. Holly is excited to help her patients achieve their health and wellness goals!



Lesley d'Apollonia
Physiotherapist

Born and raised in Dartmouth, Nova Scotia, Lesley graduated from Satakunta University of Applied Sciences in Finland in 2019 where she obtained her degree in Physiotherapy. Her international experiences enabled her to practice physiotherapy as an intern in Italy and Finland in the areas of cardiopulmonary, musculoskeletal, and neurological physiotherapy. With a special interest and focus in the area of geriatrics, Lesley chose to write her thesis on Health Promotion for Older Adults. Her journey in the healthcare field began at Dalhousie University where she obtained her Bachelor's of Science in Kinesiology in 2013. During her time at Dalhousie, she was an avid member of the Dalhousie Tigers Track & Field and Soccer teams and volunteered with Wheelchair Rugby Nova Scotia. In her free time, Lesley enjoys cycling and hiking. As a dual Italian and Canadian citizen, she is fluent in both English and Italian.



Heather Murray
Massage Therapist - BSc, RMT

Heather is a 2017 graduate of ICT Northumberland College in Halifax, N.S. She is a member in good standing with the Massage Therapy Association of Nova Scotia. She previously studied Psychology at Mount Allison University, Sackville, N.B., where she graduated with a Bachelor of Science. Heather incorporates myofascial techniques, joint mobilizations, and hydrotherapy into Swedish massage to help manage pain, reduce the effects of injury, and restore soft tissue to optimal function. Heather believes in working together with clients to gain an understanding of them as an individual and is committed to providing the best possible care. In her spare time, Heather enjoys maintaining an active lifestyle. Some of her favourite activities are Latin dancing, hiking, and spending time with family and friends.



Ryan George
Occupational Therapist - MSc(OT), BKin (Hons.)

Ryan is a passionate and energetic Occupational Therapist who strives to maximize individual's full potential through use of evidence-based practice and holistic treatment approaches. Ryan believes that using the latest in clinical knowledge and letting clients feel empowered in their own health will provide the best possible outcomes to reach their dreams/goals and participate in what is meaningful for them. Prior moving to Halifax to become an occupational therapist, he was highly experienced in office ergonomic assessments/education to ensure joint health and prevent work-related musculoskeletal injuries through his exercise science background. Ryan's other clinical interests include upper extremity rehabilitation, durable medical equipment prescription, return-to-work and chronic pain management. Ryan holds a master's degree in Occupational Therapy from Dalhousie University and a Bachelor of Kinesiology degree with honors and co-operate experience from Memorial University of Newfoundland. Ryan is also certified in a variety of continuing education courses including hand therapy and telehealth services and continues to make gains in his professional development. When Ryan is not working, you can find him in the pool, going to spin classes and hiking throughout Nova Scotia.


[View More]
"Excellent diagnosis of my post-fall & getting me on the road to recovery in a prompt, cheerful manner. Can't recommend them more highly than the stars available."
Geoffrey R - Google Review
"Both my wife and I have required physio treatment over the last 6 months...we would recommend this clinic to anyone requiring physio treatment."
Brian H - Google Review