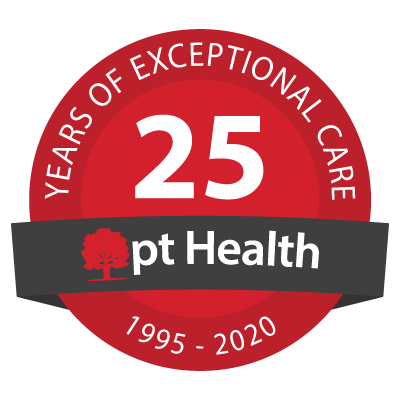 pt Health Physiotherapy - Bedford Place Mall
Welcome!
Our clinic is open and offering in-person treatment in addition to virtual care. We look forward to seeing you soon.
Our Clinic Team
Thomas Sangster


Thomas was born and raised in Halifax, NS. He completed his MSc. Occupational Therapy program at Dalhousie University as well as a graduate from Dalhousie's BSc. Kinesiology program. Prior to completing his occupational therapy studies, he worked with Lifemark as a Kinesiologist for 2 years. Thomas has experience with pain management, mental health, and ergonomics.

In his leisure, Thomas likes to stay active including playing golf, basketball, and Lacrosse.

Calvin Mills
Physiotherapist

Calvin is a passionate and motivated therapist who believes that movement is the key to living a healthy and successful life. Through empowering the patient to understand proper movement, Calvin believes patients can learn the tools to not only treat their injuries, but can decrease the chances of them happening again. Calvin treats any patients who are motivated to rehabilitate their injuries and focuses on teaching the patient to take control of their injury.

Calvin's interests include prevention and rehabilitation of athletic injuries, hip, knee and ankle biomechanics and using exercise as medicine. Calvin graduated from Dalhousie University with a Master's degree in Science - Physiotherapy and also holds a Bachelor of Kinesiology degree from Acadia University.

Throughout Calvin's post secondary experience, he has provided athletic trainer coverage for many sporting teams and organizations in Nova Scotia such as: Acadia Men's Basketball, UKC Women's Volleyball and Soccer Nova Scotia.

Heather Murray
Registered Massage Therapist

Jenny Tiller


Jenny is a graduate of Glasgow Caledonian University, where she received a Master of Science in Occupational Therapy. She also holds a Bachelor of Arts in Psychology from Memorial University. Jenny is a member of the College of Occupational Therapists of Nova Scotia, as well as a member of the Canadian Association of Occupational Therapists.

Jenny has a passion for Occupational Therapy, due to the professions focus on providing a client-centered and holistic approach. Jenny aims to help clients who are experiencing physical, cognitive, or emotional difficulties to meet their goals of returning to their meaningful occupations/daily activities.

When not at work, Jenny enjoys activities such as running, hiking, reading and spending time with her dogs.

Nancy Pitroda
Physiotherapist

Nancy Pitroda graduated from Queen Margaret University in 2013 with a Master of Science in Physiotherapy. She works with her clients to offer comprehensive treatment addressing biomechanical deficits, movement dysfunction, and any other barriers preventing a client's physical recovery. Her goal is to return her client to pre-injury life, whether that may be returning to work, playing sports, enjoying family activities, or participating in other hobbies. Nancy enjoys helping clients of all ages work towards their rehabilitation and health goals.

Besides physiotherapy services, Nancy also offers pre- and post-surgical care services, WCB, MVA and LTD claims, concussion care, ergonomic services, in-home therapy services, and yoga. She uses a hands-on treatment approach, therapeutic exercises, Kinesio taping, cupping, and modalities to decrease pain and increase overall function. She also has experience treating mastitis, an inflammatory breast condition that is often characterized by a blocked milk duct. She provides treatment with ultrasound therapy, massage, and heat.

Nancy is trilingual and speaks English, Hindi and Gujarati.

Dana Brinton
Registered Massage Therapist

Dana was born and raised in Halifax, NS and graduated from Eastern College in 2022. He is highly skilled in Swedish Massage, Deep Tissue, Himalayan salt stone, and hot stone massage. He also focuses on Prenatal Massage and believes that it helps to reduce stress in the postpartum period.

Dana uses different techniques during the massage for the best results for his client. He is passionate about what is best for the patient and looking forward to building a custom treatment plan to suit your needs.

In his spare time, Dana can be found spending quality time with his 3 daughters and 3 fur babies. He also like to spend time doing weight training or motorcycling.

Jes Cameron
Physiotherapist

Jes Cameron is a passionate physiotherapist who has been dedicated to her profession since the age of eleven. Her journey began when she experienced a hamstring injury while competing in rhythmic gymnastics. After completing her education at McGill University, she worked in a rehabilitation hospital in Toronto where she taught patients to regain their strength and mobility. Her focus on manual therapy, myo-fascial techniques, dry needling, exercise, and education has helped her clients to get to the root of their physical problems.

Jes Cameron loves to travel and has visited 28 different countries, including Thailand, Laos, Estonia, and New Zealand. She is of Estonian and Acadian French descent and has ties to Nova Scotia through her family. She has been working in private practice in Nova Scotia since 2007, helping clients to overcome their physical limitations. When she is not working, Jes enjoys spending time with her two athletic and humorous children, attending their sports games, and engaging in crafting activities such as painting, photography, and making jewelry. She is also a yoga teacher, which helps her to remain grounded and combine breathing and alignment in her approach to healing.
[View More]