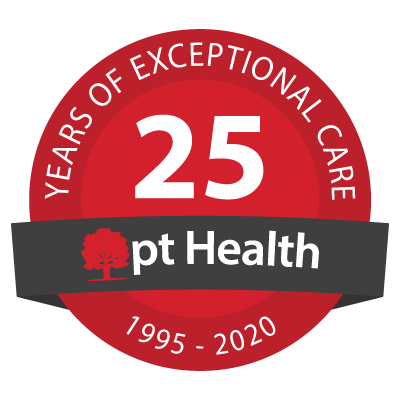 Stoney Creek Physiotherapy - pt Health
In-person treatment available
Virtual Care treatment available
Welcome!
Our clinic is open and offering In-person treatment in addition to Virtual Care service. Please note that enhanced measures are in place to ensure the health and safety of our patients and staff. View our virtual tour video so you know what to expect at your next clinic appointment.
"My experience with this pt Health clinic was great! My physiotherapists's treatment has helped me a lot in my recovery process following a broken jaw. Through massage therapy and exercises to do at home, he has helped me to get my movement and motion back in order. The rest of the team at the clinic was very friendly and cooperative, helping me with questions regarding insurance coverage."
Ayolt D - Google Review
"My first time at the Stoney Creek Clinic was a very good experience and found the staff very knowledgeable and experienced. They took the time to answer all my questions and enplaned what the next steps are. People at work recommended this clinic to me when I was asking where they would recommend I go after I had knee surgery. They all suggested the Stoney Creek Clinic was the best. They were right."
Rob K - Google Review
Our Clinic Team
Alyssa Roberts
Registered Massage Therapist

Alyssa graduated from Centennial College of the Massage Therapy Program in 2012. She began working in a multidisciplinary clinic as a Registered Massage Therapist. Alyssa has been working as an RMT for 10 years.

She has been working at pt Health - Stoney Creek Physiotherapy location for five years and Mountain Physiotherapy for two years. Specializing in sport massage, she likes to incorporate relaxation massage in with myofascial release, deep tissue work, and trigger point therapy. Combining these different techniques makes for a relaxing, yet effective massage in relieving tight muscles from every day use or injuries from overuse.

Brian Carty


Brian graduated from McMaster University in 1999 with a degree in physiotherapy and has been practicing in hospital, OHIP and private settings ever since. He has continued to develop and advance his treatment knowledge and skills by taking various post-graduate courses in manual therapy. He enjoys helping people meet their goals for rehabilitation and achieve an active lifestyle.

Darren Arbic
Physiotherapist

Darren graduated from McMaster University in 2009 with a Master of Science in Physiotherapy and has been working in outpatient orthopaedics in Stoney Creek since that time. Darren continued his learning with post graduate courses through the Acupuncture Foundation of Canada Institute and obtained his certification in 2011. He also has a strong interest in manual therapy and has taken many courses through the Orthopeadic Division of the Canadian Physiotherapy Association.
[View More]
"I have had nothing but positive results from pt Health. I have had knee pain for many months and tried many different therapy options but got no real results. With pt Health I saw improvement after the first week and have continued to see positive results."
Claudia M - Google Review
"The staff at Stoney Creek pt Health has helped me over the years through various body part injuries; back, shoulder, hamstring, knees, foot, elbow. They are professional, caring and beyond supportive. Without them, I couldn't maintain my active lifestyle! Thank you so much!"
Nell H - Google Review