From now until December 31st, 2017, we have a great promotion on TENS units. You can save up to $70 on your purchase! As a result, we are often asked "Do TENS units really work?" the answer is yes. TENS units are proven effective in treating pain and inflammation caused by arthritis, sports injury, menstruation, migraines and more.  We've talked about TENS machine in "The shocking truth about TENS units for pain relief" but with so many models available how do you know which is right for you? Today we'll discuss the difference between TENS units for pain relief, which features you should care about, and how to find the best unit for your needs.
How TENS Units Work
TENS stands for Transcutaneous Electrical Nerve Stimulation. TENS units are small electronic devices that send therapeutic pulses of electricity across the surface of the skin to relieve pain. TENS units relieve pain in two ways:
The high-frequency pulses (between 80 Hz- 150 Hz.) block the transmission of pain signals to the brain
Low-frequency pulses (between 1-10 Hz) release the body's natural pain-fighting endorphins
Choosing the Right TENS Unit for you
Finding the right TENS unit for you is simple with the right approach. When selecting a unit, you want to look at:
Design and user interface
Display screen
What's included in the package
Mobility
Budget
Check different machines and ask yourself what you need. Do you need extra gel pads? Do you want a rechargeable battery? Do you need a carrying case? How much control do you want? Do you want a digital or analog machine? Should the screen be backlit? With so many models to choose from, we've made a handy comparison chart to help you decide which features matter most to you, and which model is just right.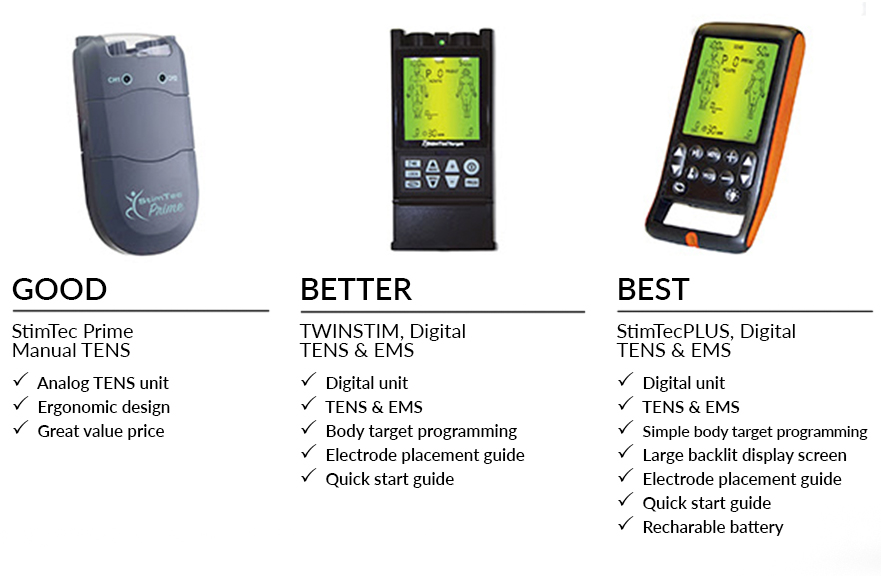 The right TENS unit depends on your specific needs. To learn more about TENS and how it can help you relieve pain, find a pt Health clinic near you for your free TENS consultation and save up to $70 on your purchase!