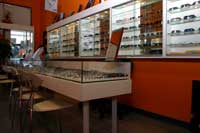 In following the tradition of providing complete multidisciplinary services, PT Health has now expanded into a new health care avenue –Eyecare.
Just Eyes Optical has become the newest partner of PT Health, and offers prescription sunglasses and contact lenses as well as offering all designer brands of eyeglass frames to patients. Just Eyes Optical offers patients a guarantee of an hour service on most prescriptions, delivering an added benefit of shorter wait times.
All health care providers are certified contact lens fitters and on-site opticians, and lenses are edged with a state of the art computer edging system. Just Eyes Optical is also a supplier of colour contact lenses, safety frames and lenses, and AO Safety.
Patients can find superior optical solutions by visiting either of their two locations – one located in Chinatown Centre Mall in Toronto (416) 591-7269 and the other at the New Horizon Centre in Markham (905) 480-8800. All vision care and insurance plans are honored at both clinics.
Optometry clinics and Optical shop owners looking to spread the reach of their services are encouraged to consider the advantages of working with PT Health.
Expanding to this new avenue is indeed a source of pride within the PT Health team which aims to be one of the leading integrated health care providers in Canada – with Just Eyes Optical as a new member of the network – this is one step closer to that goal.