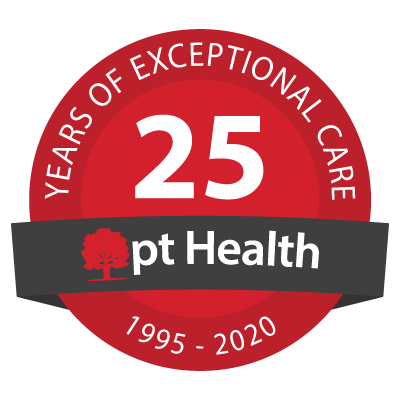 Berwick Physio - pt Health
Welcome!
Our clinic is open and offering in-person treatment in addition to virtual care. We look forward to seeing you soon.
Our Clinic Team
Chantal Landry (OT)


Chantal received her Master of Science in Occupational Therapy in 2017 from Queen's University. Additionally, Chantal has a Bachelor of Kinesiology from Acadia University, which she graduated from in 2015.

Chantal began her career as a paediatric occupational therapist at Bower Jacquard Psychological Services before joining the team at Quinte and District Rehabilitation in 2018 where she worked as a school-based occupational therapist. Chantal has experience working with the paediatric population in both a clinic and school setting.

Chantal joined our team in 2020, providing services to both children and adults with psychosocial and physical impairments impacting their return to work, home, school or other activities of daily living.

Hailey Wilkerson
Physiotherapist

Hailey completed a Master of Science in Physical Therapy (MScPT) degree from the University of Alberta in December 2020. Prior to obtaining her MScPT, Hailey graduated with a Bachelor of Kinesiology (BKinH) with Honours from Acadia University in 2018. Hailey's Honours thesis work focused on concussion reporting behaviours in varsity athletes.

Hailey is passionate about creating individualized, exercise-based rehab programs to help her patients return to the activities they enjoy. Hailey has a special interest in pediatrics and chronic pain, and she volunteers with the Chronic Pain Division of the Canadian Physiotherapy Association.

In her free time, Hailey enjoys baking, art, spending time outdoors, and playing with her two cats - Luna and Gemma.

Hannah Gertridge
Registered Massage Therapist

Hannah is a hardworking and patient oriented RMT who has been working for pt Health since 2018. She specializes in therapeutic and lymphatic cupping, guasha, fascial approache including head, neck, jaw, scar adhesion release, and general Swedish techniques. Hannah uses a personalized combination of these specialities to get the best treatment for the patient.

Sydney Healey


Sydney is from Newfoundland and Labrador, and moved to Nova Scotia in 2017 to go to school. She is a recent graduate from the Kinesiology program at Acadia University in Wolfville, where she volunteered for two years as a Student Therapist for varsity teams.

Sydney's role at pt Health is to follow the lead of the head physiotherapist and create return to work plans for clients. In her free time, Sydney enjoys the outdoors, reading and playing with her bunny Velvet.

Katherine(Katie) Tovey
Registered Massage Therapist

Katherine is a 2020 Canadian College of Massage & Hydrotherapy graduate who strives to give her clients a balanced treatment plan for both physical and mental well-being. She specializes in Myofascial work, cupping, Gua Sha (stone therapy) as well as specialized treatments for those with arthritis and those who are pregnant.

She welcomes the opportunity to educate her clients on these added tools as well as the conditions for which they present. She can effectively treat headaches/whiplash, TMJD, as well as provide relief for people with chronic pain.
[View More]