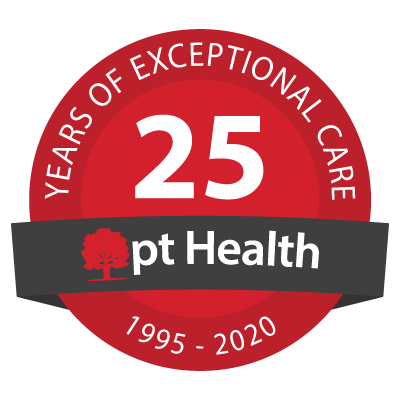 Berwick Physio - pt Health
In-person treatment available
Virtual Care treatment available
Welcome!
Our clinic is open and offering In-person treatment in addition to Virtual Care service. Please note that enhanced measures are in place to ensure the health and safety of our patients and staff. View our virtual tour video so you know what to expect at your next clinic appointment.
"Excellent caring staff, professional at all times. They are very accommodating and concerned with your needs. My Physiotherapist is exceptional and extremely knowledgeable at diagnosing and providing treatment at the highest level and has me well on my way to a full recovery! I wouldn't consider going anywhere else! Thanks everyone! "
Pete B - Google Review
"I went into PT Health hurting so badly from a workplace incident. After five quick visits with physio and massage I was able to stand straight. The receptionist worked with me to arrange appointments to correspond with my crazy schedule to make it happen effortlessly. Building is spotlessly clean with a great atmosphere. Feeling great thanks to you all. "
Catherine M - Google Review
Our Clinic Team
Jessie Melanson
Massage Therapist - RMT

Jessie Melanson Is a Registered Massage Therapist (RMT) and a graduate from International Complimentary Therapy School. It has always been Jessie's passion to help others in the community. Now an RMT, she strives to eliminate pain and give her clients improved daily function. Whether you are looking for deep tissue or relaxation Jessie can customize a plan that is suited just for your needs.



Calvin Mills
Physiotherapist - BKin., MSc.PT-Resident

Calvin is a passionate and motivated therapist who believes that movement is the key to living a healthy and successful life. Through empowering the patient to understand proper movement, Calvin believes patients can learn the tools to not only treat their injuries, but can decrease the chances of them happening again. Calvin treats any patients who are motivated to rehabilitate their injuries and focuses on teaching the patient to take control of their injury. Calvin's interests include prevention and rehabilitation of athletic injuries, hip, knee and ankle biomechanics and using exercise as medicine. Calvin graduated from Dalhousie University with a Masters in Science- Physiotherapy and also holds a Bachelor of Kinesiology degree from Acadia University. Throughout Calvin's post secondary experience, he has provided athletic trainer coverage for many sporting teams and organizations in Nova Scotia such as: Acadia Men's Basketball, UKC Women's Volleyball and Soccer Nova Scotia.



Jeff Cowley
Chiropractor - Doctor of Chiropractic, DC

Jeff Cowley is a chiropractor who has recently returned home to Canada from a long stint in the United Kingdom. After earning a degree in history at the University of Alberta, he earned his doctorate of chiropractic at the University of Western States in Portland, Oregon. He's been practicing for more than a decade since then, mostly in Aberdeen, Scotland specializing in treating sports and occupational injuries. Jeff also enjoyed working at a number of multinational corporations in the oil and gas industry in Aberdeen where he introduced the use of onsite chiropractic care. He is a member of the Canadian Chiropractic Association, the European Chiropractic Union and the Institute for Ergonomics. When he is not working he enjoys outdoor pursuits such as rock climbing and mountain biking and exploring Nova Scotia with his family and labrador.



Hannah Gertridge
Massage Therapist - Registered Massage Therapist

Hannah is an enthusiastic advocate for the effectiveness and positive benefits massage therapy can have on a patient's life. In her practice, Hannah uses a variety of massage therapy techniques, tailoring her approach to each patient's unique needs.



Helen Fraser
Patient Coordinator

Helen is originally from Pictou County where she graduated with Office Administration, before making the Annapolis Valley her home. She enjoys meeting people and interacting with clients at pt Health and helping them get the best care possible. In her personal time, enjoys spending time with her family.



Beth Boutilier
Physiotherapy Support Personnel - OTA/PTA Diploma

Beth Boutilier is a 2020 graduate from the Occupational Therapy/Physiotherapy program at the NSCC Lunenburg Campus. Originally from Bridgewater, Beth had moved to Wolfville Nova Scotia and joined the ptHealth team. Beth had had experience working with all kinds of different cases in the OTA/PTA field. Now as a recent graduate, it's Beth's job to follow the leading Physiotherapist's care plan and help aide the client into recovery.



Hailey Wilkerson
Physiotherapist - MScPT, BKin(H)

Hailey completed a Master of Science in Physical Therapy (MScPT) degree from the University of Alberta in December 2020. Prior to obtaining her MScPT, Hailey graduated with a Bachelor of Kinesiology (BKinH) with Honours from Acadia University in 2018. Hailey's Honours thesis work focused on concussion reporting behaviours in varsity athletes. Hailey is passionate about creating individualized, exercise-based rehab programs to help her patients return to the activities they enjoy. Hailey has a special interest in pediatrics and chronic pain, and she volunteers with the Chronic Pain Division of the Canadian Physiotherapy Association. In her free time, Hailey enjoys baking, art, spending time outdoors, and playing with her two cats - Luna and Gemma.



Nusiaba Nur
Occupational Therapist - BSc kin, MSc Occupational Therapy (candidate)

Nusaiba holds a Master's degree in Occupational Therapy from Dalhousie University after graduating in 2019 with a Bachelor of Science in Kinesiology where she obtained certificates in disability management and intercultural communication. She is a member of the Canadian Association of Occupational therapists and the College of Occupational Therapists of Nova Scotia, with clinical interests in return to activities of daily living and work, as well as meaningful occupation and behavioral activation. Nusaiba is an occupational therapist who strives to implement a reflective, trauma informed, and resilience-based practice and is actively pursuing further education in functional and cognitive assessment and intervention.



Sydney Healey
Physiotherapy Assistant - BSc.Kin

Sydney is from Newfoundland and Labrador, and moved to Nova Scotia in 2017 to go to school. She is a recent graduate from the Kinesiology program at Acadia University in Wolfville, where she volunteered for 2 years as a Student Therapist for varsity teams. Sydney's role at ptHealth is to follow the lead of the head physiotherapist and create return to work plans for clients. In her free time, Sydney enjoys the outdoors, reading and playing with her bunny Velvet.


[View More]
"I have been to PT Health in Berwick a few times for a couple different reasons, the friendly and knowledgeable staff make me feel comfort and ease every time I go. Everyone that I have had the pleasure of meeting has made me feel like I am cared about, and not just "another client'. Truly a pleasure. Would and have recommended pt Health to others."
Caitlin C - Google Review
"The physiotherapist here is definitely the best physio I've ever seen. She worked with me and helped me heal, and didn't just use her fancy machines. The staff are all friendly and when you walk in you are greeted with a warm wooden interior that helps you relax! Definitely coming back at least for a massage if I don't injure myself again! Fingers crossed!"
Kristopher K - Google Review