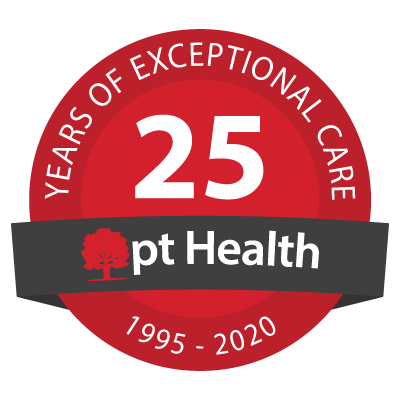 Bowmanville Physiotherapy and Sports Medicine Centre - pt Health
In-person treatment available
Virtual Care treatment available
To ensure the health and safety of our patients and staff, we have made a number of changes to the way our clinics operate and have implemented enhanced measures to ensure the health and safety of our patients and staff. Click here to learn more about the S.A.F.E.R. approach.
"Amazing clinic with amazing people! All the staff are very welcoming which creates a vibrant atmosphere. The physios are very thorough. They truly want to see all their patients progress and get better. I would highly recommend this clinic! "
Glenda R - Google Review
"Fantastic staff and service. The treatment you get is first class. You're made to feel as though you're the only patient that matters at that time. I would thoroughly recommend this place for sports injuries and massage. Thanks guys. "
Kerr M - Google Review
Our Clinic Team
Terelle Coe
Physiotherapist - BHSc (Hons) MScPT

Terelle graduated from the University of Toronto in 2011 with her Masters of Science in Physiotherapy. Prior to this, Terelle completed an honours degree in Health Sciences at The University of Western Ontario in London. Since graduating Terelle has completed courses in medical acupuncture, basic taping practices, and has completed her Level 1 manual therapy, working towards completing her certification in manual and manipulative therapy. Terelle has a keen interest in sports medicine, and is an active individual involved in running, golfing and playing volleyball. So any of you sport fans, she is up for the challenge to have you back in ship shape for your game.



Brendy Jeffers
Physiotherapist - Physiotherapy Resident - BA (Honours) MScPT

Brendy graduated from Queen's University in 2019 with her Masters of Science in Physical Therapy. Prior to her Master's program, she graduated from Kinesiology at the University of Western Ontario. She takes pride in her ability to connect with clients and help them reach their goals. She has recently completed her Level 1 manual therapy certification, as well as training in basic taping techniques and active and soft tissue release. Brendy is continuously looking to enhance her skills and grow as a practitioner. She grew up as a competitive dancer and played a variety of sports. Brendy is enthusiastic about working out and traveling and would love to be apart of your rehabilitation journey.



Magesh Ellappan
Physiotherapist - B.P.T, M.P.T (Sports Physiotherapy)

Magesh has more than 15 years of hands-on experience as a practicing Physiotherapist. He prides himself in his ability to interact with clients of all age groups, from a wide range of backgrounds and experiences while providing multidisciplinary care in both acute and chronic phases of rehabilitation in Orthopedic, Musculoskeletal, Neurological and Sports conditions. Magesh completed his Bachelor's degree in Physiotherapy in 1996 and Master's degree in 2006 with an elective for Sports Physiotherapy from the Dr. MGR Medical University, India. Magesh is enthusiastic and a passionate practitioner in Physiotherapy with a thirst to learn and a mindset for continuous improvement. He has upgraded himself in advanced hands-on manual techniques periodically and is on-going.



Stephanie Richardson
Physiotherapy Support Personnel

A member of the pt Health Bowmanville team since 2017, Stephanie is driven to help patients do their best and reach their rehabilitation goals.



Tara Arthurs
Physiotherapy Support Personnel

A member of the pt Health Bowmanville team since 2018, Tara is driven to help patients do their best and reach their rehabilitation goals.



Jamie Hunter
Patient Coordinator

Jamie spent the last three years studying Office Administration at Fanshawe College and holds diploma's in both Office Administration Executive and Office Administration Health Services. Although the role of a Patient Coordinator is new to Jamie, she is always ready to assist you to the best of her abilities; whether that be helping you herself or directing you to someone who can.


[View More]
"I went here for a sports injury. They identified the cause of the injury and helped me to recover from it. I am finally pain free again. The team is great and I will go back if I have other injuries in the future. "
Blake H - Google Review
"Friendly, welcoming atmosphere. They took the time to go over my problem and found the best solution to help heal my tennis elbow. When I felt I could look after myself, they did not pressure me to keep going back. "
Sue D - Google Review