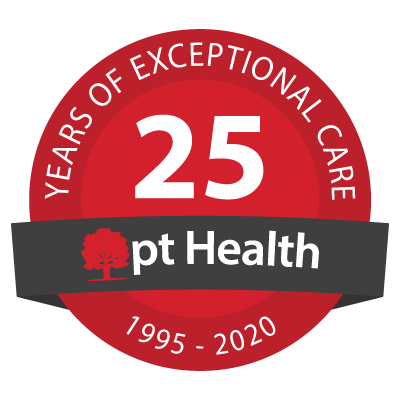 Bright's Grove Physiotherapy and Wellness Centre - pt Health
In-person treatment available
Virtual Care treatment available
Welcome!
Our clinic is open and offering In-person treatment in addition to Virtual Care service. Please note that enhanced measures are in place to ensure the health and safety of our patients and staff. View our virtual tour video so you know what to expect at your next clinic appointment.
"Welcomed as soon as I walked in the door, the service was excellent. My team at Bright's Grove is helping me get back to my old self. I appreciate and thank them for all their work with me. I will recommend them to everyone."
Mary B - Google Review
"I have found the physiotherapists to be very knowledgeable and helpful and I trust their decisions for any treatment I have had. It works for me and I would recommend them to anyone who needs physiotherapy. "
Janet L - Google Review
Our Clinic Team
Cindy Dennis
Physiotherapist - BSc PT, Hons. BSc

Cindy received an Honours Science degree from University of Waterloo and went on to University of Toronto for Physiotherapy, graduating in 2000. Cindy has worked in the Sarnia and surrounding area since then and presently works at Bright's Grove Physiotherapy. She has completed many manual therapy courses as well as acupuncture. Cindy has been a member of the Canadian and the Ontario Physiotherapy Association since 2000. Cindy currently lives in Camlachie with her husband and three children.



Nancy Marr
Massage Therapist

Nancy graduated from Canadian Therapeutic College in 1998. She has continued to expand her learning base through different courses, most recently cupping and SHIFT concussion management. She has always strived to help empower people to recover from injury and manage stress. As a Registered Massage Therapist, she believes in working with patients to achieve the outcome they desire, using a variety of modalities and techniques individual to each person, to better reach treatment goals. Most of Nancy's career has been in rehabilitative care, assisting clients to overcome pain and injury. She respects the clients desire for their treatment and their end goals. She excels at assessing and working with the client to provide a treatment plan designed specifically for them and their recovery.



Karyn Beer
Patient Coordinator

Karyn graduated from the Sports and Recreation program from Lambton College in 2007. She joined the ptHealth team in 2010. She worked at the Sarnia clinic as an office administrator, as well as SUMAC Lodge as a PTA. She now works in Bright's Grove as the full time office administrator. She moved from Kincardine to come to school and hasn't left. She lives in Sarnia with her husband and and her 2 beautiful children. She enjoys playing sports and spending time with her wonderful family.



Andrew Toth
Physiotherapy Support Personnel

Andy attended the Physiotherapy/Occupational Therapy program at triOS College in London, ON. After obtaining his honours diploma in 2015, he worked in long term care, as well as pt Health in Bright's Grove. He has been working exclusively for pt Health since 2018, and has had the pleasure of helping, and seeing clients return back to the activities that are most meaningful to them. Suffering from chronic and acute pain himself, and with the desire to help others, it became clear that Andy could make a difference in people's lives working in the physiotherapy field. Growing up in Simcoe County, and spending time in Guelph ON, he now resides in Chatham Kent with his wife and two children.


[View More]
"BEST CLINIC IN THE AREA! Staff members are very friendly and positive helping to keep you motivated throughout your recovery. I highly recommend Bright's Grove Physiotherapy!"
Alicia M - Google Review
"Very professional and well versed on physiotherapy. The staff are very friendly and highly knowledgeable. I certainly recommend this clinic to anyone looking for physiotherapy. "
Wayne S - Google Review