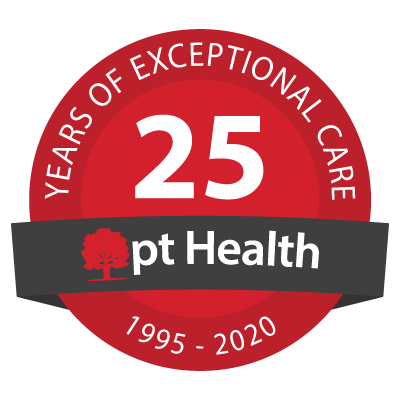 Bright's Grove Physiotherapy and Wellness Centre - pt Health
Welcome!
Our clinic is open and offering in-person treatment in addition to virtual care. We look forward to seeing you soon.
"Welcomed as soon as I walked in the door, the service was excellent. My team at Bright's Grove is helping me get back to my old self. I appreciate and thank them for all their work with me. I will recommend them to everyone."
Mary B - Google Review
"I have found the physiotherapists to be very knowledgeable and helpful and I trust their decisions for any treatment I have had. It works for me and I would recommend them to anyone who needs physiotherapy. "
Janet L - Google Review
Our Clinic Team
Tanner Thompson


Tanner is a practicing physiotherapist in Bright's Grove, Ontario. He received a Bachelor of Science from the University of Guelph and his Master of Physical Therapy from the University of Saskatchewan.

After completing his education, he moved back to the Ontario to begin practicing. He has since taken courses in acupuncture/dry-needling, vestibular rehab, and is currently working through the Orthopaedic Level system.

Tanner grew up near Forest, Ontario, going to high school at NLSS and playing hockey in Sarnia during his childhood. Now, when not at work, you can find him spending time with his wife and kids, as well as his dog, Oreo. On weekends you can find him spending time outside with his family, but he always makes sure to get inside to watch the Maple Leafs whenever they're playing.

Nancy Marr
Registered Massage Therapist

After graduating from massage therapy college, and receiving her registration in September 1998, Nancy has devoted herself to providing the best care possible to her patients. She wants to help empower people to recover from injury and manage the physical side of stress, and has a special interest in helping patients navigate through their pain.

As a Registered Massage Therapist, Nancy believes in working with you to achieve the best outcome possible. She uses a variety of modalities and techniques individual to each person, to better reach their treatment goals. These techniques may include bamboo fusion, stretching and joint mobilizations.

Pain relief and rehabilitation have always been the focus of her practice. She has taken an advanced course in Temporomandibular joint disorders, as well as hot bamboo massage, Dermoneuromodulation (DNM), and cupping therapy.
[View More]
"BEST CLINIC IN THE AREA! Staff members are very friendly and positive helping to keep you motivated throughout your recovery. I highly recommend Bright's Grove Physiotherapy!"
Alicia M - Google Review
"Very professional and well versed on physiotherapy. The staff are very friendly and highly knowledgeable. I certainly recommend this clinic to anyone looking for physiotherapy. "
Wayne S - Google Review