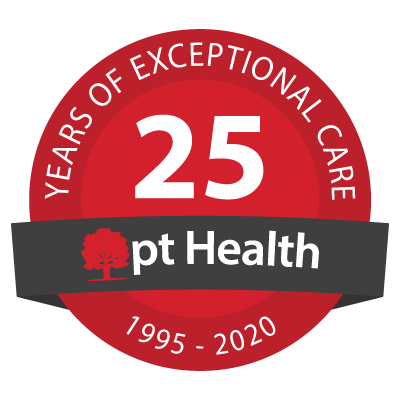 Broadview Physiotherapy Ottawa - pt Health
In-person treatment available
Virtual Care treatment available
Ontario Health Insurance Plan (OHIP)
Welcome!
Our clinic is open and offering in-person treatment in addition to virtual care. We look forward to seeing you soon.
"They developed a customized treatment plan to start my long-term knee injury rehabilitation and ensured that I understood the nature of my injury & prognosis. Thoroughly explained the treatment plan to manage my expectations of recovery. My experience has been very positive - clean, appointment is always on time, staff are professional and friendly. I am very satisfied with the range of motion I have gotten back since coming here. I would definitely recommend this practice to anyone seeking relief from an injury."
Victoria L - Google Review
"I very much enjoyed my experience at Broadview Physiotherapy. I found all the people working there to be personable, helpful and knowledgeable. My physiotherapist knew exactly which strengthening and flexibility exercises to prescribe. I also learned a great deal more about the nature of my issue and how to manage it. I noticed improvement in my situation immediately, and I still continue with my prescribed exercises. I highly recommend this physiotherapy clinic, for both insightful advice and good results."
Elizabeth C - Google Review
Our Clinic Team
Steve Fleming
Physiotherapist

Steve's passion for physiotherapy stems from involvement in sports including competitive rugby, tennis, basketball, and playing soccer at the university level. Since becoming a physiotherapist, he has taken great pride and feel great responsibility in knowing that it's his job to get you better. To this end, Steve ensured his physiotherapy skills are always improving through courses such as Mulligan Approach to neck, back, shoulder, elbow, and knee, Advanced lumbo-pelvic certification, Acupuncture through AFCI, TOG Gait Scan training, kinesiotaping, concussion management and Sahrmann Movement System Impairment Syndromes.

Steve is proud to say that he's worked with a variety of populations from seniors with balance/mobility issues, to university and world champion athletes. He looks forward to working with you to get you back to the things you enjoy doing.

Mike McCreight
Physiotherapist

After years of involvement in competitive sports, Mike found his passion and decided to pursue a career in Physiotherapy. He obtained a BSc in Human Kinetics from the University of Guelph in 2012, after which he worked as a Physiotherapy Assistant for four years and volunteered in various facets of the field including long-term care, athletic therapy, and cardiac rehab. He then completed his MSc in Physiotherapy at Queen Margaret University in Scotland in 2018.

Mike does not believe in a "one-size-fits all" approach and is committed to providing client-centred care, tailoring each treatment plan to an individual's unique needs and personal goals. Mike is dedicated to continuing his education and has completed post-graduate certifications in Advanced Exercise Prescription for the Cervical Spine and Upper Extremity and Lumbar Spine and Lower Extremity through the APTEI. Mike is also trained in using GaitScan technology from The Orthotic Group to assess and custom fit clients for orthotics.

He takes great pride and feels great responsibility in knowing it is his job to help return clients back to the activities they love doing.
[View More]