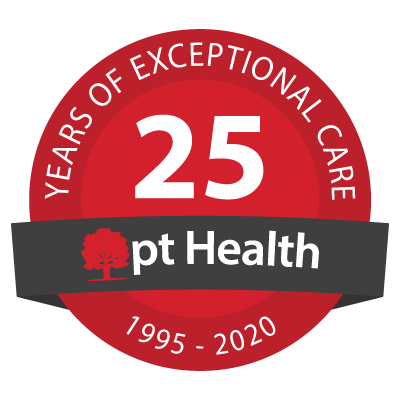 Broadway Wellness and Physiotherapy - pt Health
Welcome!
Our clinic is open and offering in-person treatment in addition to virtual care. We look forward to seeing you soon.
"Under the guidance of the folks over at pt Health, I've worked to regain mobility that I haven't had in over 10 years. The results kept me going back without question. A+, would recommend to anyone that asks."
Daniel H - Google Review
"Tore my calf and had a complicated recovery until I visited Caroline at pt Health. 2 weeks after seeing her for the first time I was able to finally play soccer with absolutely no pain. Highly recommended."
Valerio R - Google Review
Our Clinic Team
Cassandra Catenacci


Cassie is very passionate about her work. She graduated from the West Coast College of Massage Therapy in August 2019, then received her registration in November 2019 and has been working with pt Health ever since. Cassie takes pride in creating a warm environment where patients feel welcomed and listened to. Her work is meticulous and is catered to each patient individually; she listens not only to what her clients are saying but to what their bodies are saying.

In addition, Cassie has taken a special interest in working with pregnant clients and has completed part one of the course, "Massage therapy during the childbearing years."

Sasikumar Kalyanasundaram


Sasi graduated from MGR Medical University, Tamilnadu, India in 2006 with a Bachelor of Occupational Therapy. He has always had a keen interest in upper extremity injuries and so has been treating them exclusively since 2009. He worked in KFMC, Riyadh for eight years, primarily in outpatient.

He completed a Hand therapy Fellowship in 2016 at Roth McFarlane Hand and Upper Limb Centre, London, Ontario under the guidance of Mr. Shrikant Chichalkar. He earned his hand therapy certification (CHT) in November 2013. He has been practicing full-time CHT in British Columbia.

Trevor O'Malley


Trevor completed his Master of Physical Therapy and Bachelor of Human Kinetics from the University of British Columbia. As a clinician, Trevor has a special interest in sports injuries, chronic pain, and orthopedic rehabilitation. He is an advocate of evidence-based practice, and believes that education and exercise therapy are fundamental to improving rehabilitation outcomes.

Currently, he has completed his Canadian Physiotherapy Association Orthopedic Division Level 1 certification, and continues to be involved in continuing education. Trevor is a proud member of Physiotherapy Association of British Columbia, and continues to promote physiotherapy throughout the community through volunteering.

On his weekends, Trevor enjoys spending his time in the outdoors; skiing, rock climbing, and fly-fishing.

Jeremy Chow


Jeremy earned his Bachelor's degree in Kinesiology and Master's degree in Physiotherapy at the University of British Columbia. Born and raised in Fiji, Jeremy developed a strong passion for helping others in their physical and mental health and well being. Jeremy focuses his treatment and rehabilitation methods using manual therapy techniques and developing exercise programs centered around his clients. He continues to further develop his skills through educational courses in manual and orthopedic physiotherapy techniques.

When not in the clinic, Jeremy can be found either participating or working with athletes in basketball, tennis, badminton and volleyball, and plays an active role in the Vancouver and Richmond communities working with kids and youth living with developmental disabilities.

Kevin Wu


Kevin attended the Vancouver School of Bodywork and Massage in 2010 and received his Spa Practitioner diploma. Wanting to further his knowledge, he enrolled in the 3000 hour Registered Massage Therapy program at West Coast College of Massage Therapy, and graduated in 2013.

His professional highlights include world class events such as the 2013 Ride To Conquer Cancer, 2013 Gran Fondo Whistler, 2014 Sears National Kids Cancer Ride, and the 2015 BC Bike Race. In his practice, he is eager to help and incorporates a variety of techniques such as Deep Tissue, Trigger Point Therapy, Myofascial Release, Joint Mobilization, Muscle Energy Technique and Swedish Massage to create effective treatments for his clients.

Gaby Law


Gaby graduated from the University of Polytechnic in Hong Kong in 1989 and has been practising for over 20 years. She is a physiotherapist but has also been a Certified Hand Therapist since 2002. She is the hand therapist at Broadway Wellness and Physiotherapy clinic treating work injuries, post-surgical cases, and any other general strain/sprain injuries of the wrist and hand. Gaby is also fluent in Cantonese and Mandarin.

Chris vonSchellwitz
Physiotherapist

Chris completed both his Bachelor degree in Human Kinetics and his Master's degree in Physiotherapy from the University of British Columbia. He has an interest in working with athletes of all capacities, from the weekend warriors and recreational athletes to varsity and elite athletes. Currently, Chris is involved with the Vancouver Whitecaps residency program and has vast experience with coaching, managing, and playing soccer and ice hockey at all levels.

Chris' treatment focuses on manual techniques and rehabilitation through strengthening and exercise programs. He is committed to keeping current with modern empirical evidence and continuing education in the field of orthopaedic and sports physiotherapy. Chris has most recently completed both the Arthritis Society's Getting a Grip on Arthritis® osteoarthritis and rheumatoid arthritis education program.

Outside of the clinic, Chris can be found playing all sorts of recreational team sports but he also has a love for cycling. He just completed the GranFondo for the second year in a row while raising money for the BC heart and lung association.

Shirley Wang


Shirley completed her Master of Physical Therapy at the University of British Columbia. She has worked in a variety of settings, in both the hospital and private clinic settings. She believes strongly in the importance of building good rapport and having a full understanding of her client as a person. In addition, she values education, prevention, and self-sufficiency. She continues to further her practice and techniques, such as with Functional Dry Needling and mobilization courses.

In her spare time, Shirley enjoys rock climbing, hiking, running, swimming, snowboarding, and pretty much anything that will take her outside.
[View More]
"I started going here after I was in a car accident back in January which left me with lower back & leg pain. Since attending for a few months I have never felt better. If you need a physiotherapist or anything along those lines I highly recommend you come to this place."
Paco S - Google Review
"The best place I could have chosen to carry out my MVA treatment. The physio/kinesiology team are all extremely knowledgeable and great with explanations, professional, kind, compassionate and encouraging. They got me in for an appointment right away. I am so happy that I found them!"
Karly M - Google Review