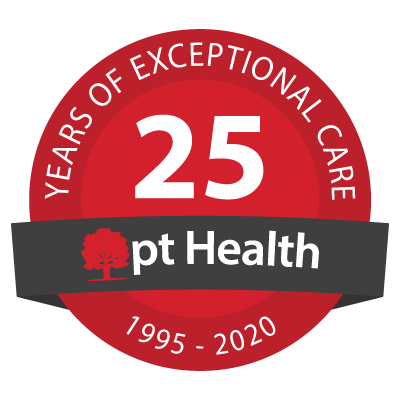 Central Scarborough Physiotherapy Clinic - pt Health
In-person treatment available
Virtual Care treatment available
Ontario Health Insurance Plan (OHIP)
Welcome!
Our clinic is open and offering in-person treatment in addition to virtual care. We look forward to seeing you soon.
"I recently started physiotherapy at pt Health Scarborough and I must say it is amazing. Staff is professional and friendly. The treatment I receive is very great - the techniques they use is really useful and am able to perform them at home. I would highly recommend this studio to friends and family."
Mishael S - Google Review
"The staff are very professional, attentive and knowledgeable. My rehabilitation was their first priority and they always listened to any concerns and addressed them accordingly. They do the very best they can to go the extra mile to give you the best treatment available and get the desired results."
Chris C - Google Review
Our Clinic Team
Kanika Alagh
Physiotherapist

Kanika is a determined, caring and passionate physiotherapist who thinks differently about physiotherapy. Her focus is to utilize new treatment techniques, tools and technology to provide effective care and outcomes for her clients. Kanika graduated in 2008 with a Bachelor in Physiotherapy and obtained her Canadian Physiotherapy license in 2014. She continues to enhance her skills through continued education and evidence based practice.

Kanika also practices acupuncture and dry-needling and is specialized in TMJ. She uses a combination of hands on mobilization, modalities, active release therapy, Graston technique, exercise prescription and education in her practice. When Kanika is not working, she enjoys spending time with her family and friends, hiking and camping.

Karandeep Riar
Chiropractor

Dr. Karandeep S. Riar earned a Honours Bachelor of Science degree from McMaster University and then went on to complete a Doctorate in Chiropractic. While completing his one-year internship, Dr. Riar was recognized with the Health Centre Award for clinical excellence. Dr. Riar has obtained in-depth training in chiropractic adjusting, myofascial release therapy, instrument assisted soft tissue therapy, functional movement analysis, the use of various modalities, orthotics therapy and rehabilitation therapy.

Dr. Riar also holds a certificate in Contemporary Medical Acupuncture from McMaster University. Dr. Riar is a firm advocate of patient-centered evidence-based healthcare. He spends a lot of time keeping updated on current literature and attending various musculoskeletal seminars to expand his knowledge and apply it to patient care. His approach consists of getting patients out of pain as well as identifying and correcting aberrant movement and motor patterns that led to the patient's problem in the first place.

In his spare time, Dr. Riar enjoys keeping fit through resistance training, running and playing basketball.

Dr. Riar is certified in Medical Acupuncture, Graston Technique M1, Myofascial Release Therapy, and Custom Orthotic Therapy.

Javad Nejatbakhsh
Physiotherapist

Javad's been working at Central Scarborough Physiotherapy since 2004. He has achieved his McKenzie Certification (A & B) and a certification with Acupuncture Foundation of Canada (AFCI). He offers his patients the latest assessment and treatment techniques including sport taping, mobilization and manipulation mentored in Advanced Physical Therapy Education Institute (APTEI).

He has worked predominantly in orthopedics with additional experience in geriatrics, outpatient, and long term care as well as sport injuries. Javad enjoys a balanced life outside of work, including hiking, biking and traveling to explore the new places. He is excited to be a part of Central Scarborough team and looks forward to working with you to help on your road to recovery.

Tess Nievera
Physiotherapy Assistant

Tess is a Physiotherapy Support Personnel/Assistant at Central Scarborough Physiotherapy for more than 10 years. She works closely with the Physiotherapists to assist patients in recovering from their injuries by carrying out the treatment plans. She is also a graduate of Bachelor of Science in Physical Therapy in the Philippines with four years of experience as an internationally trained Physiotherapist.

Maria Theresa Narvas
Physiotherapist

Maria Theresa Sales graduated in 2001 with a Bachelor of Science in Physical Therapy in University of Perpetual Help in the Philippines. Since then, she has worked as a Physical Therapist in a Chiropractic Clinic for three years and also worked as a private PT for five years before leaving the Philippines in 2008.

In Canada, she worked as a physiotherapy assistant since 2010 and has worked for pt Health for four years. She became a Registered Physiotherapist here in Canada in 2017. She has attended various seminars to update her knowledge through The International Centre for Disability and Rehabilitation Philippine Working Group. She has provided physiotherapy for OHIP, WSIB, MVA and private patients, and treated various musculoskeletal and neurologic conditions. Her treatments include manual therapy, electrotherapy and providing individualized exercise prescriptions.

Hadi Tabibi
Physiotherapist

Hadi Tabibi is a Registered Physiotherapist with over 20 years experience. He graduated in 2000 with a Bachelor of Science in Physiotherapy and has practised at a variety of different hospitals and clinics. Hadi has experience working with various conditions and has developed a special interest in treating foot conditions since 2007. He keeps his medical knowledge current by attending courses focused on exercise prescription, manual therapy and pain management.

Hadi prides himself on his problem solving abilities and thorough assessment techniques. No matter how complex the condition or injury, Hadi strives to optimize the health and well-being of his patients.

Lorena Gustilo
Registered Massage Therapist

Maitri Patel1
Physiotherapist
[View More]
"Everyone who works there is very nice, gentle & polite. They ask and answer all questions. They truly care about improving one's health. I would highly recommend pt Health to any of my friends and family."
Dar J - Google Review
"Service was excellent, from the email reminder/confirmation of appointments to my therapist's initial assessment and attention, to the time and advice on final assessment. Thank you."
Linda W - Google Review