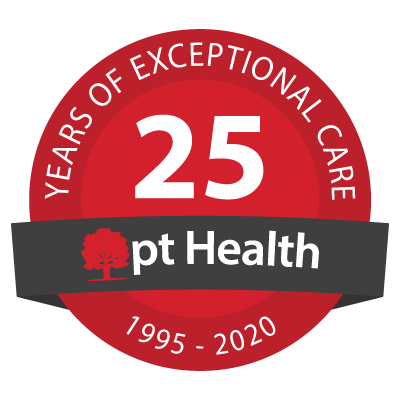 Cole Harbour Integrated Health Services - pt Health
Our clinic is open and offering in-person treatment in addition to virtual care during the latest restrictions announced in the Halifax Regional Municipality area. Physiotherapy, massage therapy, and other in-person services continue to be offered along with virtual care.
In-person treatment available
Virtual Care treatment available
Welcome!
Our clinic is open and offering In-person treatment in addition to Virtual Care service. Please note that enhanced measures are in place to ensure the health and safety of our patients and staff. View our virtual tour video so you know what to expect at your next clinic appointment.
"I am so glad that I went to this physio clinic. They did a great job healing my back. Very accommodating and flexible with appointments. Made you feel very appreciated . I am back on track now due to getting my treatments done there. If I ever need to go back due to an accident or hurt my back, I definitely will go back there."
Coreen S - Google Review
"I have now been attending pool therapy as well as their Functional Rehab Program for just over 3 months and I have yet to be disappointed by anyone at this office. They are all very professional and informative, and at the same time they make you feel relaxed and that you are the only one they are worried about at that time."
Fouad J - Google Review
Our Clinic Team
Natasha Trudel
Physiotherapist - BScK, BScPT

Natasha is originally from Dartmouth, Nova Scotia and first completed a Bachelor's Degree in Kinesiology at Dalhousie University in 2002. She then graduated from Dalhousie University with a Bachelor's Degree in Physiotherapy in 2005. Natasha immediately began working in private practice in June of 2005 and joined the pt Health team in Eastern Passage in August of 2010. In October 2013, Natasha joined the Cole Harbour Integrated Health Services pt Health team where she began treating full time and managing that location. Since beginning her career as a physiotherapist, Natasha has furthered her training in acupuncture, exercise rehabilitation and managing chronic pain. In her daily practice, she attempts to incorporate individualized rehabilitation programs and a client-centred approach to care. Outside of the clinic, Natasha enjoys camping and enjoying the outdoors. Natasha has most recently completed both the Arthritis Society's Getting a Grip on Arthritis® osteoarthritis and rheumatoid arthritis education program.



Zachary Charles Henderson
Physiotherapist

Zach's career in physiotherapy began in 2010 as a kinesiologist at Cole Harbour Integrated Health Services. During that time, he worked closely with physiotherapists and other clinicians in a multidisciplinary setting. He then transferred to our Bedford location and became more involved in the sport world. He was the trainer for the Charles P. Allen high school football and men's hockey team, while also coaching the Bedford-Sackville Saints football team. Zach then decided to further his education and graduated in 2014 from the Dalhousie Physiotherapy program. Since then he has worked with pt Health in Berwick, Porters Lake and Fall River before returning to where his career first began at Cole Harbour Integrated Health Services.



Jason Murray Hart
Massage Therapist

Jason was born and raised in St. John's Newfoundland, graduating with a B.A. in Archaeology in 1997. He then decided on a career in healthcare so moved to Nova Scotia to complete his registered massage therapy program. Jason has worked as an RMT at the Cole Harbour Place clinic for the last 16 yrs. Over that period of time he has also had the role of neurological supervisor at the massage therapy school. In his spare time he enjoys playing ball hockey, going to the gym, practicing martial arts and spending time with his daughter. Jason has been a volunteer firefighter in Lawrencetown for the last 10 yrs.



Ben Murray
Chiropractor

Dr. Murray holds a Bachelor of Science degree form Dalhousie University. He graduated as a doctor of chiropractic from the Canadian Memorial Chiropractic College in 2008. At graduation he received several awards for recognition of his skills in clinical diagnosis and radiographic examination. Currently he is enrolled in a Sport Science Residency Program aimed at specializing in Sports Medicine, Injury Prevention, and Conditioning. Dr. Murray has received training in active release techniques (ART), Graston Technique, Thompson technique, Craniosacral Technique, and Sacrooccipital Technique. He also has training as a Sports First Responder. Dr. Murray serves as chiropractor during many sporting events including the 2011 Canada Winter Games and the 2009 Canoe Kayak World Championships.



Stacey Turner
Massage Therapist - BSc

Stacey graduated from Dalhousie Univeristy in 1998 with her Bachelor of Science in Biology. She then attended Northumberland College and graduated in 1999 with her Diploma in Massage Therapy. Stacey has taken several continuing education classes and has obtained her Combined Decongestive Therapy from the Dr. Vodder School. This now allows Stacey to treat Lymphedema, Lipedema, and any swelling post injury and surgery. She is a member of MTANS (Massage Therapists of Nova Scotia). Stacey is an active mother o f three, and is also an avid runner in her spare time.



Karen Smith
Psychologist

Karen Smith has been with ptHealth for over two years. She has 12 years of clinical experience providing psychological services to a broad client base. She graduated from Dalhousie University with a Bachelor of Science degree in psychology and criminology and then completed post graduate work at Memorial University of Newfoundland and Labrador receiving a Masters in Counseling Psychology Karen is certified in several treatment modalities including, but not limited to, Cognitive Behavioral Therapy, Prolonged Exposure, Mindfulness and Dialectal Behavioral Therapy. These modalities can be particularly helpful for patients struggling with depression, anxiety, PTSD, addiction and/or anger disorders. She also has experience working in the public sector for the Correctional Services of Canada and Mental Health and Addictions



Andrea Lafleur
Massage Therapist

Andrea attended Acadia University where she pursued a Bachelors of Kinesiology Degree in 2012. While attending Acadia, Andrea played four years of Varsity Rugby where she made the All Star team three of the four years. Along with being involved in athletics she also volunteered with numerous programs including Acadia's Kinderskills and S.M.I.L.E program, working with children of all ages. Once she finished her degree, and being an athletic individual who continues to play numerous sports, Andrea decided to continue her education and received a Diploma of Massage Therapy from ICT Northumberland College of Massage Therapy in 2014.



Laurel Macneil
Physiotherapy Support Personnel

Laurel grew up in Saskatoon, Saskatchewan where she obtained her BA and her BSc. in Kinesiology from the University of Saskatchewan. Laurel then moved to Toronto to obtain her MA in Dance at York University with her area of study focused on Dance Kinesiology. Her major research was in analyzing the prevalence of overtraining syndrome in collegiate ballet dancers. Following her time at York, Laurel moved to Nova Scotia to be closer to family and began to work as a Kinesiologist with pt Health. She has had the opportunity to work with a number of different therapists and obtain training in TOG orthotics, compression stocking fitting and exercise prescription. Laurel has also remained active in the dance community and when not at the clinic, can be found teaching at Dartmouth Dance Academy.



Heather Haldane
Registered Nurse

Ryan George
Occupational Therapist - MSc(OT), BKin (Hons.)

Ryan is a passionate and energetic Occupational Therapist who strives to maximize individual's full potential through use of evidence-based practice and holistic treatment approaches. Ryan believes that using the latest in clinical knowledge and letting clients feel empowered in their own health will provide the best possible outcomes to reach their dreams/goals and participate in what is meaningful for them. Prior moving to Halifax to become an occupational therapist, he was highly experienced in office ergonomic assessments/education to ensure joint health and prevent work-related musculoskeletal injuries through his exercise science background. Ryan's other clinical interests include upper extremity rehabilitation, durable medical equipment prescription, return-to-work and chronic pain management. Ryan holds a master's degree in Occupational Therapy from Dalhousie University and a Bachelor of Kinesiology degree with honors and co-operate experience from Memorial University of Newfoundland. Ryan is also certified in a variety of continuing education courses including hand therapy and telehealth services and continues to make gains in his professional development. When Ryan is not working, you can find him in the pool, going to spin classes and hiking throughout Nova Scotia.


[View More]
"Atmosphere is relaxed and positive. Amazing work. Going to CH Integrated Health always puts a smile on my face!"
Regan M - Google Review
"Professional and friendly staff. Have made a lot of progress here. Would recommend to anyone and everyone!"
Meaghan S - Google Review