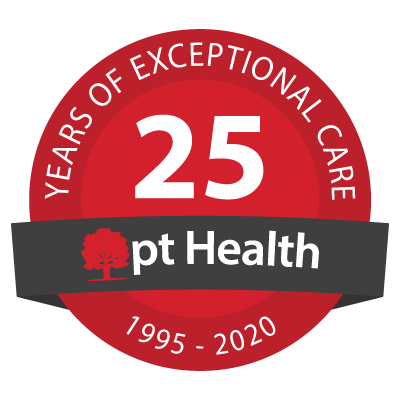 Cornwall Physiotherapy - pt Health
In-person treatment available
Virtual Care treatment available
Ontario Health Insurance Plan (OHIP)
Welcome!
Our clinic is open and offering In-person treatment in addition to Virtual Care service. Please note that enhanced measures are in place to ensure the health and safety of our patients and staff. View our virtual tour video so you know what to expect at your next clinic appointment.
"Can't say enough good things about this clinic! The staff are extremely professional, compassionate and time efficient from the minute you walk in the door to the moment you leave. They listen to your needs, and work with you to deal with your issue at hand in the most effective manner. I would recommend this clinic to anyone!"
Stacey I - Google Review
"I suffered a major concussion and whiplash this year. I went to the Cornwall Physiotherapy - pt Health for help and pain relief. My physiotherapist was absolutely a gem. She truly helped me and gave me hope. She is very knowledgeable, caring, compassionate, dedicated and makes you feel that your well-being is important."
Janine C - Google Review
Our Clinic Team
Zacharie Bergeron
Physiotherapist

Zacharie is an enthusiastic and caring physiotherapist who's priority is always to understand the unique situations and problems of each patient. Zacharie believes that by the end of the first appointment he should be able to answer the following 4 questions for you: What is wrong with me? How long will it take? What can I do for it? What can you do for it? His treatment style focuses on a combination of hands-on approaches such as joint mobilizations, soft tissue release, active release techniques and stretching to supplement key exercises. Zacharie's clinical interests include: workplace and overuse injuries, post surgical rehab, seniors health, chronic pain and athletic injuries. Zacharie is a 2019 graduate of the Masters of Physical Therapy at The University of Toronto and completed his Bachelors of Science in Human Kinetics at the University of Ottawa in 2017. He is currently enrolled in the Acupuncture education program in the fall and plans to take courses in Mulligan Manual Therapy Concepts. Outside of the clinic Zacharie is an avid reader and exercise enthusiast. Zacharie has dabbled in many different sports and training methods over the years which gives him a great advantage when trying to relate to his patient's experiences and in providing innovative solutions throughout the treatment plan. If you are interested you can follow Zacharie on instagram at The_Bergeron_Physio_Fix to learn more about your body, how it moves and how a physio might be able to help with your goals.



Ashley Kowalski
Naturopathic Doctor - H.BSc, ND

Dr.Ashley Kowalski, ND has several areas of interest in practice, including fatigue, digestion, women's health, stress management and thyroid issues. Ashley takes the time to listen to her patients and develop an appropriate treatment plan. She loves to learn and read about new studies and evidence-based findings in the world of alternative medicine. Ashley is a member in good standing with both the Canadian Association of Naturopathic Doctors (CAND) and the Ontario Association of Naturopathic Doctors (OAND). Ashley graduated from the ?Canadian College of Naturopathic Medicine (CCNM)? in 2014 and sought additional training to become Facial Rejuvenation Acupuncture certified. Ashley has training in the use of several different natural therapies and modalities, including dietary and lifestyle counselling, nutrition, acupuncture, hydrotherapy, homeopathy, and botanical medicine. Prior to attending CCNM, Ashley graduated from the University of Waterloo in 2010. She graduated with Honors and attained a Bachelor of Science degree in Biomedical Sciences, as well as a minor in Biology.



Julia Esposito
Naturopathic Doctor

Dr. Julia Esposito, ND grew up in Cornwall and graduated from St. Joseph's Secondary School before attending Mount Allison University in Sackville, New Brunswick. While at university she played varsity soccer and hockey, skills she honed playing Blazers soccer and Typhoons hockey growing up in Cornwall. She obtained her Bachelor of Science degree in Biology and Psychology and the following year moved to Toronto to attend the Canadian College of Naturopathic Medicine (CCNM). Upon graduating from the CCNM, Dr. Esposito returned to her home town to set up her general family practice. Dr. Esposito has a special interest in anti-aging medicine, women's health, cancer therapies and chronic pain management. She is also certified in cosmetic acupuncture, mesotherapy and intravenous therapy.



Chelsea Grant
Naturopathic Doctor

Dr. Chelsea Grant, ND grew up in Cornwall and graduated from St. Joseph's Secondary School, where she received a Bilingual Diploma, became a St. Joseph's Club member, and was awarded The Student Council Award, French Award and Religion Award. She then moved to Guelph to obtain an honours degree in Molecular Biology and Genetics at the University of Guelph. Working hard but focused on finding balance, Dr. Grant spent her free time in the pool swimming laps or doing aquafit, going to dance classes and playing intramural volleyball. Following her graduation, Dr. Grant moved to Toronto to spend the next four years studying at the Canadian College of Naturopathic Medicine. During her clinical year, Dr. Grant had the opportunity of providing naturopathic care to patients at the Robert Schad Naturopathic Clinic as well as to persons out in the community at the Lakeshore Area Multi-service Project Community Health Centre and the Sherbourne Health Centre. The later involved specialized treatment for patients who are HIV+. Passionate about the various tools available to Naturopathic Doctors, Dr. Grant travelled to India to receive additional training in homeopathy. She also participated in a medical brigade through Natural Doctors International (ndimed.org) and travelled to the Island of Ometepe in Nicaragua. Dr. Grant is a licensed Naturopathic Doctor with The College of Naturopaths of Ontario (CONO). Her special interests include healthy aging, integrative cancer care, women's health, digestive disorders and pediatrics. Dr. Grant is certified to provide Intravenous Infusion Therapy (IVIT) including high dose vitamin C therapy. She also holds prescribing rights for topical hormones (estrogen, progesterone) and dessicated thyroid hormone.



Michele Clement
Physiotherapy Support Personnel - Physio Support Personnel

Michèle Clément grew up in Cornwall, ON where she developed her love and passion for sports and exercise. She obtained two Bachelor degrees in Social Sciences (Sociology and Leisure Studies) from the University of Ottawa. She then went on and completed her PTA course and now has over 16 years of clinical experience. Michèle is fluent in French and English. She is qualified in Medical Compression Therapy and has taken numerous courses on Custom Orthotic Therapy and Gait Analysis.



Jason Laprade
Massage Therapist - RMT

Jason is a local boy, that has lived, played and worked in Cornwall his whole life. He graduated from Elegance College of Massage Therapy in 2014. He has worked in the plant environment, at call centers and loves to engage in sporting activities, so he knows the wear and tear that a body goes through, which sparked his interest in massage therapy. Jason has worked with all kinds of conditions and loves to see the step by step progression as the body heals. Jason will work with his clients to determine the best course of action to get them feeling better as soon as possible. Whether your interest is in rehabilitation or relaxation his repertoire of skills and techniques will help your reach your health goals.


[View More]
"The staff at Cornwall Physiotherapy are great! They are extremely punctual, professional, and always able to answer any questions I have! Anyone looking for a physiotherapy business should absolutely check them out!"
Ashley R - Google Review
"The staff here is so friendly and welcoming! They really seem to they enjoy their jobs and love coming to work everyday. Its nice to walk in and everyone knows you by name and everyone is laughing and having a good time."
Kayla W - Google Review