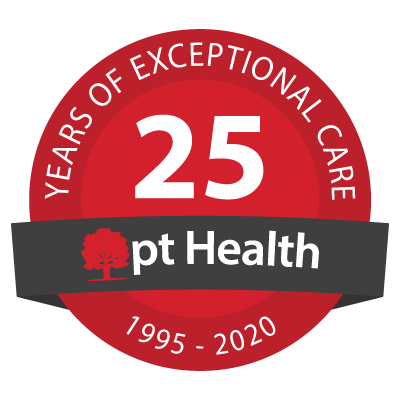 Cowie Hill Physiotherapy - pt Health
In-person treatment available
Virtual Care treatment available
Welcome!
Our clinic is open and offering In-person treatment in addition to Virtual Care service. Please note that enhanced measures are in place to ensure the health and safety of our patients and staff. View our virtual tour video so you know what to expect at your next clinic appointment.
"A great help for me in recovering from my knee surgery, and the staff at reception are very friendly. I would definitely recommend this physio clinic."
Jacob D - Google Review
"This whole group really cares about their patients. They listen, heal and most importantly, know you as an individual. It truly does make all the difference!"
Carol E - Google Review
Our Clinic Team
Abbey Smith
Registered Kinesiologist - Kinesiology Co-operative

Abbey is an athletic therapy enthusiast who takes pride in helping others through exercise rehabilitation. She has experience with athletes who have amputations, paraplegia, quadriplegia, cerebral palsy, and spina bifida. Abbey acquired a Bachelor of Kinesiology Co-operative from Memorial University of Newfoundland. Throughout school, Abbey played various sports such as para-athletics and wheelchair basketball, which further drove her interests in paraplegia and quadriplegia rehabilitation, as well as shoulder and hip injuries.



Sarah Byrne
Physiotherapist - MSc PT, BSc Kin (Honors)

Originally from Corner Brook, Newfoundland, Sarah completed her Bachelor of Kinesiology Co-operative (Honors) in 2015 in St. John's, NL at Memorial University of Newfoundland and Labrador. Sarah then moved to Halifax to complete her Master of Science in Physiotherapy at Dalhousie University. As a new graduate of the 2017 Physiotherapy class Sarah is excited and eager to begin her career as a physiotherapist with the PT Health teams at both Cowie Hill Physiotherapy and Forest Hills Physiotherapy. Sarah is passionate about healthy ageing and has a special interest in working and completing further courses in geriatrics, falls prevention, movement impairments and animal rehab. When not studying Sarah enjoys skiing, volleyball, hiking, and spending time with her fiancé and two dogs Mya and Molson.



Rebecca Whynot
Occupational Therapist

Rebecca graduated with her Bachelor of Science in Psychology from Dalhousie University in 2007. She took a few years off to work before returning to school to complete her Master of Science in Occupational Therapy in 2012. After graduation, Rebecca moved to rural Newfoundland to work for a few months before joining the pt Health team in October 2012. Rebecca is excited to be back home completing Job Site Analysis, Job Site visits, Ergonomic Assessments, functional testing, return to work planning, and wheelchair assessments for pt Health. Although she enjoys all aspects of her job, Rebecca's main area of interest is seniors' health and wellness.



George Cernan
Physiotherapist

George is a 2006 graduate from Dalhousie School of Physiotherapy. His treatment approach is a combination of manual therapy, exercise prescription and education, ensuring that his patients are involved in their own rehabilitation. George continues to enhance his clinical skills through post graduate courses in manual therapy, low back disorders, movement impairments, acupuncture, and Dynamic Neuromuscular Stabilization. Outside of work he enjoys hiking, running and playing the piano. George has most recently completed both the Arthritis Society's Getting a Grip on Arthritis® osteoarthritis and rheumatoid arthritis education program.



Lori-Lynn Hill
Registered Massage Therapist

Lori-Lynn Hill is a Registered Massage Therapist and is an honours graduate of the 2200-hour Massage Therapy program at The Canadian College of Massage and Hydrotherapy. She is a member of the Massage Therapy Association of Nova Scotia and has been practicing massage therapy since 2004. She specializes in therapeutic massage therapy that includes techniques such as Swedish massage, myofascial release, trigger point therapy, muscle energy techniques, pregnancy massage and Remedial exercise. Additional courses have been taken to expand her scope of deep systemic tissue therapy. She is a passionate and devoted practitioner who will strive to see positivity gained both physically and mentally by her clients and in all aspects of her profession and as a result has an extensive following of clientele. Lori-Lynn Hill has worked and served this community in which she was raised since graduating and feels honored and proud to continue to be a part of it.



Vanessa McColl
Psychologist

Vanessa is from Windsor, Ontario. In 2008, she graduated from the University of Windsor with a Bachelor's in Psychology with Thesis, with Distinction. Upon completing this degree, she moved to Nova Scotia to complete her Master's degree in Clinical Psychology at Acadia University and graduated in 2010. She completed her practicum in clinical assessment and internship in psychotherapy at Annapolis Valley Health (AVH) Adult Community Mental Health Services in Kentville, NS. Vanessa provides psychotherapy for adults for a wide variety of issues (e.g., anxiety, mood disorders, assertiveness, personal growth, etc.). She specializes in treating clients who have been injured, have chronic pain, or have other significant health problems. She has also expanded her knowledge base to include training in trauma-based therapy such as Eye Movement Desensitization and Reprocessing (EMDR).


[View More]